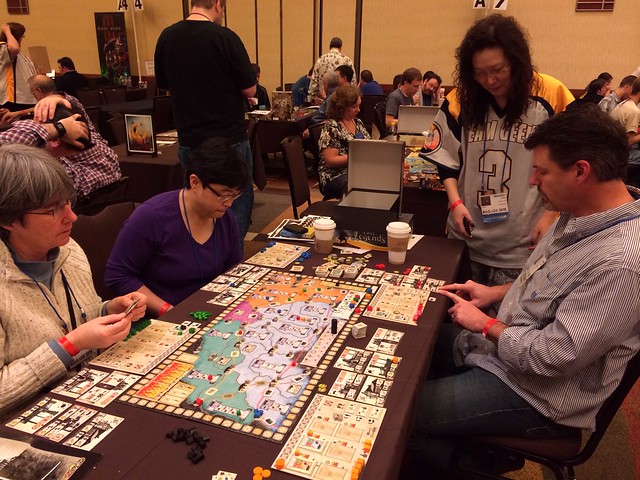 BGG.CON 2013 Wrap-up
BGG.CON 2013 did not disappoint and I have no plans to stop attending in the future. Looking back on my posts from past years brings a mixture of longing for the intimacy of the first few and admiration for how far the BoardGameGeek team has taken this event.
I had time on my own for the first time in a while at this convention and it was a nice change having to find open tables and new people to play with. It is easy to become insular having a small group of friends that I typically game with and I had very pleasant experiences in my games with strangers during the first 2 days. It was also great to finally play a game again with two fellow Oregonians, Lorna and Jeff, whom I see far too little back here in the NW. Still, I mostly appreciate the time I get with old good friend Jim Ginn and new good friends Mark and Mike.
Jim and I ate at the hotel exclusively this time and did not regret it. I tried the buffet dinner once and was surprised with the quality, and the food we ordered in the bar was always good and service was excellent. The beer is very expensive ($7 for a 12+ oz pour) but to be expected in a hotel bar. Overall I think BGG.CON has found a nice home. It sure is nice to be able to walk to the hotel straight from my arrival gate.
Games I'm Eager to Play Again
Games I'm Fine Not Playing Again