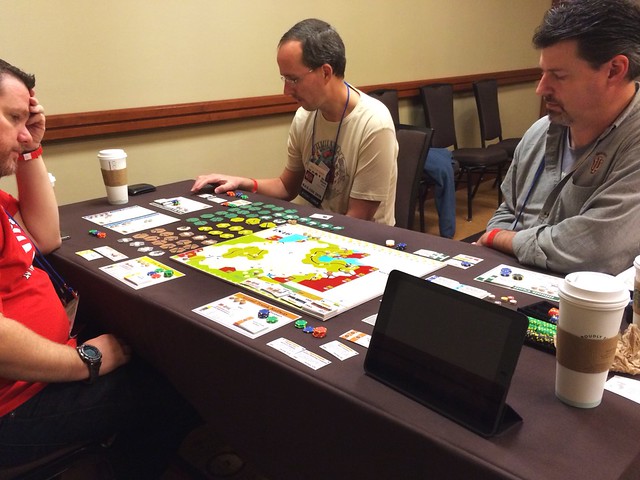 This post is about day 5 at BGG.CON 2013. You can also read about day 1, day 2, day 3, and day 4.
The last day of BGG.CON 2013 and we almost finished a single game of 1846. We knew it would be aggressive to play this game starting at 8am and finish by noon, but also knew the experience would be good with a partial game. That said, this is a game that should be playable in three hours and I'm determined to pull that off. Maybe Jacob will be up to the task when he comes home over winter break.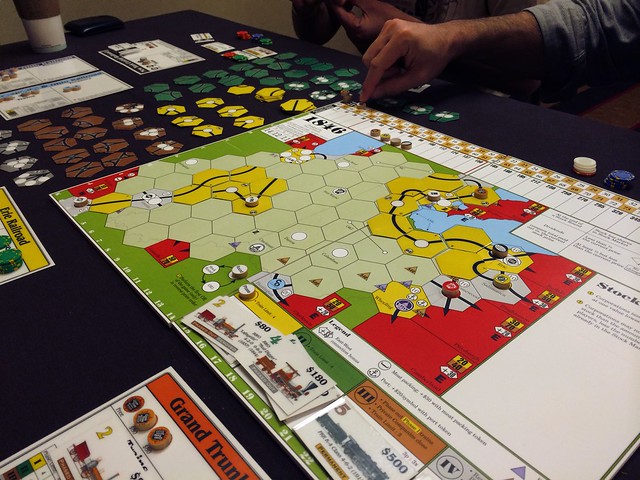 1846 has simpler rules than most 18xx games and easy initial private company draft removes the troubling company valuation aspect of most initial auctions in 18xx. You still need to decide what you want, but will generally just pay face value for the company.
I got a heavy dose of three private companies so was cash poor at the start but had a nice rebound with Grand Trunk Railroad. Hamzy was running the best company, NY Central and likely would have been able to pull out a win though Jim was just hitting his stride with Illinois Central as we ended the game. We did make it to the final phase and were probably about 4 operating rounds away from finishing. Mike, similar to me, had to take his company way down before having a nice rebound with good operations.
---
Jim and I cleaned up the game then made our brisk walk across the parking garage to DFW with the winter storm looming large. We had our traditional closing lunch and Guinness at the excellent Tigin at DFW then parted ways. Another great BGG.CON is done. I'll write a wrap up summary shortly.