The chess season for me is officially over for school year 2006-2007. It was a fun year and a first chance for me to start getting involved with the program at Sherwood Middle School (where Jacob goes now). I took a break from teaching a morning chess class at Archer Glen Elementary to focus on the Game On! games class Julie and I taught twice per week, but still managed to run an after school chess club that was the nucleus of our tournament team.
Our tournament season kicked off with our own Sherwood elementary friendly competition - the Jack Weeks Cup, named in honor of the man who really got chess started in Sherwood (he recently moved to central Oregon). Archer Glen managed to retain the cup this year, but it wasn't easy - we had to go to seven rounds to find a team winner. Our team was very balanced with all but one of the 10 team members scoring four points or more. This photo shows all three teams from Sherwood: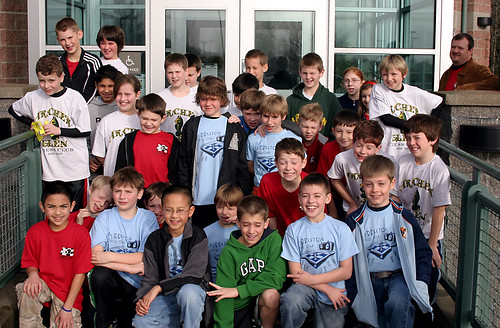 I also helped out with Jacob's middle school regional event where the team managed to tie for first and qualify for state. Jacob just barely missed the qualifying cut to join the team at state (they can only take five players to state) but as a 6th grader he'll have two more years to qualify.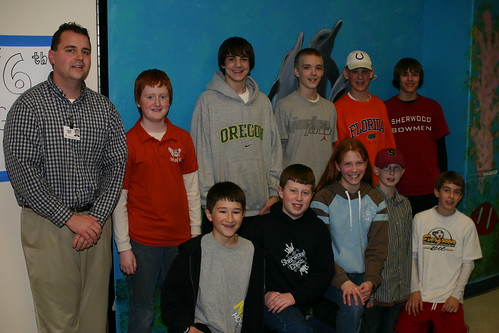 Archer Glen did decently well at the regional tournament (posts for 2006, 2005, 2004) finishing just above the middle of the pack in what is probably the biggest and strongest region in the state.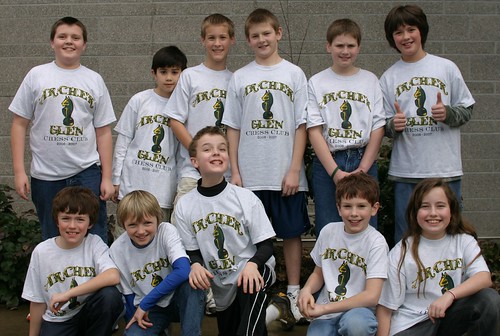 While the team didn't qualify for state, Matthew had an outstanding regional and went into the fifth and final round with a perfect score of 4 points. He faced off against what is one of the 2 strongest players in his age group in the state (he has about a 1300 USCF rating, Matthew is unrated). Matthew lost the game but qualified for state and had a blast competing there.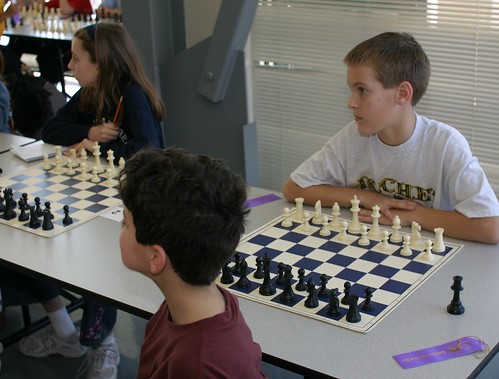 Our last event of the year was a local chess tournament, the Whitford CMCC tournament. The kids had a great showing, finishing second overall. One of the middle schoolers I brought, Brogan, finished with 4 points and took home a top 10 trophy.