Volunteering at the PGA Championship
I spent Monday through Thursday volunteering at the PGA Championship at Oak Hill CC in Rochester NY.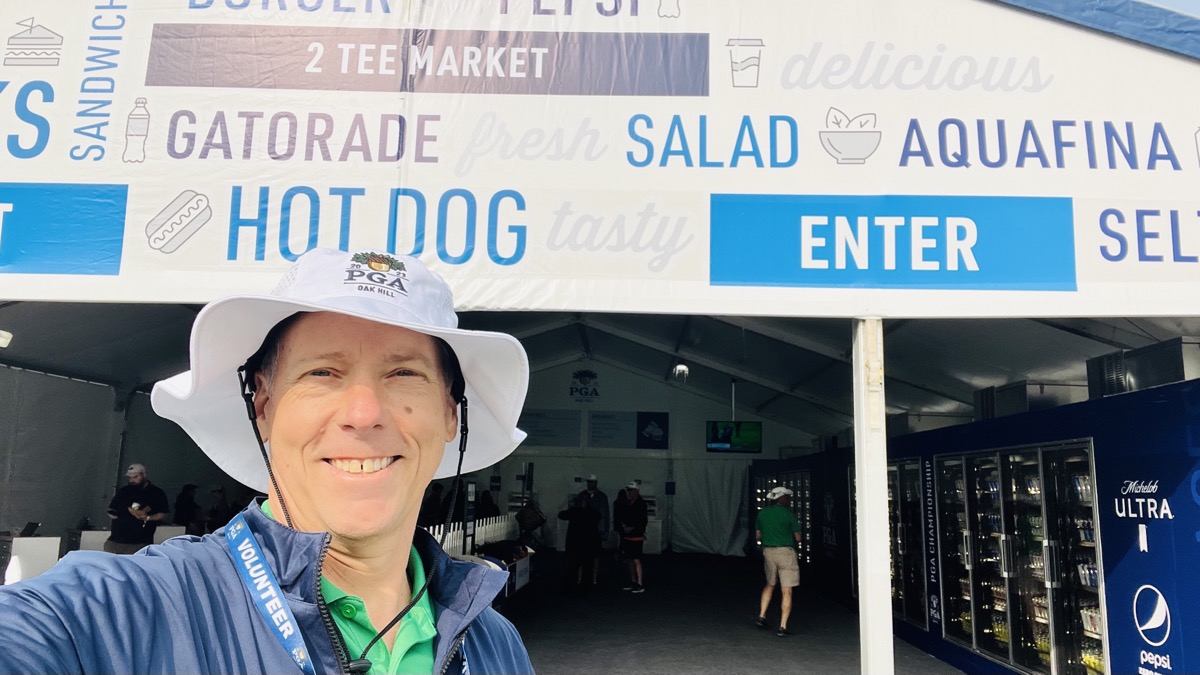 Your humble Concession Ambassador
I've just finished watching the Friday action, and while I'm enjoying it I think the early days were more fun. Exploring the (amazingly renovated) course, seeing the players loose in their warmups and practice routines, and scattered crowds.
My job was "Concession Ambassador", which was very confusing when I got the assignment but made sense as I attended training last week. Rather than traditional concession stands, they have marketplaces that resemble convenience stores. Almost everyone attending the event has an all-inclusive (food and non-alcoholic) pass, so our job as ambassadors was to guide people through the process. "Really, I can get anything I want?" "Yes sir, you can. Beer is extra though." Most of my dialog on the very cold Wednesday was explaining to folks that no, we don't have coffee here, but you can find it on the 1st fairway or 2nd tee box marketplaces.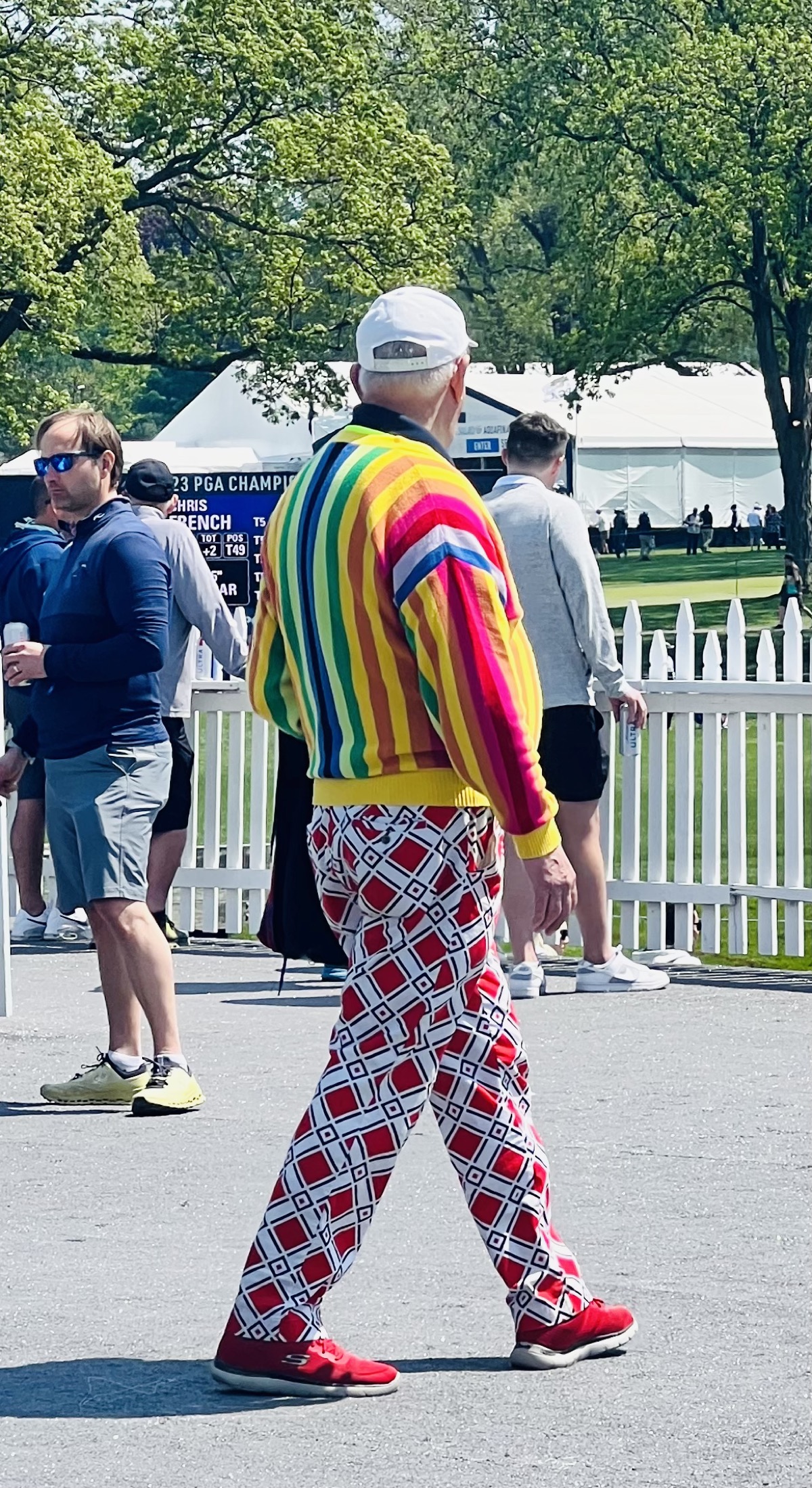 Straight outta Caddyshack
I've seen the dude above three different times, and I regret not chatting with him. If you think he looks like Rodney Dangerfield from the clothes, you should see his face. He's clearly going for that look, and I wonder if he does the party circuit as an impersonator. "Party circuit as a Rodney Dangerfield impersonator" – that's a good one.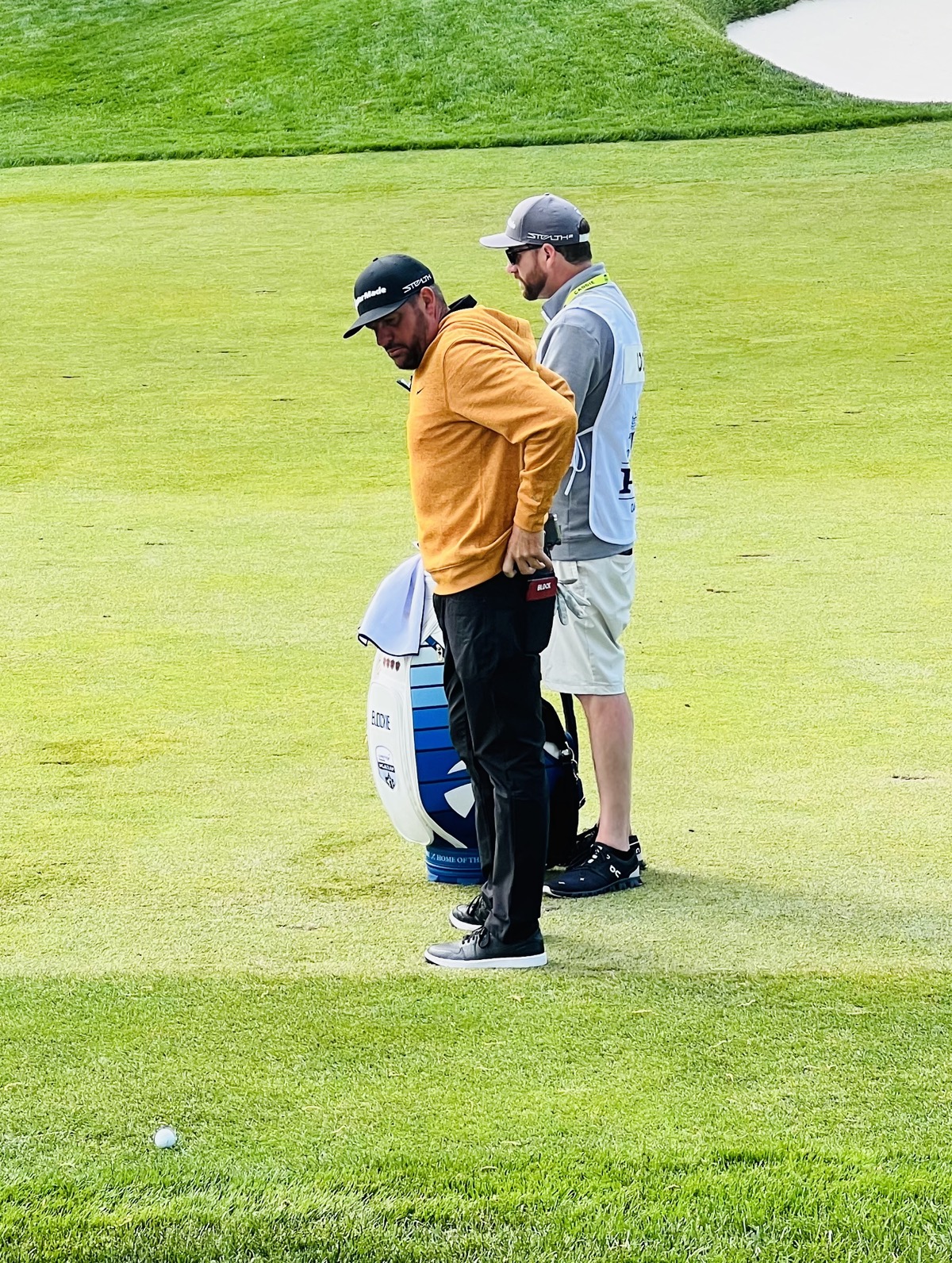 Club Pro Mike Block
My Friday highlight was following club pro Mike Block, the only club pro to make the cut and he is legitimately in contention. Some definitions here: the PGA of America is the organization of teaching and managing golf professionals, and they put on the PGA Championship. This is not the same organization as the PGA Tour, which is a member organization of competing golf professionals (think Tiger Woods, Rory McIlroy, etc.). There are many ways qualify for the PGA Championship, all of them difficult, but one of the coolest parts is that they have sectional qualifiers for the PGA of America "club pros", generally guys that run golf courses and teach golf. They rarely do well at this tournament, and are usually just average Joes with eyes like saucers as they play in a tournament like this. So seeing someone like Mike Block not only make the cut (half the field goes home after Friday if they haven't played well enough) but be in contention is amazing. He also engaged with the gallery much more than the touring pros, usually in a self effacing way.