Off-road Driving Training with Overland Experts
Julie and I did a 2 week van adventure from Florida up to North Carolina and back, with the primary destination an all-day private off-road driving class with Overland Experts.

OEX banner at NC facility
Our instructor was Tony Cerruto, and we met him less than a mile from our campground in the Uwharrie National Forest at the Eldorado Outpost. From there we caravanned into the OEX training complex and began with some classroom instruction. Tony gave us some handy takeaway literature and we dove into some of the basics of off-road driving.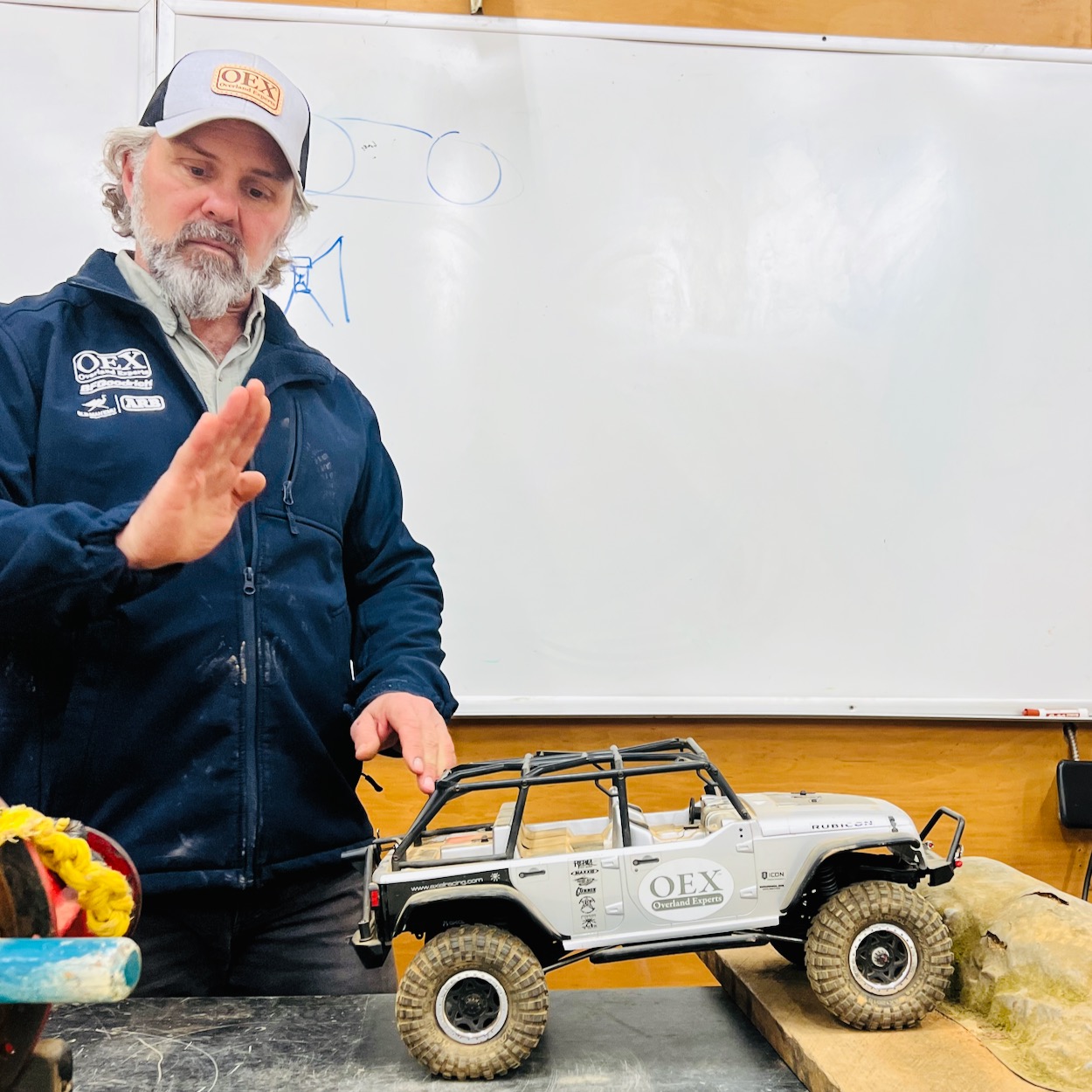 Tony sharing classroom wisdom
One mnemonic he shared (and that we spent most of our time on) was DSTMT:
Differential – allowing the power to go to the path of least resistance
Suspension – whose job it is to keep the wheels on the ground
Transmission – how variable power and torque are transmitted to the wheels
Momentum – it is important for working through sand, snow, and mud
Tires – understanding the difference between mud terrain and all terrain tires (we have all terrain).
Another use of the mnemonic: Drive Smoothly To Maintain Traction.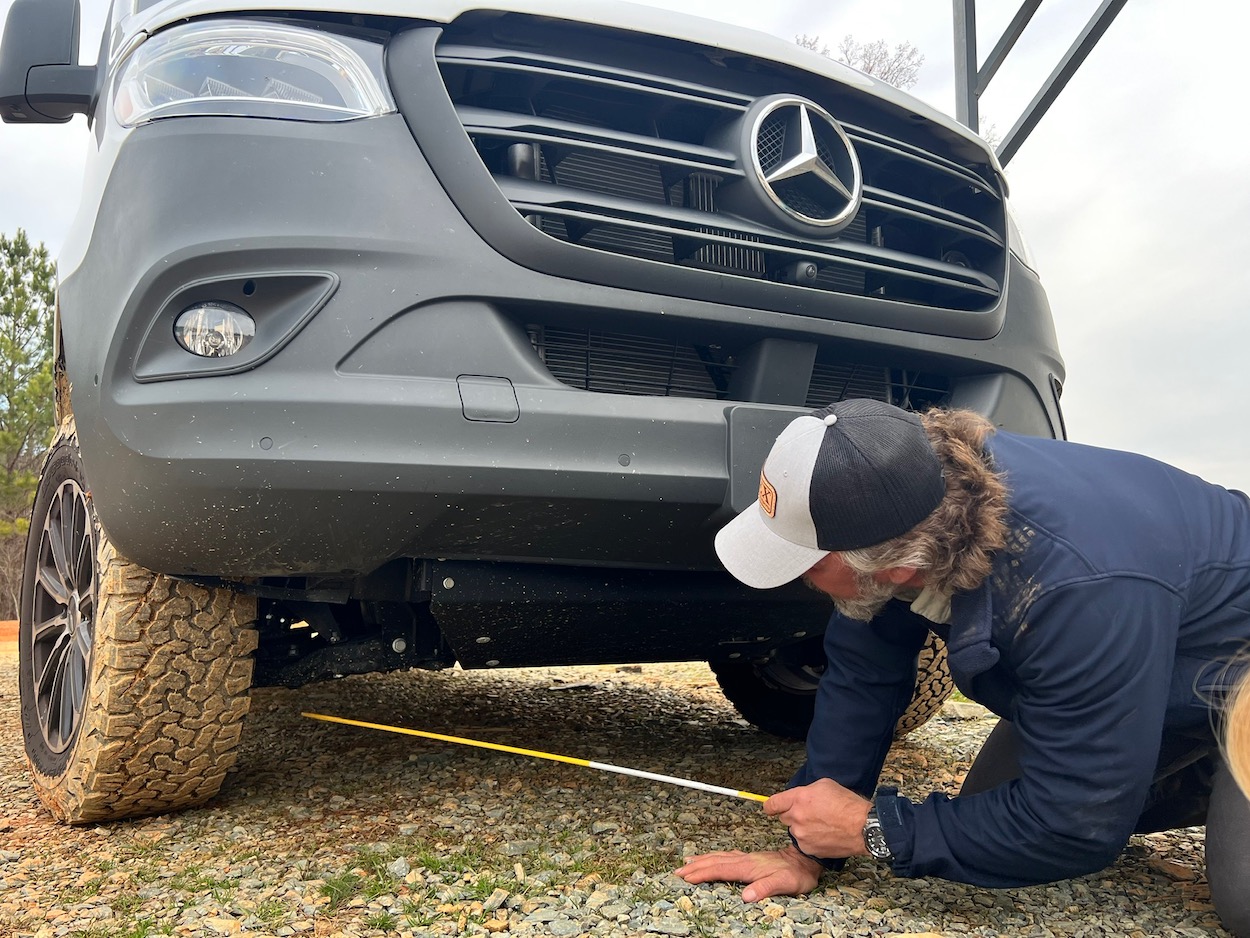 Tony guiding a van 360
Next we did a vehicle 360° review so that we could all learn more details about our van. What are the low points that might come in contact with the ground? What will our skid plates help us with and not help us with? What are our recovery attachment points? We learned stuff during this walkaround.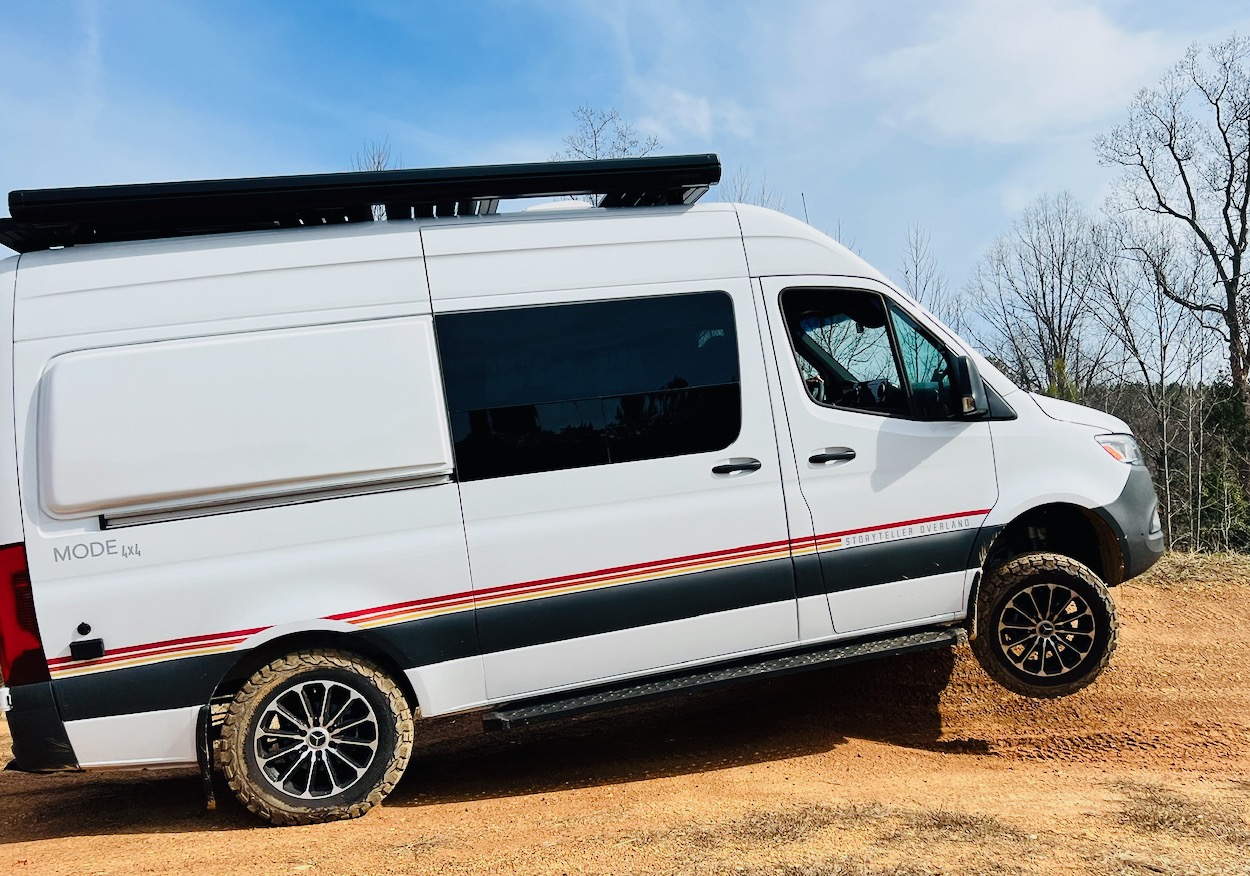 Julie handling the side hill challenge
We moved out in our vehicles to their obstacle course where we worked on a number of skills and challenges (for us and the van). This included:
Practicing navigating front and rear tires over specific rocks. This is very much a feel / neural feedback process and will be worth practicing more. Our vehicle cameras (and the enhanced views now found in Mercedes vehicles) helped a lot here.
Climbing over sloping mounds, working on side angle entrance and exit.
Working on side slope turning, which is guaranteed to lift the low-side front wheel off the ground (see photo above). This was nail-biting for both of us.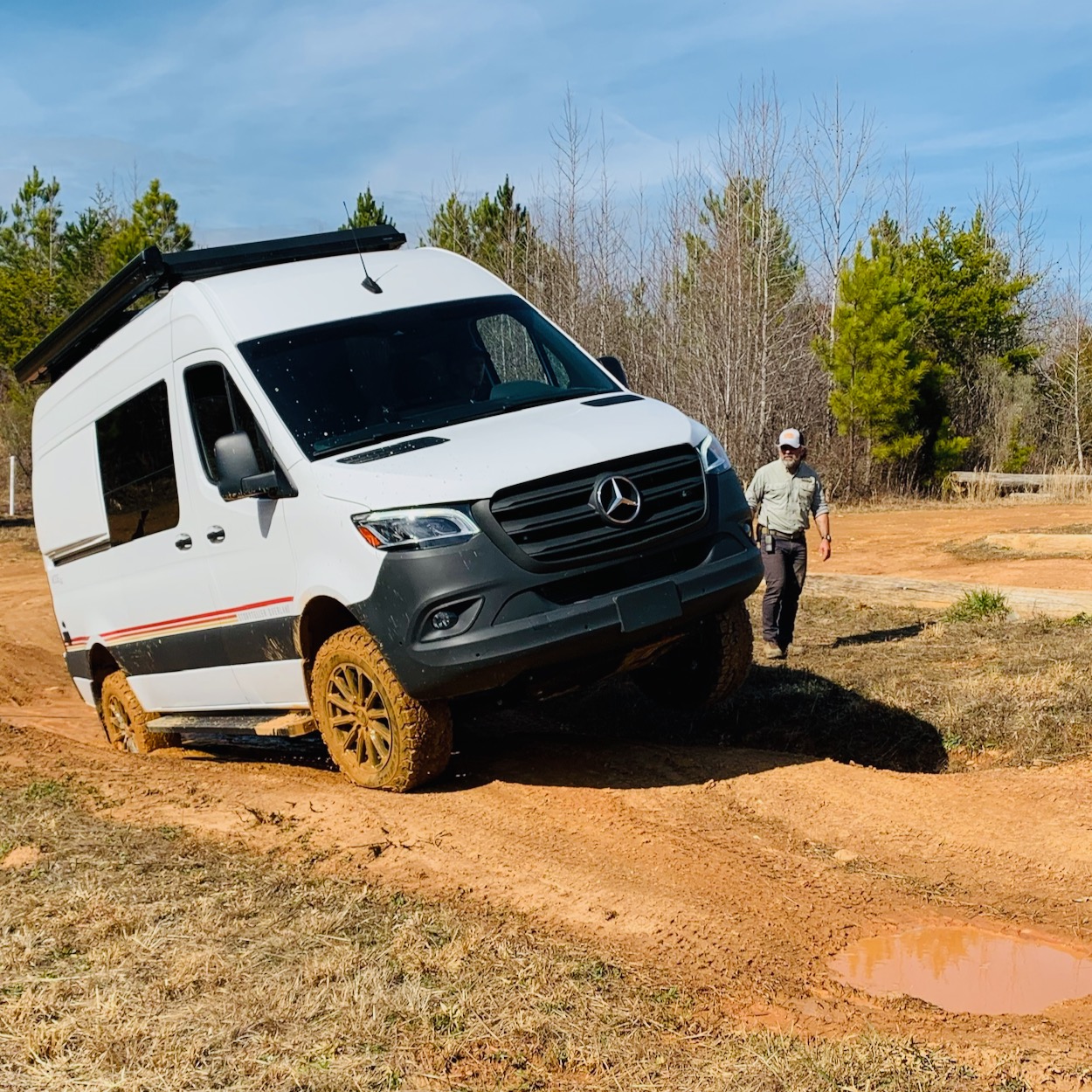 Chris takes on the mud pit obstacle course
Working through a trenched out mud field and practicing different routes. He intentionally had us make some wrong moves to see how the vehicle behaved; this mostly resulted in one front tire deep in a water hole with the other up in the air. The skill to work on here was pathfinding to try to keep all four wheels on the ground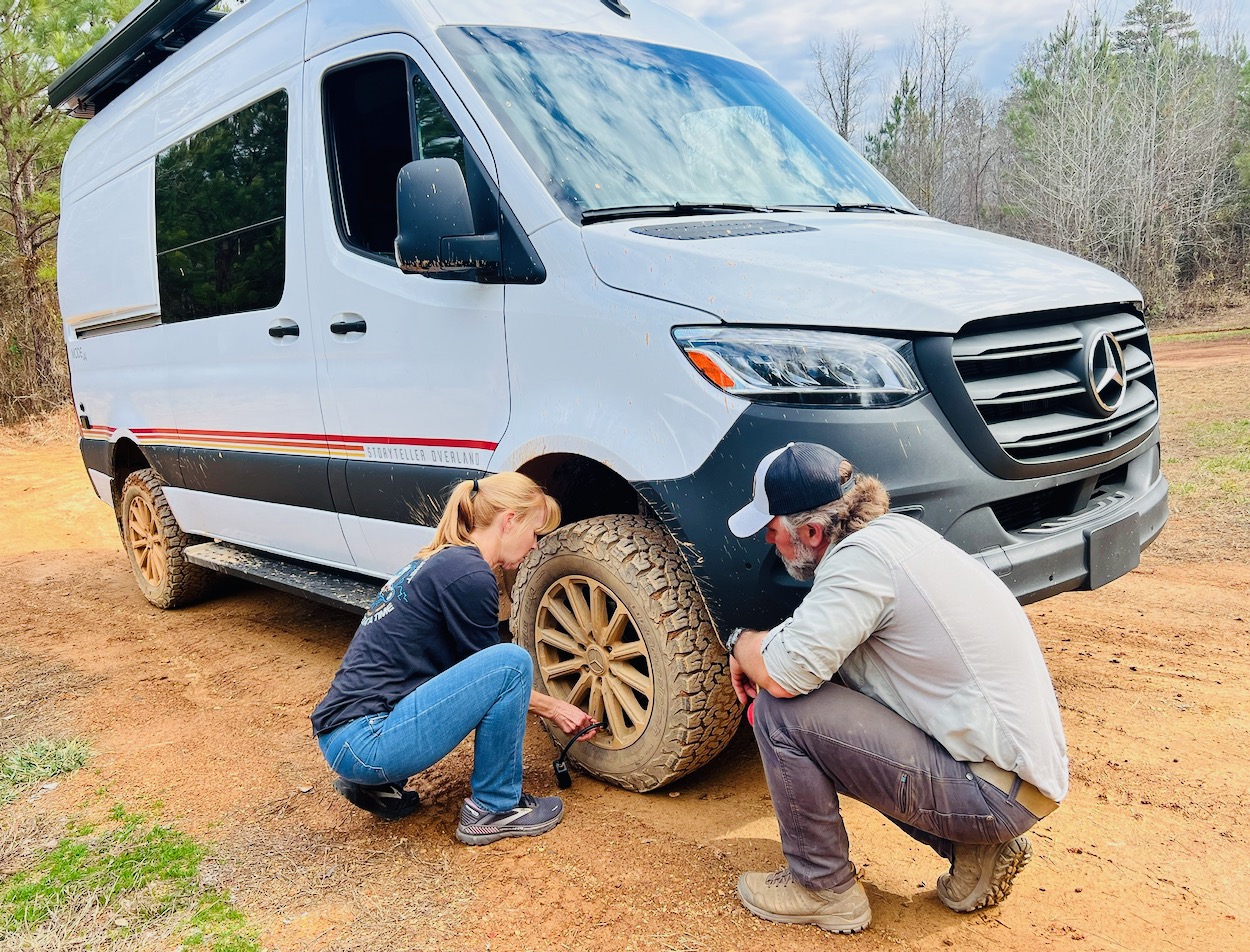 Julie airs down the tires
After a lunch break at a breathtaking spot on the Uwharrie River, we aired down the tires (about 15 PSI in the back, 10 PSI in the front; we can certainly do more if needed) and went on an overland safari.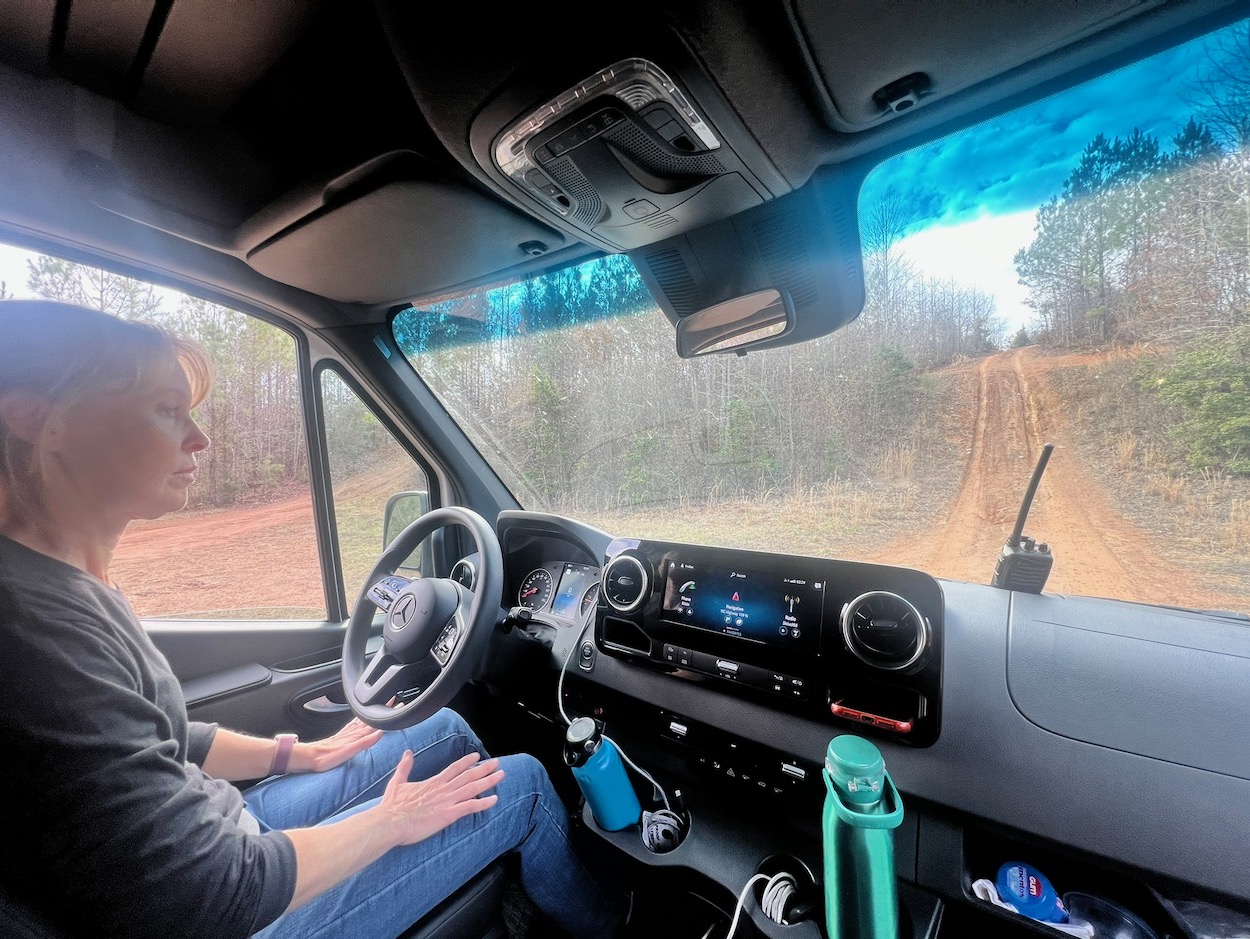 Julie prepares for the hill climb
The big challenge on the safari was a hill climb: steeper than we ever imagined we could take. We got out of the van, walked up the hill to gauge the traction with our own feet: do they sleep? Is the mud / sand sticking into our boot treads? This would inform the climb.
We also worked on "stuff points": if we fail to make the climb up the hill, where do we stuff the van as we bail out? Is there an intermediate spot partway up the hill? Etc.
Julie was the driver for this hill, and we failed in all five attempts. I took over and we did a much less aggressive hill and made it up without too much trouble. Julie would lose all power as we hit some of the rutted parts about halfway up the hill; our theory now is that we should have disabled Electronic Stability Control (ESP) which took power away from the wheels as we started to have a wee bit of spin.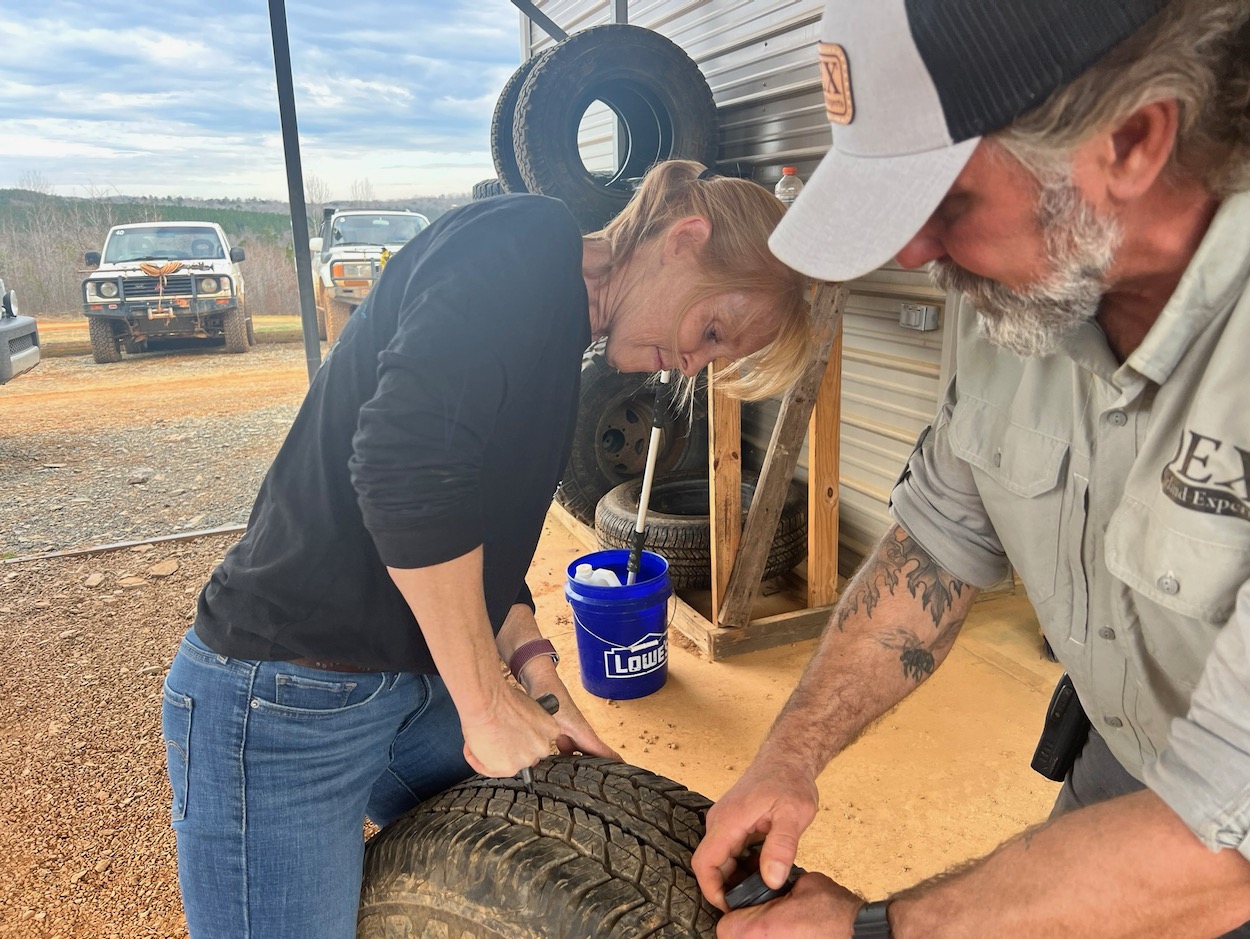 Julie repairs a tire
The day concluded with about an hour of recovery work. Julie got to repair a tire, we talked about the use of high jacks for extraction, and I was able to conduct tire bead reset with a small explosion. We also learned that we have more practice to do on tire removal, and we plan to work on this as we start our journey back north next week. We mainly want to confirm that the lugs aren't torqued so high that we can't remove them, and that we know how to properly lift each of the four wheels with our jack. I purchased a stability platform for the jack that we think will help.
---
What an amazing day! In addition to so much learning and guidance, it was fun! Tony is an amazing instructor and cares deeply about his work. His safety-first approach made us feel comfortable while willing to take on new challenges.