Camping and Paddling at Wekiwa Springs State Park
We are at Wekiwa Springs, just north and west of Orlando, for two nights of camping and exploration. This is our last Florida-bound trip as we start making our way back north next week.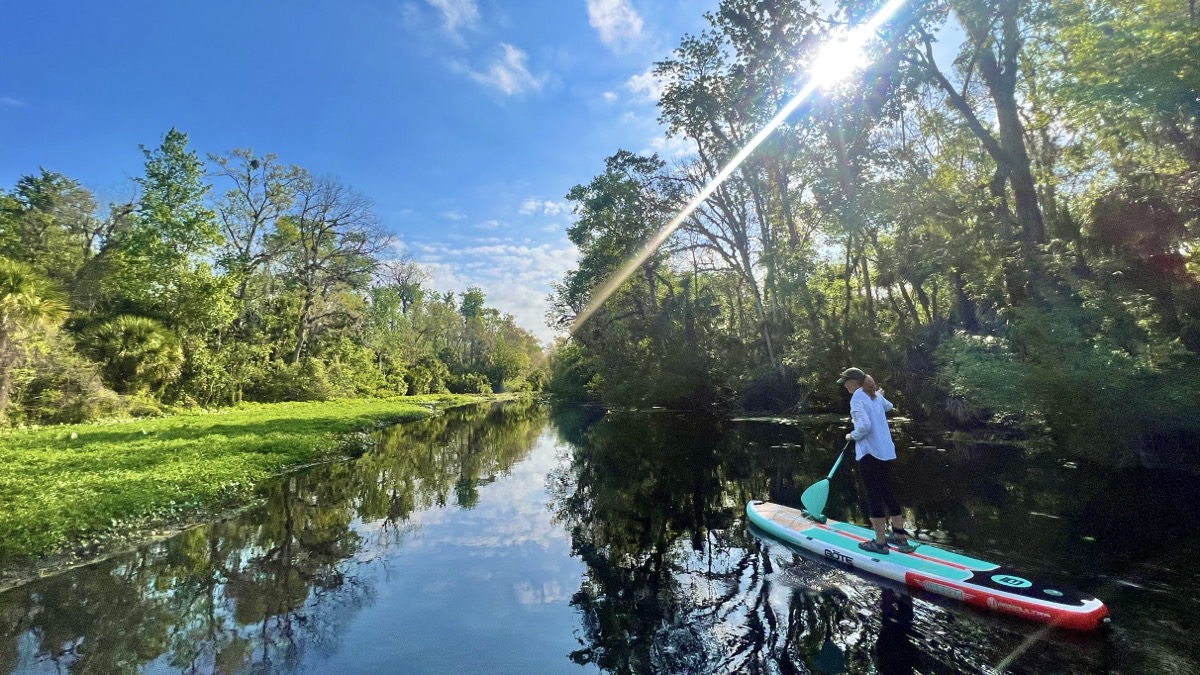 Julie paddles the starting lagoon
This is another rather excellent Florida State Park, though I suspect it is a zoo on the weekends in warm weather given the proximity to Orlando. We are here with very warm weather but mid-week and it is a tiny bit crowded.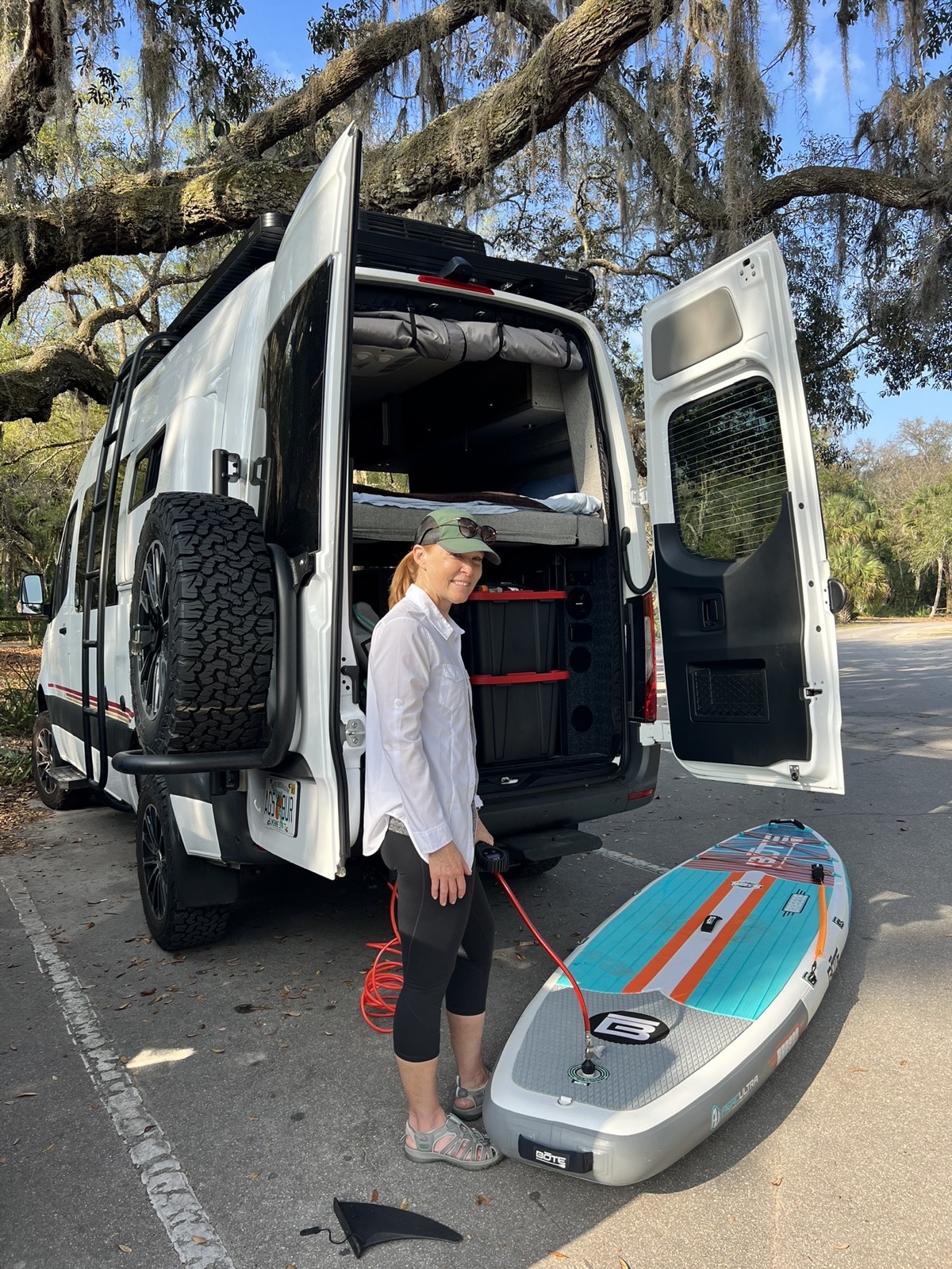 Airing up the boards
Our plan for today was to get out early for a paddle. Having an air compressor built into the van is such a luxury. It isn't fast, but it is easy and allows one of us to focus on getting paddles ready while the other preps snacks, other gear, and drinks.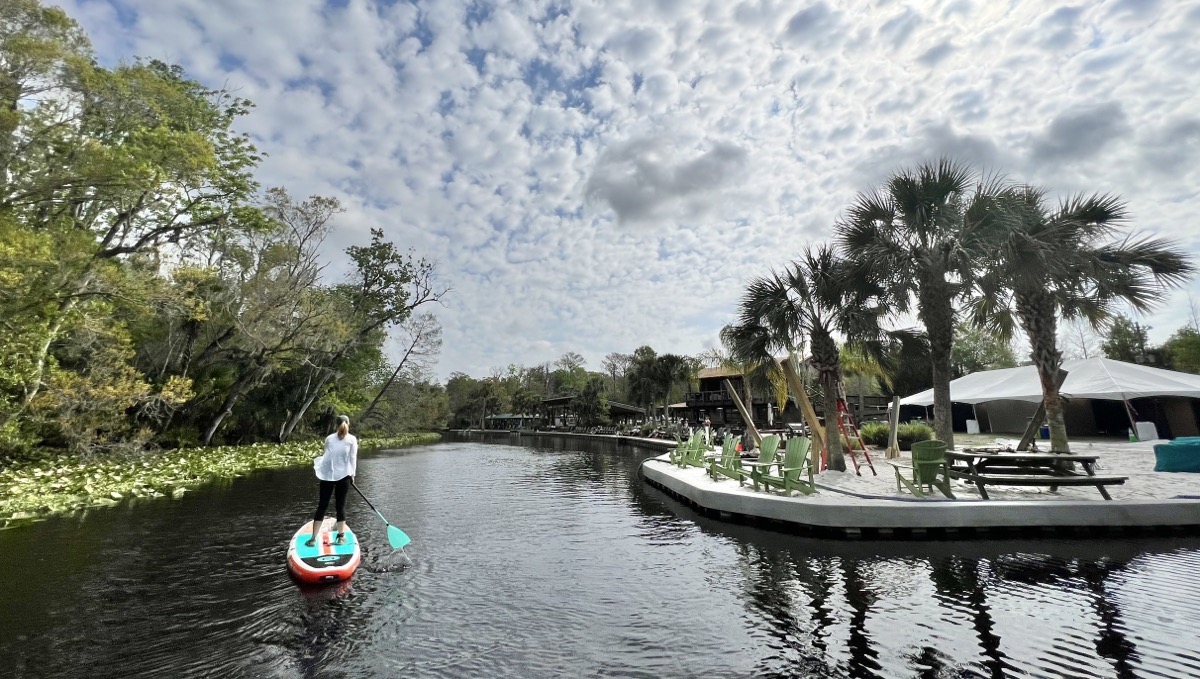 Approaching Wekiva Island
The park highlight for most people is likely the swimming lagoon that are the headwaters of the Wekiwa springs. Near there is a sandy beach canoe / kayak / SUP launch. Right away you are in a beautiful lagoon with crystal clear waters. Even at the deepest parts (maybe 10 feet) you can see clearly to the bottom.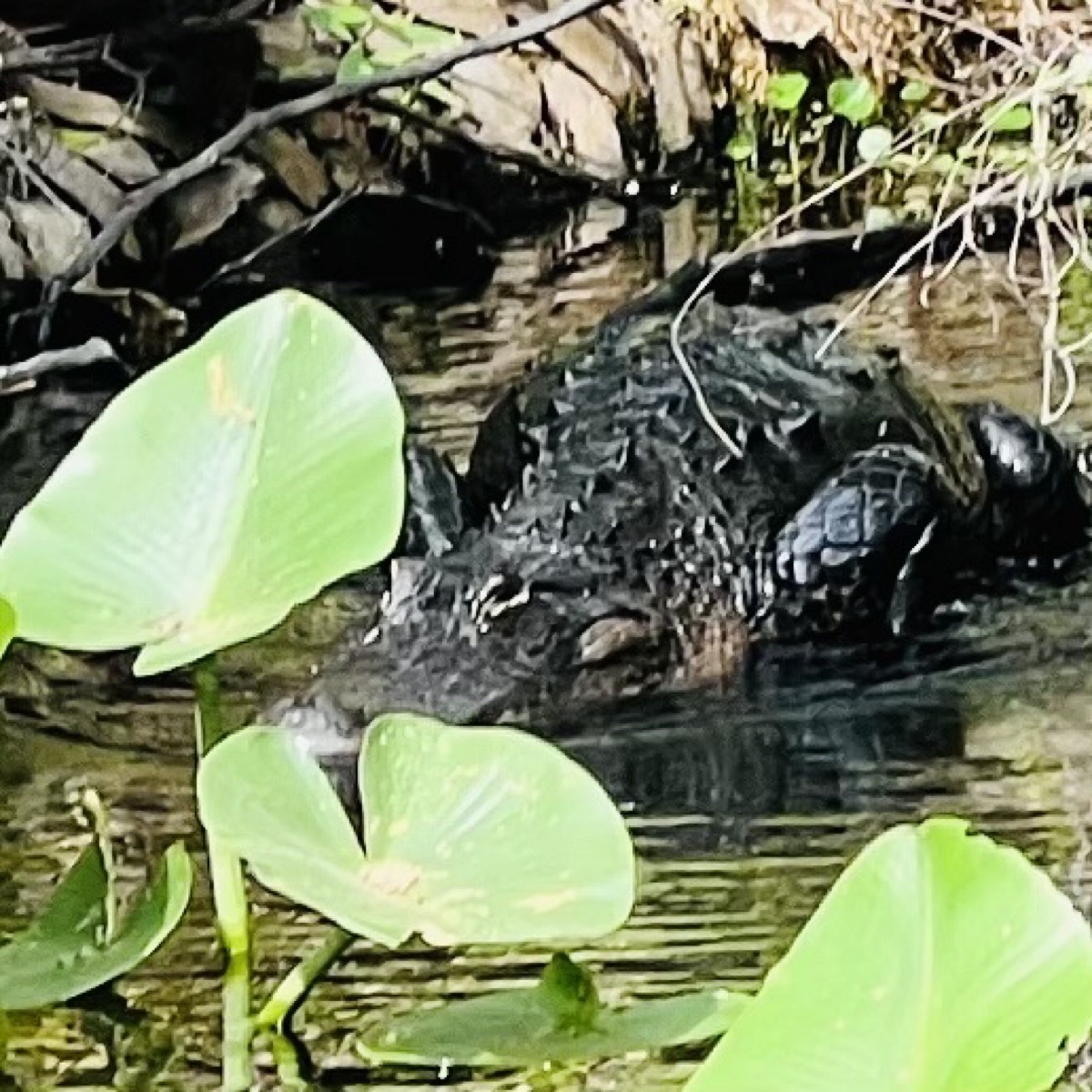 Gator moving into the water
We saw so many turtles, big fish, little fish, and maybe five gators. Usually they hang out on the shore, but a few paddled out to greet us in the middle of the river.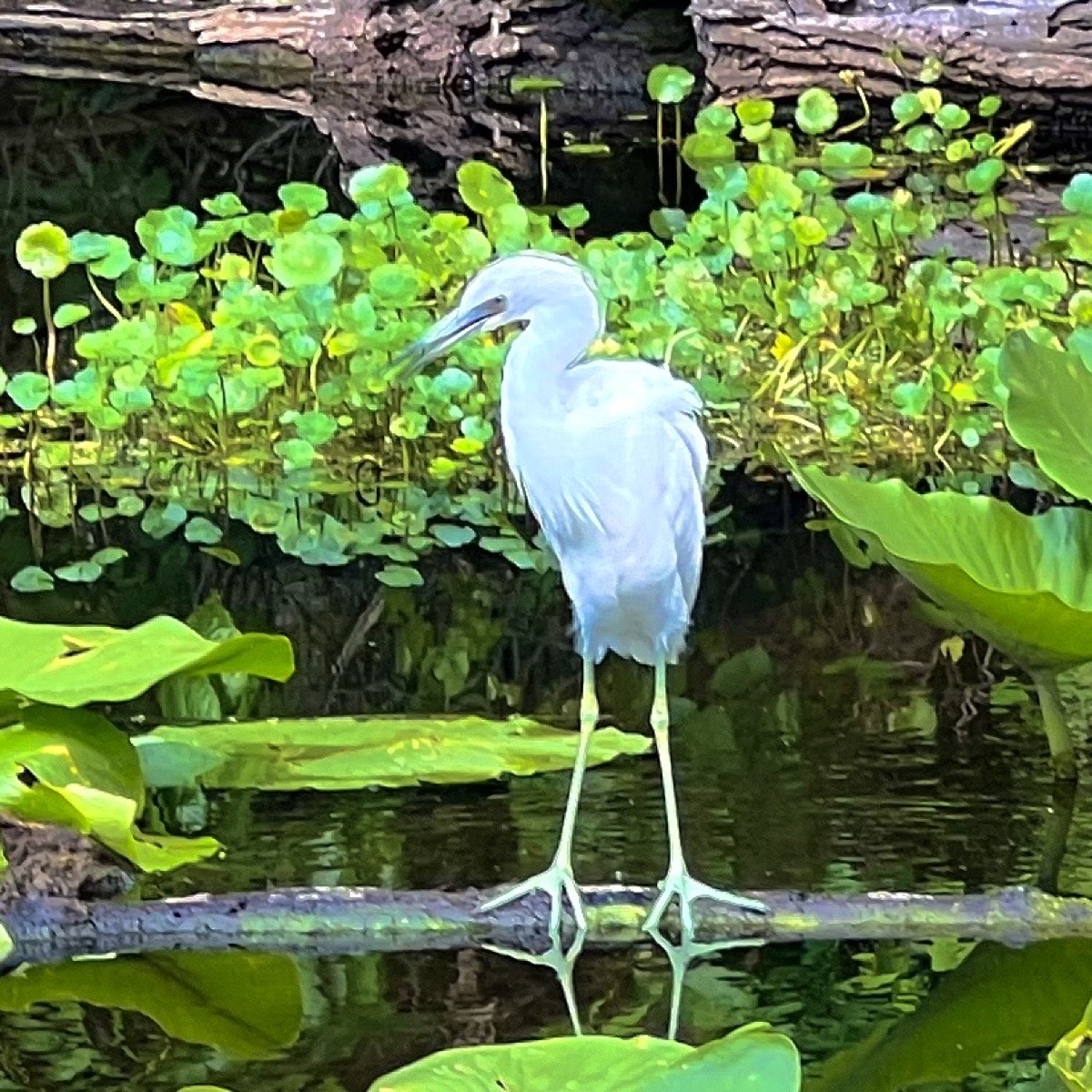 Juvenile little blue heron
Plenty of Florida bird action too: green herons, little blue herons, great blue herons, great egrets, a juvenile night heron, hawks, and this first-for-us juvenile little blue heron. He looks like a snowy egret but doesn't have the distinctive yellow feet and yellow beek. I love this tidbit about why they might be white:
Little Blue Herons may gain a survival advantage by wearing white during their first year of life. Immature birds are likelier than their blue elders to be tolerated by Snowy Egrets—and in the egrets' company, they catch more fish. Mingling in mixed-species flocks of white herons, immature Little Blue Herons probably also acquire extra protection against predators.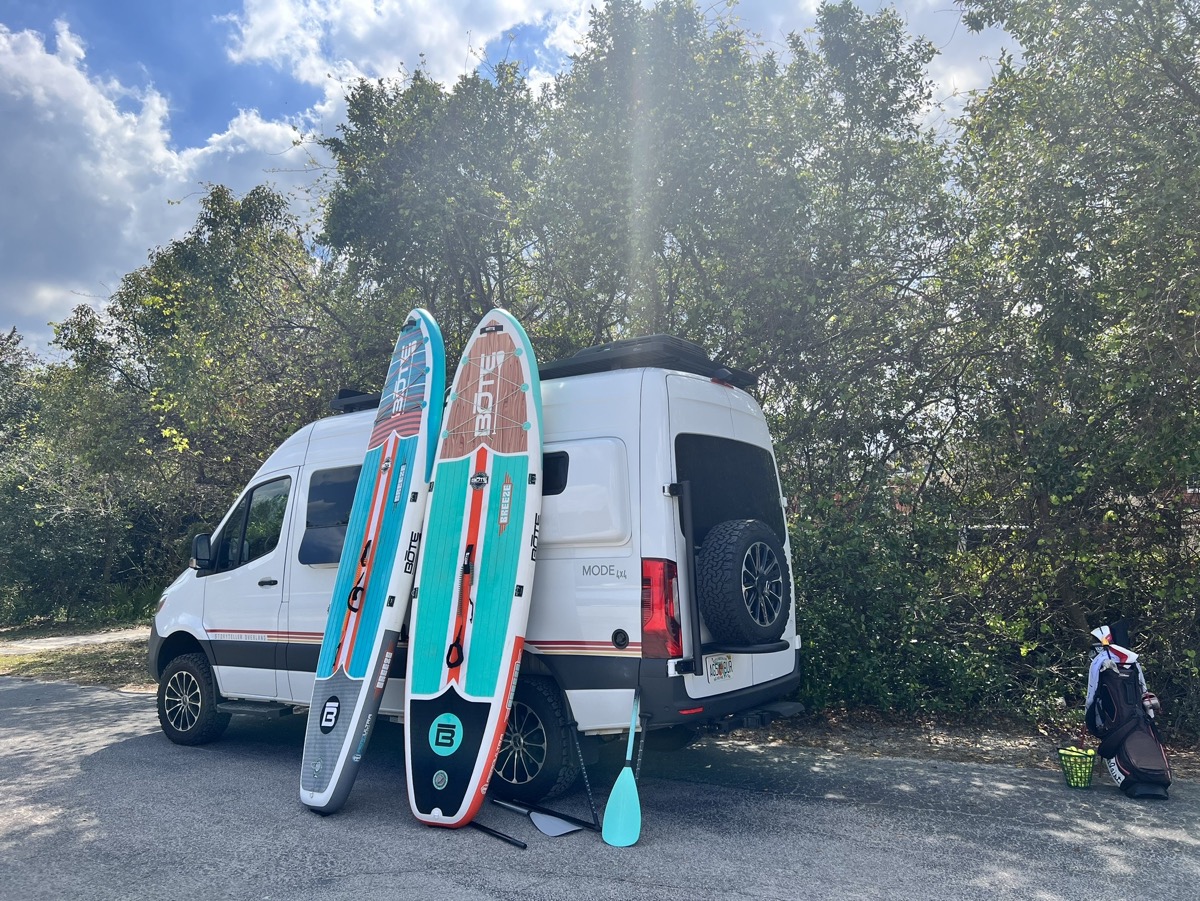 Drying the boards at the golf course
There's a golf course about five minutes away that has been convenient for some practice yesterday and today. We hung out in the parking lot for a few hours to let the boards dry out.
Tomorrow, back to Melbourne for a host of fun weekend activities. Tuesday we start the drive north with about a 3 week journey to NYC.