Sailing Charter in Greece - Part 11 - Poros, Aigina, and return to Alimos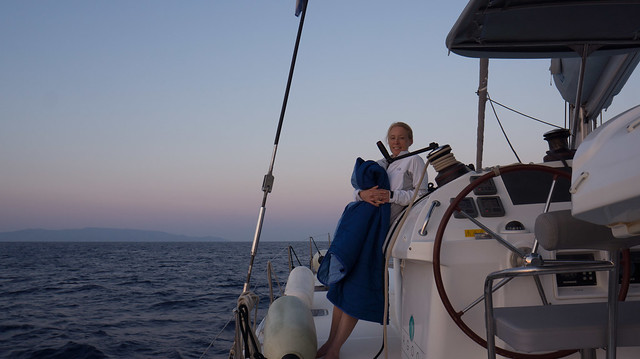 This is part 11 of my sailing in Greece series. You can find part 10 here.
Our July 4th started very early as we prepared for our 55nm journey to the island of Poros, by far our longest single day passage. We awoke at 5:30am to close hatches and cast off, though we all alternated napping and reading throughout the 7-8 hour journey.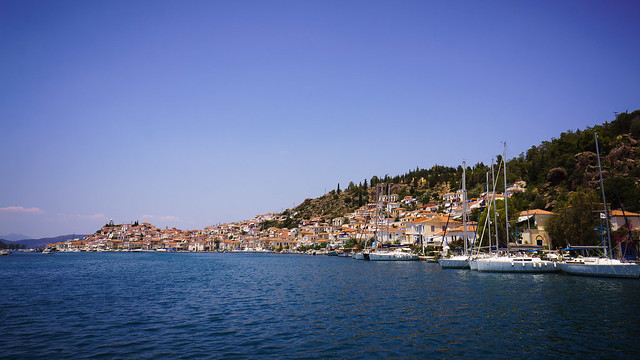 Poros was a pleasant surprise with a notable contrast in architecture to the Cyclades islands. Here we found mostly red tiled roofs and it felt more Italian than Greek.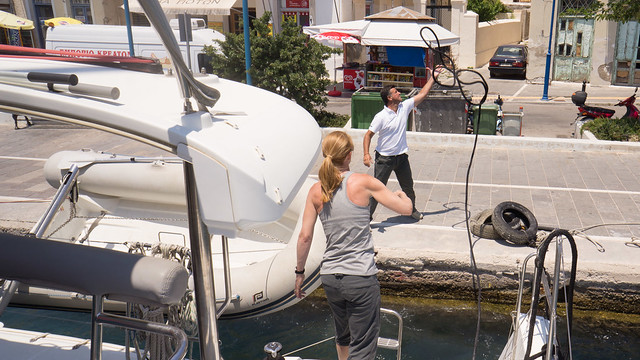 There is a vibrant marina scene here with many tavernas, markets, and gift shops along the harbor. The primary strip is on a narrow channel with the Peloponnese staring back at us about 200m away. The flat water with the tall wooded bluffs opposite reminded us of Keuka Lake. Greeting us upon arrival was Michael, a tall swarthy Greek that helps run the nearby Oasis Taverna. He immediately shared with us a Wifi access code as well as a plate of watermelon to cool us off. This is clearly a sales demand generation scheme for his business, but we applaud his gumption and generosity and suspect we may make a visit to the Oasis later.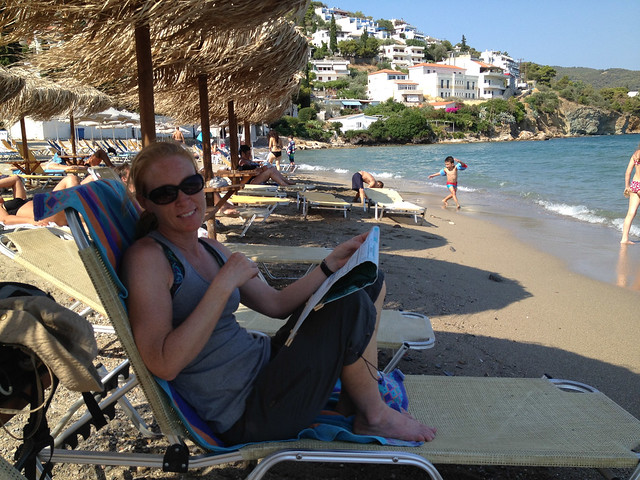 The marina strip where we moored is at the bottom of a steep slope where you can climb up and over to experience a very different side of the island. Julie and I did just that in the afternoon and found ourselves at a beach resort where we rented two chairs and enjoyed a cold beverage. The swimming was quite nice.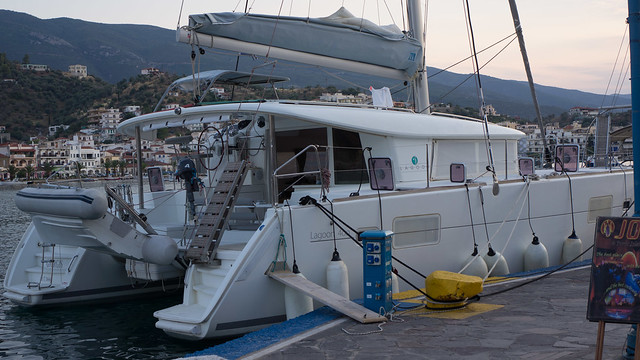 While Julie and I were out hiking, our anchor came free and the rest of our crew helped Vassilis relocate our boat to a side mooring.

After some afternoon napping, Matthew and I sat down at the Oasis for a drink and a game of Lost Cities. Without the sun bearing down (it was hot earlier) this marina is delightfully cool and breezy. The whole crew then decided to take a pre-dinner hike up to the clock tower for a nice panorama view of the entire channel.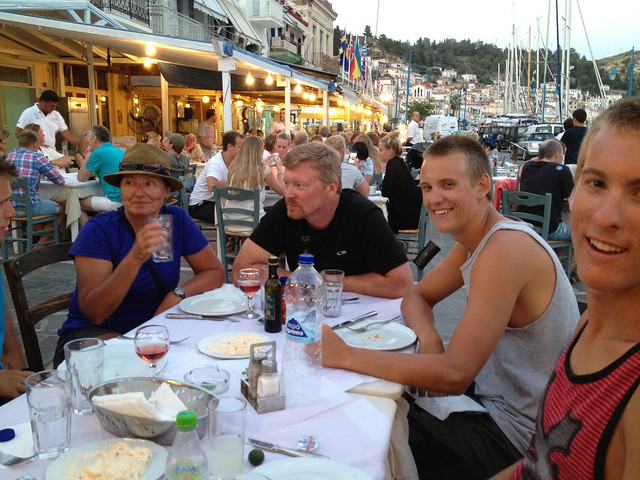 Dinner at the Oasis is above average and it was especially nice to have Vassilis join us. We are all slightly depressed as we know our adventure is nearly at an end.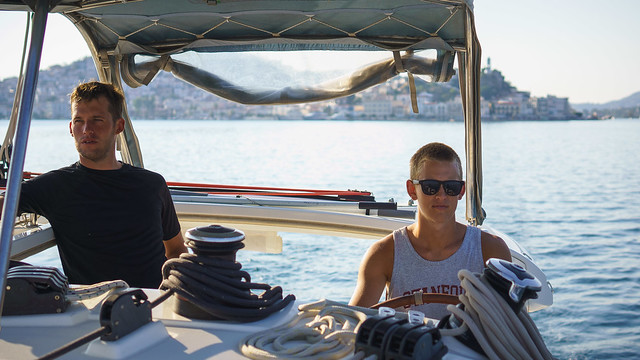 The next morning we left Poros at about 8am to sail to Aigina, a resort town within a short distance of Athens so popular for Greeks. We anchored in the harbor and five us swam in about 300m and found some tide pools and cliffs.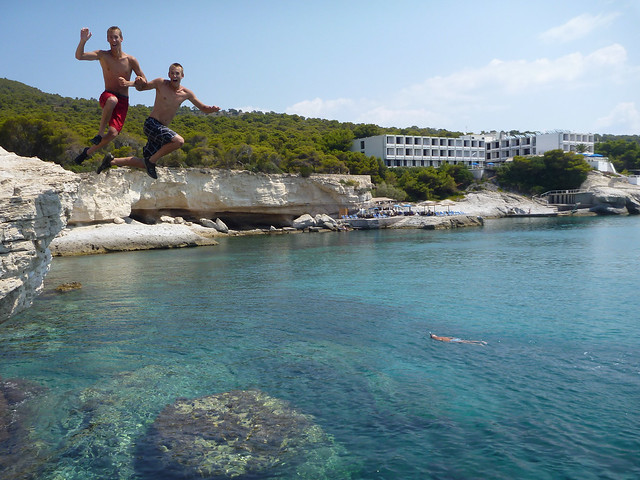 The water was deep, clear and perfect for cliff jumping. We took turns leaping off the cliff then climbing back up for a repeat.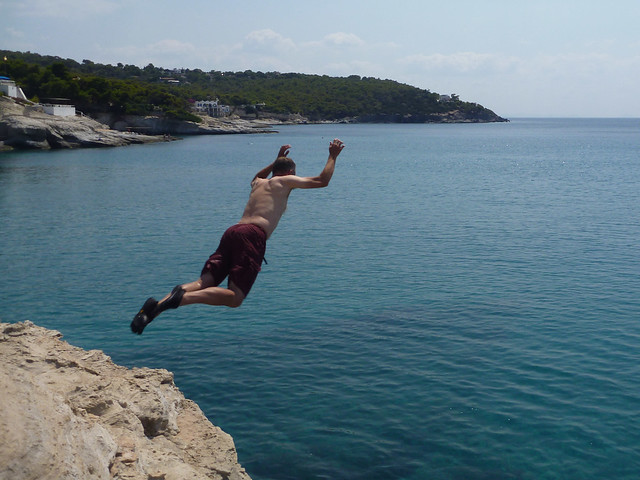 Above you can see a rare photo of me doing something interesting.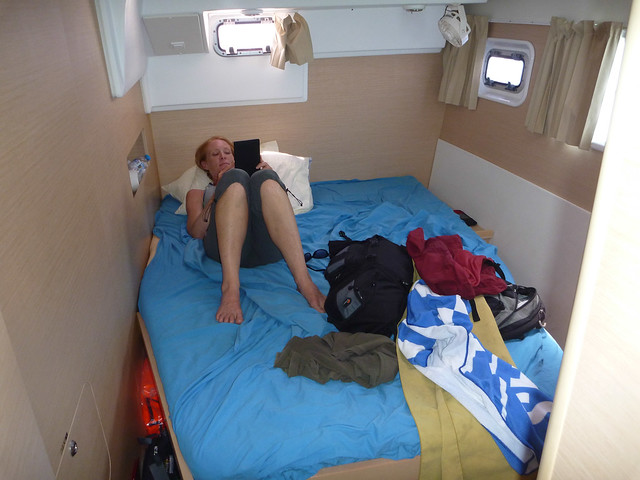 We had our last meal on our boat and got very creative in an attempt to finish off our leftovers. We made pasta with a variety of cheeses, Vassilis' chicken dish, and being short on beer we got creative with whiskey cocktails.
In the photo above you can see the cabin that Julie and I share. It had an attached head that doubled as a shower (the whole toilet area doubled as the shower). Not really a living space but more than sufficient for sleeping and storing our gear.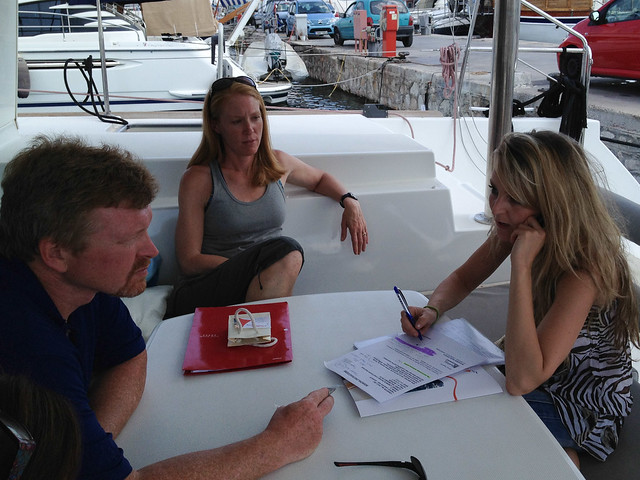 After a two hour sail we were back in Alimos to "check out" with Alice. We had to return the boat full of fuel and had a fuel supplier try to swindle us by running the meter longer than they were actually filling our tanks. Fortunately Vassilis has a keen eye for this and called them on it, saving us some €.
I'll conclude this Greek travel series in my next post with some summary information and tips on how to arrange an adventure like this.