Sailing Charter in Greece - Part 3: Athens to Kythnos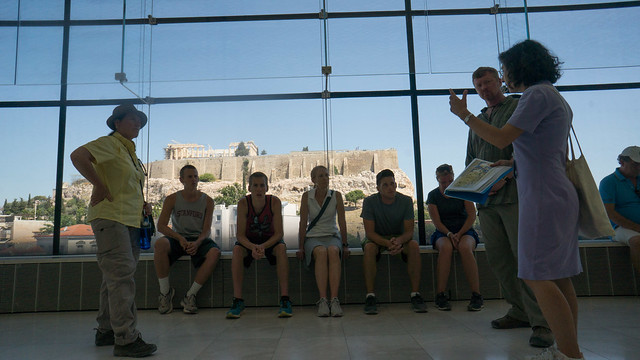 This is part 3 of my sailing in Greece series. You can find part 2 here.
Sunday was our day with Demetra, our private tour guide for the Acropolis and surrounding area, and our final day in Athens before setting sail in the early evening.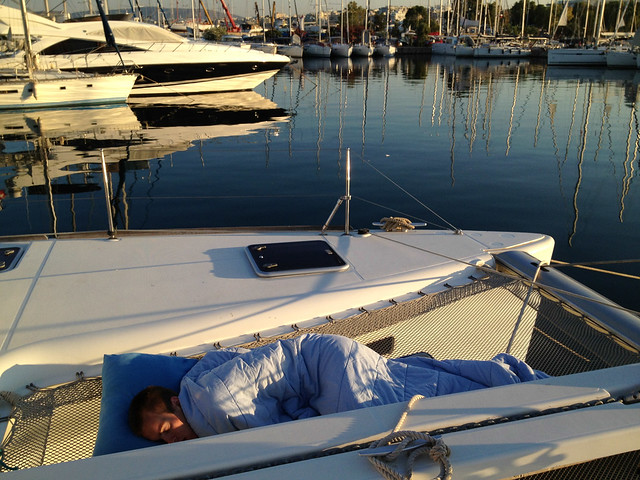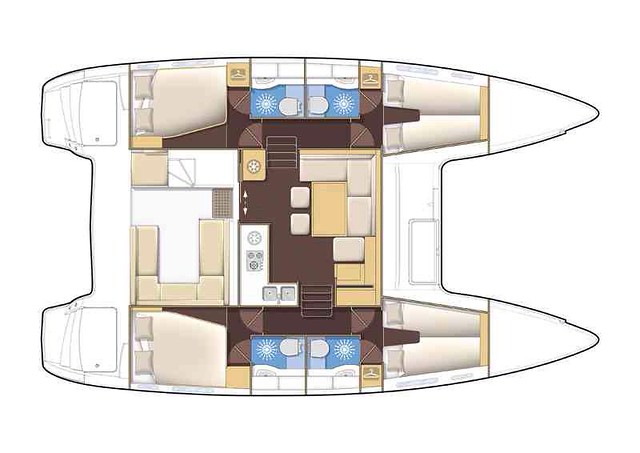 Sunday also marked our first night sleeping on the Lagoon 400. There are four two-person cabins with four heads as well as two "coffin cabins" that sleep 1 each in the bow of each hull. The four large cabins each have a closet and a private head with a shower. Actually the head is the shower. These four cabins are slightly downstairs from the main common area and kitchen. This area has a dining table with a surround couch, a navigation computer and radio, two small refrigerators, sink, and a gas stovetop. The fridges are battery powered, and the batteries can be charged by the running engine or by hooking up to an electrical outlet when moored in a harbor.
As you can see from the photo above, Matthew would sometimes sleep in the bow webbing as opposed to in his coffin. A pillow and a large comforter wrapped around him was all he needed. This webbing was also where we would spend a lot of time lounging while underway. It is also where you'll find the anchor mechanism.
In the stern covered area (above the common area and kitchen) is another table and dining area as well as ample storage under the benches. This is where we would store liquid refreshments (bottled water and beer mostly). In one of the smaller storage bins we would even fill with ice to keep beer cold and take strain off the fridge. A nice bonus would have been to have an insulated storage area that would retain cold.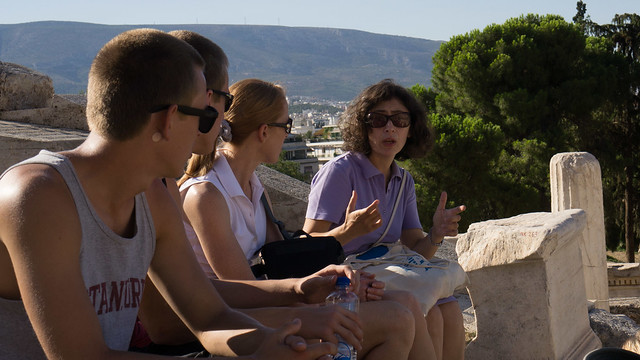 We met our tour guide Demetra at the entrance to the Theater of Dionysus, opposite the Temple of Zeus. Immediately we knew she was the right fit for our group. Very strong English skills, a student of Greek civilization, the arts, philosophy, and architecture, and a true intellectual. She was also very nice and accommodating of all of our special requests.
We only had time for a half day condensed program. From the Theater we climbed to the top of the Acropolis.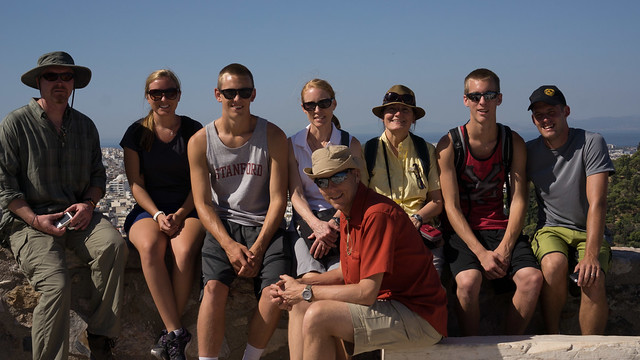 I remember the Parthenon being under repair when I last visited in 1990, and today there is still major renovation going on. While it is a pleasure viewing and learning about the Parthenon, the real joy is the panoramic view of the city and neighboring hills. The air quality and visibility seemed much improved over my last visit.

Our tour ended with a visit to the newish Acropolis Museum, a beautiful structure with mostly glass on the outside offering dramatic views of the Acropolis while studying artifacts and sculptures preserved from the site (such as the famous decorative marbles). This is where our time ended with Demetra, though we did get a reference for a possible tour guide on Mykonos / Delos which turned out to be a very good move. I highly recommend Demetra specifically, and hiring local tour guides generally, for visits like this when you want to maximize your time value and can't afford the luxury of accidental discovery and wandering.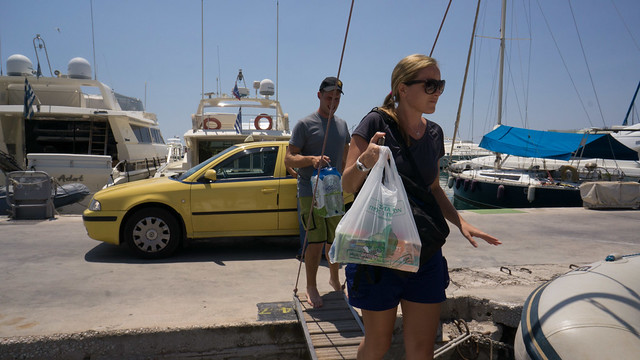 We taxied back to the marina, with one group stopping at a grocery to do some additional shopping. We had second thoughts about our selections and we wanted to make sure we had enough water and other staples. With ample storage space and 2 weeks ahead of us there was no risk of oversupply.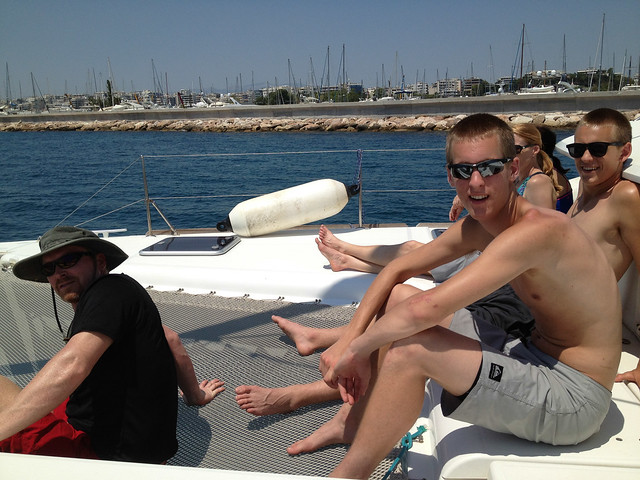 Mid afternoon on Sunday we departed Alimos Marina, heading south and southeast towards the southern-most tip of the Greek mainland (the Balkan Peninsula) and Cape Sounion. The weather was not surprisingly perfect for sun-bathing but hardly ideal for sailing. This would be a trend for this trip as we would spend most of our time underway and under gas motor power instead of sailing.
I used this first time underway to start using a navigation iPhone app from Navionics called Marine: Europe. The app allowed me to pre-download all of the charts for the Cyclades that we expected to explore and hence work without using anything but the GPS. I could track our progress, figure out what features or islands we were passing, calculate our current speed and track, and even forecast arrival times. Yes, we also had a nav computer on board and I could always just ask Vasilis, but I'm a navigation geek and it was so much more fun doing it myself. I still don't really have a clue how to read much of the harbor symbology, tide information, and other key information that I'd need to understand if I ever took the helm myself someday.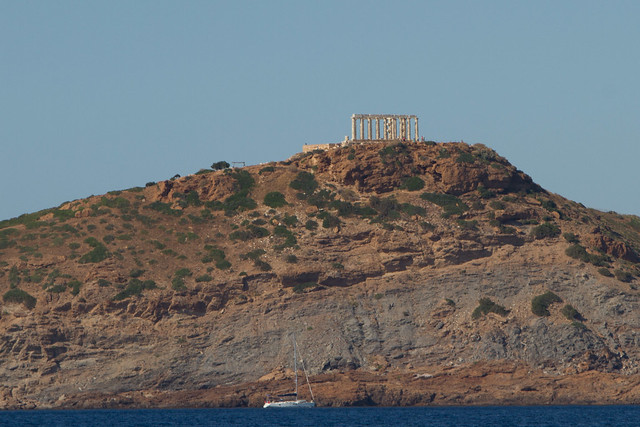 By early evening we were passing Cape Sounion and the Temple of Poseidon. The cape, cliffs, and temple are spectacular:
In a maritime country like Greece, the god of the sea was bound to occupy a high position in the divine hierarchy. In power, Poseidon was considered second only to Zeus (Jupiter), the supreme god himself. His implacable wrath, manifested in the form of storms, was greatly feared by all mariners. In an age without mechanical power, storms very frequently resulted in shipwrecks and drownings.
As if the scenery isn't dramatic enough, how about some legend to add to the spice:
According to legend, Cape Sounion is the spot where Aegeus, king of Athens, leapt to his death off the cliff, thus giving his name to the Aegean Sea. The story goes that Aegeus, anxiously looking out from Sounion, despaired when he saw a black sail on his son Theseus's ship, returning from Crete. This led him to believe that his son had been killed in his contest with the dreaded Minotaur, a monster that was half man and half bull.
Julie's advance research combined with a children's Greek mythology book we brought along allowed us to recap these stories along the way, adding so much needed context to our journey.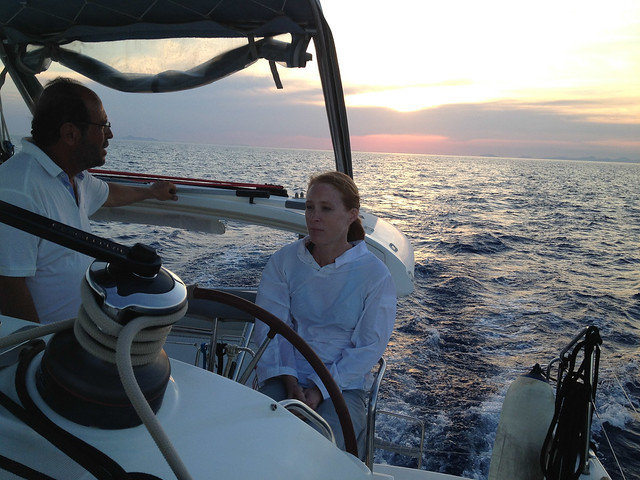 From there we sailed into the open sea for our first island destination: Kythnos. More on that in my next post.