Philmont 2012 - Planning and Getting There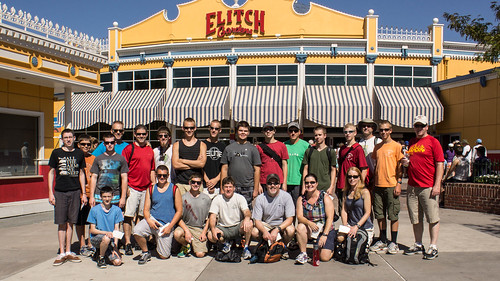 This is the first in a series of posts about our trip to Philmont Scout Ranch this summer. We had an amazing trip -- a family adventure to remember and one that Julie and I are thankful we took before our older boy heads off to college next year.
About Philmont
Philmont is located in north eastern New Mexico and is Boy Scouts of America's largest high adventure base. It covers about 214 square miles of rugged mountain wilderness in the Rocky Mountains. Elevations at the ranch range from 6,500 to 12,441 feet.
Scouts and adults head to Philmont primarily for backpacking adventures. Scout groups are organized into crews of 7-12 people (no more than 4 adults in a crew) that backpack on itineraries ranging from 50 miles to 104 miles over a 10-11 day period. These itineraries are not at all like what you would encounter if you decided to, for example, hike a 75 mile portion of the Appalachian Trail or Pacific Crest Trail. Key differences include:
These hikes are supported by the Philmont staff with food resupply and generally abundant water sources (though often the water must be treated).
Much of the camp-sites crews encounters have a theme and program associated with them. For example, you might encounter a camp that has a post US civil war theme with a blacksmith and black powder gun shooting.
You will encounter many other crews during the hike. It never felt crowded for us, but we also rarely felt alone in solitude.
This was our troop's (and Jacob's) second trip to Philmont in the past 5 years. We had a single crew of 11 go in 2009, and 3 crews of 25 total go this summer. I managed the orchestration of the trip for the troop - we started the detailed planning for this adventure about 18 months ago.
About My Crew and Itinerary
We organized into three crews and aligned ourselves primarily by experience and by how strenuous an intinerary each individual wanted. Our family was interested in pushing our limits and trying one of the super strenuous treks -- 90 or more miles. Three other return hikers (Phil, Kyle, and Derek) had the same interest so formed a crew of seven and got our first choice of itineraries, itinerary 34 (summary, map). Our crew number was 724-G1. The first three numbers (724) represent our arrival date at Philmont (July 24). The "G" represents our "contingent letter", in this case all of Troop 224 from Sherwood was 724-G. The final 1 means we are the first of three crews from that contingent. Make sense so far?
Getting to Philmont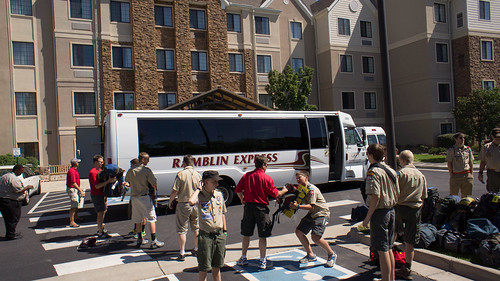 My understanding is that most crews get to Philmont in one of four ways:
Take a the Amtrak to Raton and a shuttle to the ranch
Fly to Denver or Albuquerque and catch a charter bus to the ranch
Drive to the ranch
Denver is very accessible from Portland with enough competition to keep fares reasonable. We booked group travel through Southwest Airlines and our fare was about $260 round-trip per person. We used Ramblin Express for our charter bus needs, which included travel from the airport to our Denver hotel, travel from Denver to Philmont, and the return trip from Philmont to Denver. Total cost per person for the bus was about $135.
We flew to Denver early Sunday morning on July 22, 2012 and stayed at the Staybridge Suites in Cherry Creek for two nights (cost: $62.29 total per person, packed in pretty tightly).
On Sunday we spent some time walking around downtown, visited REI to pick up our cannister fuel (can't travel with that!), and purchased other final supplies for the trip. On Monday we went to Elitch Gardens Theme Park, a surprisingly fun and clean amusement park right in downtown Denver. Our highlight was the Boomerang coaster, and the water park was great for cooling off in the 90+ degree weather. Our group ticket price for Elitch Gardens was $23 per person.
On Tuesday morning, July 24, we boarded our bus for Cimarron NM and the Philmont ranch. I'll write about our travel and arrival in my next post.