What a difference a year makes. Last year I peaked at 118 unplayed games in my collection and went into the holiday season with over 35 games remaining to be played.
While I have been more disciplined this year about acquiring games and incurring burndown debt, the task of finishing the year with no unplayed games is still daunting. I'm keeping all of the games remaining to be played on the closet shelf in the game room.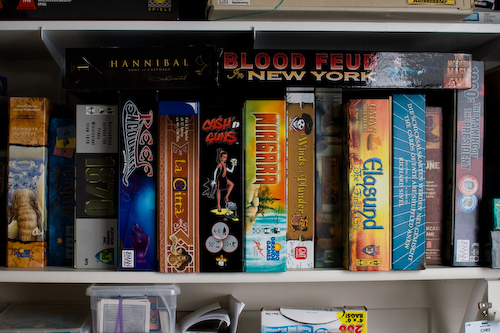 Some comments on each game:
Mammoth Hunters - picked this up in a math trade but it still lingers around. Maybe the trade was a mistake, but I think this is a game Julie may like.
Caylus Magna Carta - a recent purchase, this is sure to get played in the next few weeks. I'm hosting game night on Tuesday so I'll likely push for this one.
1870 - little to no chance of this getting played. I purchased it at steep discount and expect to play at some point, but there are other 18xx games ahead in line to be played.
Reef Encounter - also picked this up in a math trade. I technically played this online once but had no clue what I was doing.
La Citta - also picked this up in a math trade, and played online once with no clue. Sense a theme here?
Cash n Guns - I won this on a BoardGameNews contest. These guys were in the booth next to us at Essen 2005 but I never got a chance to play this. Matthew loves it so it will get played.
Niagara - Maybe I'll bring this to the games class on an open gaming day.
Winds of Plunder - GMT P500 pre-order that I doubt will get played this year. I probably should have pre-ordered Conquest of Paradise instead.
Brass - This should get played this coming Sunday - very excited to try it.
Elasund - Also picked this up at a discount but haven't managed to give it a go yet.
Friedrich - I've always loved the idea of how the cards make this game click so I picked it up in a math trade. Maybe I'll get this played at the Salishan gaming retreat coming up in December.
Dune - This is a classic I've heard so much about but have never played. Maybe I can sneak into a game at BGG.CON as I know it was played there 2 years ago.
1960: The Making of the President - This will certainly get played before the end of the year, especially considering how much Jacob likes this era.
Blood Feud in New York - Matthew and Jacob are interested in trying out this mobster game so we should find a way to play it on a Saturday or Sunday before too long.
Hannibal: Rome vs. Carthage - I was thinking this would be an unlikely game to play, but Jacob just started a Roman history unit at school and they are studying the Punic wars as part of it, so that may very well be the hook I need.