Unplayed Games Burndown - August Update
Things are not looking good. A bulk purchase of games at Funagain combined with a lack of playing time over the summer has really set me back on my quest to play all of my unplayed games in 2006.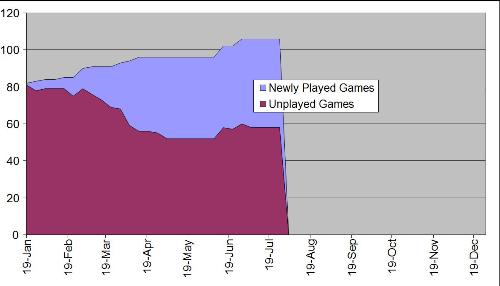 One of the first steps to recovery is admitting you have a problem, so let me just say it - without some other changes, I don't think I can complete this project in 2006. Time for some drastic action.
There are two changes I can make to get into recovery mode:
Get more aggressive about knocking out the unplayed games.
Get rid of games on the unplayed list that likely wouldn't stay in my collection anyway.
I've chatted with a few friends like Ken and KC about hosting a burndown party at my house - this is gaming where we focus on quantity, not quality. Maybe I'll give points to people that show up to help me knock down the list and do some weighted raffle prizes or the like. Given that we are entering football season and my Saturdays will be shot September-October, I may need to set aside a Sunday to do this.
The second bullet is more interesting to me and is where I think I can get more help from you, the reader. I'm going to list all of the games I own but have yet to play, and I'd like those of you with opinions to post a comment with a list of 5-10 games that you think I should dump from my collection.
Checkers 2000
Dying Lights
Fast Golf
Golden Deuce
Himalaya Blackjack
Key-Cue
QUITS
1830 - Railroads and Robber Barons
Battlestations
Diplomacy
History of the World
Starship Catan
Britannia
Corsairs and Hellcats
Iron Dragon
Silverton
Kingdoms
Crystal of Power, The - DragonLords
El Caballero
Loco!
Maelstrom (a Vortex game)
Manifest Destiny
Mag-Blast Second Edition
Master Labyrinth
Hellas
Cave Troll
Robert Heinlein's Starship Troopers
Orient Express
Hero Clix
Cannes - Stars, Scripts and Screens
Quest for the Dragonlords
Turbo Taxi
Atlanteon
Stock Market Game
Target
Legend of Landlock, The
Sequence
Mille Bornes
Spy Alley
221B Baker Street and Expansions
Magdar
Blitzkrieg
Malefiz
Stock Market Game, The
Outdoor Survival
ASL Starter Kit #1
Das Ende des Triumvarates
Kreta
Warrior Knights
Ys
Parlay
Gemblo
Socks in the City
Kunst and Kennis Spel
Mutiny
Wie Hund und Katz
Wordwild
Paths of Glory