Little did we know as we spent the first half of the day up on Mt Hood skiing that we would return to a winter storm that started with high winds and freezing rain and turned into a mild snowstorm. I suspect about half an inch fell but it is pretty slick and nasty out there.
Skiing was good but coooold. The northeast winds were brutal up on top and conditions were icy but on the groomed slopes things weren't too bad. It was nice to get back up on the mountain but by 1pm we were done and drove back home. Good thing we did as the storm was hitting greater Portland by then and traffic started to get a bit snarled.
Surprisingly, despite complaining about the cold today both boys went outside to play in the snow. No, that's not Matthew with Jacob in the picture below - that's our neighbor boy Michael.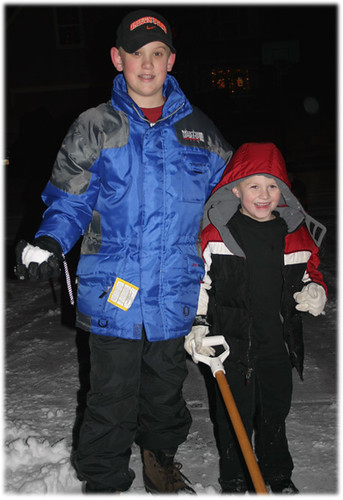 Looks like the weather will not improve tonight, with a winter storm warning through the night with a promise of frozen rain. Looks like the boys might be staying home from school tomorrow.