Trip to Israel, Part 2: Tel Aviv and Herzliya
Erich and I arrived early Thursday morning at about 4am local time. We weren't terribly well rested but got to the Hotel Sharon in short order and managed a couple of hours of sleep before our meetings were to begin at 8am. Our hotel was completely booked for Friday night, meaning we would have to check out Friday morning and move to a new hotel in Tel Aviv for Friday evening, then return to Hasharon on Saturday. This hotel is situated on some amazing Mediterranean coastline, but the amenities were somewhat utilitarian. This is a theme throughout Israel - not much gloss with a focus on the pragmatic.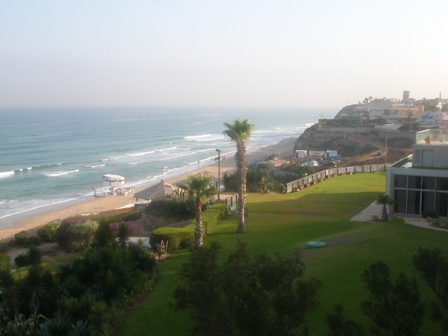 View from my second room at Hasharon. That's the lifeguard station down on the beach.
We spent a full day in prep meetings on Friday, finishing at 7pm. I took a quick swim in the indoor pool then Erich and cabbed it over to the Marina in Herzliya for a nice meal in this shopping district. Thursday evening is the start of the weekend in Israel, with Fri/Sat being the traditional days off. We still had a lot of prep work to do so we worked through most of Friday with our partner, finishing about 4pm.
Our partner was generous enough to provide a company car for us to use to get into Tel Aviv and then tour Jerusalem on Saturday. We grabbed our luggage and took the 20 minute drive into the beach area in Tel Aviv to check in at the Sheraton Tel Aviv. This is a very nice hotel situated right in the downtown beach area, and shortly after check-in Erich and I strolled down to the water. I swam for about 15 minutes - the water was very nice and relatively calm thanks some rocks/reef to break the tide a ways offshore.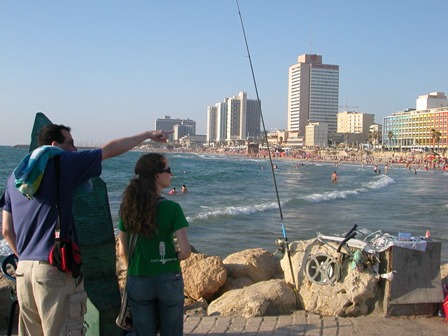 Erich and I strolled out on a jetty to watch several fisherman. The tall building in the background is our hotel.
That evening we enjoyed a meal at the Old Port Tel Aviv, a boardwalk area with some decent restaurants and immense nightclubs. We aren't exactly the clubbing types, so we stuck to dinner and some ice cream afterwards and returned to our hotel to catch up on some sleep. Saturday was spent in Jerusalem - more on that in my next post.
Saturday evening through Tuesday were spent back in Herzliya. The days were packed with meetings with our prospect and we were fairly exhausted by the end of each day. We did manage to get out to the beach on Sunday after work. The swimming wasn't as pleasant - there's a significant undertow that made me a bit uncomfortable (this is a popular surfing spot - there were always 10-15 surfers offshore).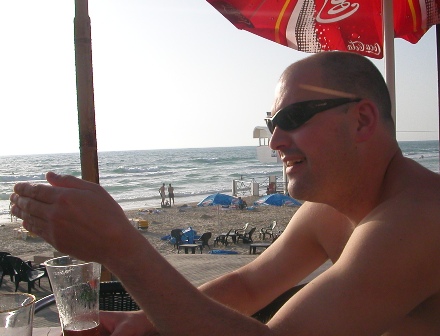 Erich and I enjoying a beer after taking a swim.
Tuesday evening our flight departed Ben Gurion airport at about midnight. We managed to get a bit of shopping in, and it was in the duty-free toy store that I had my first glimpse of games offered in Israel. I had visited two shopping areas around Tel Aviv and failed to see anything resembling family strategy games.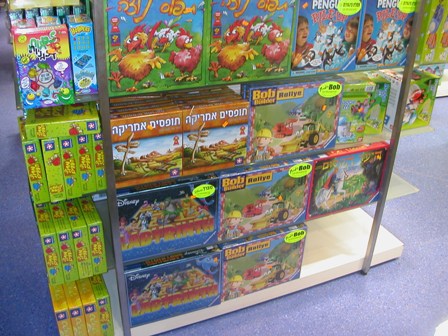 Looks like Hebrew versions of TransAmerica and Chicken Cha Cha.
As you can see, a limited selection. But still, would you ever see TransAmerica in an American airport? Doubtful...