Trip to Israel, Part 1: Frankfurt
I had hoped to post some of this trip content while on the road, but generally poor internet connectivity in my rooms in Israel combined with an extremely hectic work schedule precluded me from doing so.
My colleague Erich and I departed for Israel last Tuesday. Lufthansa has a daily non-stop flight to Frankfurt that is quite convenient and allowed us to connect into Ben Gurion airport with only one stop. The downside (sorta) is a 12 hour layover in Frankfurt. Rather than sit around the airport for the day, Erich and I ventured into downtown on the S8 subway to the Hauptwache stop, conveniently located near the Zeilgalerie. This is a vibrant shopping area and was a great place to shop, people-watch, and hunt for some games.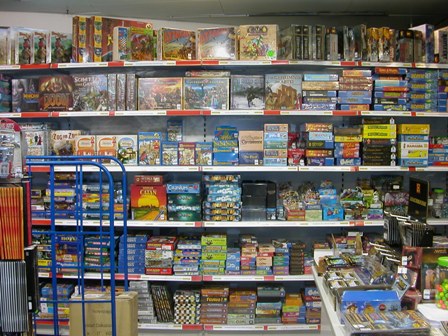 The game selection at the Gamestore in the Zeilgalerie.
Only a five minute walk from the subway stop is the Gamestore in the Zeilgalerie. This is a traditional hobby game store like you might find in the US, with a broad selection of RPGs, miniatures, CCGs, and family boardgames. Prices were very comparable to the US but I found a few decent deals on card games. I picked up Sticheln and Geschenkt for a total of about 13 euros.
Erich and I then proceeded to do some museum hopping, visiting the Goethe Museum and the Museum of Modern Art. Both were OK, not spectacular. The Goethe museum had too little content on his actual works, and too much content on the artists that surrounded him at the time. The modern art museum had some interesting exhibits but was very small in comparison to others I have seen and nothing overwhelmed me.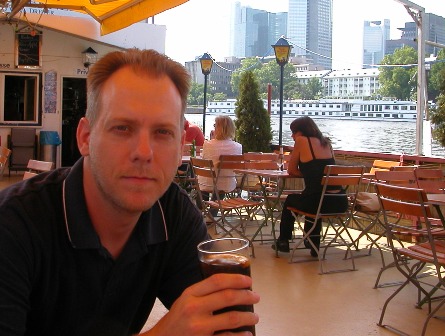 Erich and I stopped for a drink at a floating bar/restaurant on the Main river.
We spent a good part of the late afternoon just walking around the city, especially the attractive waterfront around the Main river. The city seemed to be much cleaner and vibrant than when I last visited in 1990.
We ended the day with some more shopping in the main department store at the Zeilgalerie. Erich was looking for some action figures for his 5 year old son, so we headed up to the 6th floor toy section. I was pretty blown away by the game collection there.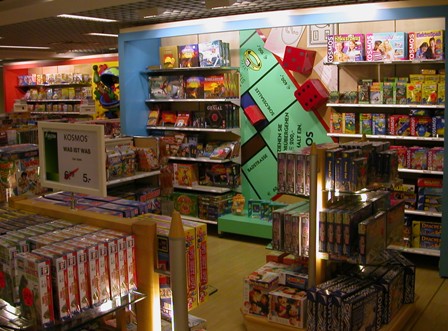 The game section of the department store.
The selection in this store was larger than that of the game store, with a wide range of games including a decent collection of American games. There were some great deals here as well: New England for 10 euros, some good clearance items for 5 euros (I picked up Hellas). These games certainly are more mainstream in Germany than in the US. I wonder if we'll ever see a selection like this in a Target?
Next it was back to the airport to catch our flight to Israel. More on that later...