The weekend gaming ended with a day of mostly longer fare. Doug left around noon, the rest of us departed around 4pm.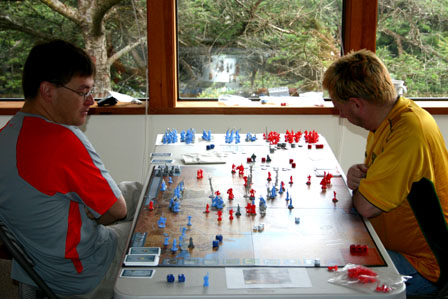 George and Mike squared off in a game of War of the Ring. I need to play this game! Jacob and I have played a few turns but couldn't finish and had to clean up. I believe the Fellowship (George) had the upper hand in this game when they decided to call it quits.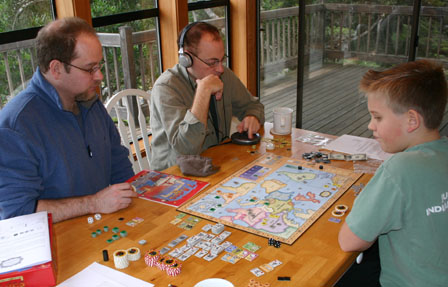 Doug, Dave, Jacob, and I played the new Martin Wallace game Struggle of Empires. This game has potential, but man I had a rough start. You see, to move troops across open waters you need to make a single d6 roll. If a 1 comes up, you roll again. 1-2, you lose the unit to sharks, 3-4, the unit has to return, 5-6, no effect. I'm sure my memory is off here, but out of the first 10 times I tried to move units this way, I think I rolled a one 8 or 9 times. Shame on me for trying to be so bold as conquering India I suppose. There's some real game under the hood though and I look forward to playing again.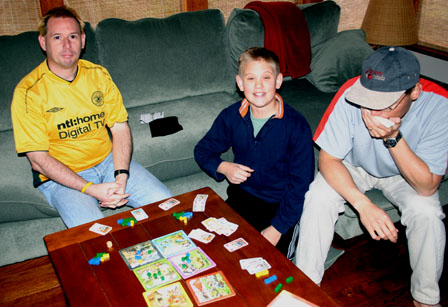 After Doug left we watched some NFL playoff football. Pick Picknic seemed like appropriately light fare. This was my second play of this game (the first was the original Hick Hack in Gackelwack) and I think it is quite fun. It is basically a silly guessing game - think of a much lighter version of Hoity Toity.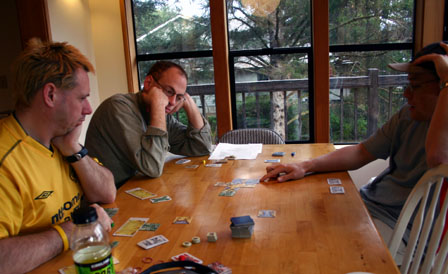 Mike, Dave, and George play El Caballero.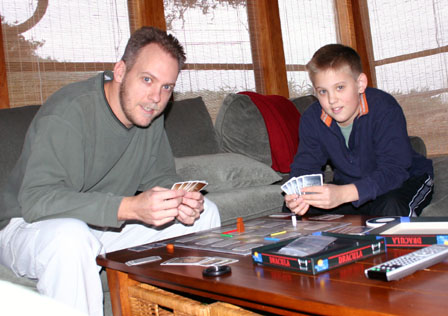 Jacob and I play Dracula, a solid 2 player game with a memory element that doesn't bother me too much. This needs to come out more often as it plays quickly and has some decent strategy around hand management.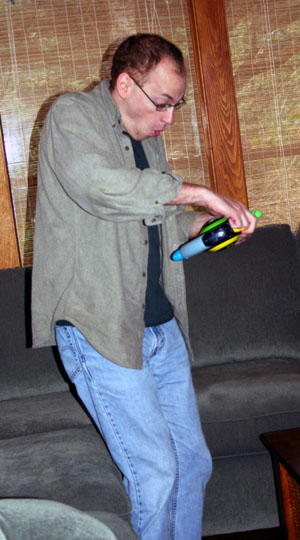 One of my personal highlights of the week was watching Dave play Bop-It Extreme. Apparently the best way to score high is to get your whole body in synch with the music.