I've got free broadband access in my hotel room here in downtown Miami. We head over to the ship in about an hour, so hey, why not squeeze in one more post before we take off.
Rather than wake up at 3am on Friday morning and make the 40 minute drive to the airport for our 6am flight, we opted to take advantage of a hotel/parking package near the airport. For about the same cost as 9 days of parking in economy, we got a room and free parking at the Staybridge Suites and got to sleep in an extra hour or so. Great idea if you don't live close to the airport and will be gone for more than a week.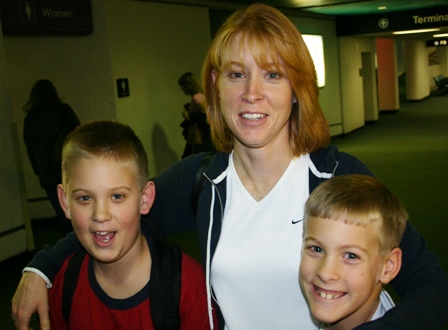 Jacob, Julie, and Matthew after our arrival in Miami.
We arrived in Miami around 4pm yesterday. I used some upgrade certificates to bump Julie to first class, which was a new experience for her. She hardly took advantage of it, skipping the meal on the Denver-Miami leg and not consuming any free alcohol. The extra elbow room was appreciate I'm sure.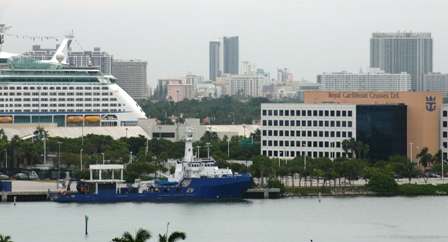 The view of the port and our ship from our hotel room. That's the Voyager of the Seas on the left. The ship is huge - 138,000 tons supporting over 3,000 guests.
This morning we had breakfast with the entire family contingent - my parents, Julie's mom and step dad, and Julie's brother Dave and his wife Lisa. We are meeting at 10:30 this morning to catch a van to the port for what we hope will be an early boarding.