I had some business travel to Georgia last week, and my meeting ran to late to catch a flight back on United so I had to spend the evening there on Thursday. David Chappelle (no, not that one) was nice enough to respond to my email offer to hook up for some gaming, so I met him up on the NE side. David was here in Portland last winter for a couple of gaming sessions. I apologize for the poor photo quality. I'm spoiled by my Digital Rebel but it is too bulky to take with me on all my trips. So... my other camera had to suffice.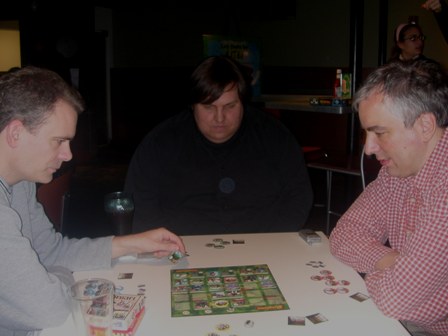 Ken, David, and Lyman and I started off with a game of Kingdoms. This was a first play for me and I was pretty impressed. Like many Knizia games the mechanics are exceedingly simple while the scoring possibilities are complex. I believe Ken won this game but we gave him a good run towards the end.
Next up was Victory & Honor, a four-player partner trick-taking game. It ranks as one of the heavier trick taking games I've played lately (I would compare the complexity to Mu). I had read the rules 2 or 3 times prior but still had a tough time explaining the game. The mechanics are a bit convoluted and I found myself going back to rules frequently.
After playing it once, I'm still not sure how to play this game to win. Read this review - I agree with Jake's assessment but I definitely want to play a few more times to see if it really is as good as Greg Schloesser says it is.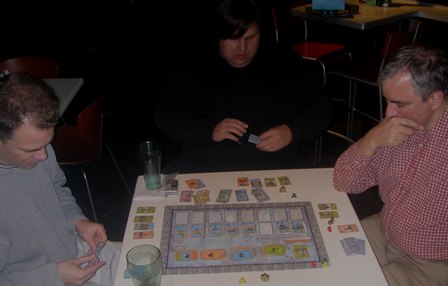 Last up was St. Petersburg. I'm not a huge fan of this as a four-player game, but as always the play was fun with plenty of tension. David pointed out repeatedly how good Ken was so we spent much of the game watching him closely. David turned out to be sandbagging as he walked away with a victory. Scoring was fairly close; I think I finished third.