Berlin After Nearly 33 Years
Every city we've visited on this trip except for Verona is one that I've visited before. Berlin felt like a new city to me, for reasons that should have been obvious before we ever arrived.
Julie and I in Reichstag dome with Tiergarten behind
I visited Berlin with friend David back in 1990, timed so that we could attend the massive Roger Waters The Wall concert. The idea of passing between East and West Berlin was new even to the Berliners, and other than seeing what time capsule East Berlin looked like there wasn't much reason yet for tourists to venture there. We focused our short stay on seeing the wall in its gradually-being-taken-down state, the Reichstag and its half-ass museum, and Tiergarten park.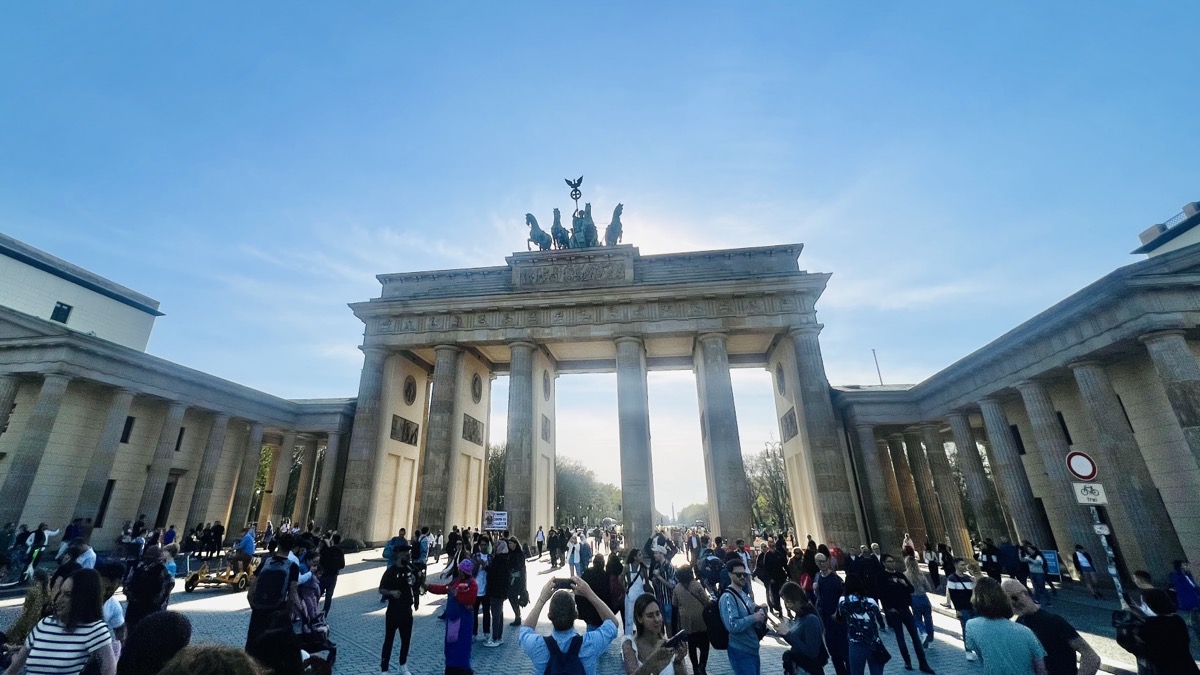 Brandenburg Gate
Our first night we dove right into the Rick Steves audio tour, starting with the Reichstag building (home of the Bundestag now) and cruising mostly along the east-west axis of Unter Den Linden. This means that most of our tour, and most of the touristy area of Berlin now, is on the formerly East Berlin side of the city. Only some of the facades were recognizable (e.g., Reichstag and Brandenburg Gate). I had a very hard time grasping where the Roger Waters concert could have been held, though perhaps when I get back to the states and look at my photo album I'll have a better idea.
Reichstag some from outside
Regarding my "half-ass museum" comment on the Reichstag: David and I both felt mildly disturbed about this museum back in 1990, talking about the Nazi party and the holocaust almost as if it was perpetrated by a third party. It felt like whitewashing. There was very little in the way of memorializing, especially when contrasted with other sites we visited like Dachau and Mathausen. Things have changed dramatically for the better. More on that in the next post. And there's no Reichstag museum any more, just a very good free tour with audio guide that takes you up inside the dome above where the Bundestag meets. I'll share more on the "dramatically" better treatment of WWII and the Holocaust in my next post.