Philmont Equipment Details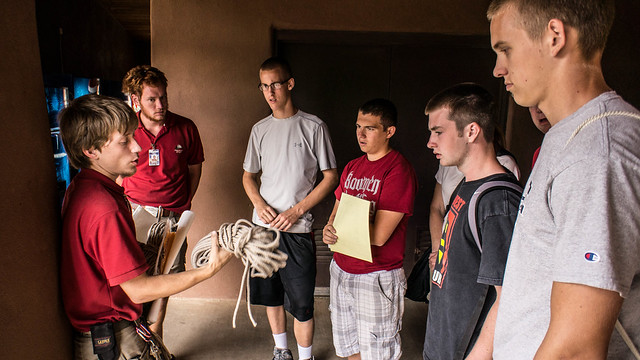 Like most people (adults?) going to Philmont, Julie and I spent a lot of time exploring strategies and tactics for equipment. Much our equipment was close to twenty years old (pre-kids backpacking days) so we knew a major refresh was in order. We leaned towards the ultra-light approach and used many ideas from the Backpacking Light web site and forums, including the excellent Philmont forum. The short story is that we spent a lot of money on new equipment for us, and a smaller amount of money on the boys (heck, they are on their own in a few years any way!). The longer story is shown in the summary you can see below (PDF version of the equipment summary).
Here are some highlights on the choices I made:
I opted for a down quilt instead of a traditional sleeping bag. It is lighter weight and worked well with the new Exped Synmat. Plus, it doubles as an insulating layer that I can wear like a down jacket.
I brought only a single pair of convertible Kühl pants / shorts. They dry quickly and I wore them every day.
Two pairs of underwear, three pairs of socks.
I wore Montrail lightweight hikers most of the time and used leather Vibram five-fingers around camp.
Three t-shirts (dry-fit style) and one well-worn Columbia button-down longsleeve.
Go-lite rain pants and an Outdoor Research Helium II jacket. I'm not sure I even needed the rain pants. It does rain at Philmont, but it is so dry there that recovery is quick. I put on wet clothes one morning after laundry the night before didn't dry, and my clothes were dry within 5 minutes.
Sham Wow. Cheap, disposable, functional, weighs close to nothing, 'nuff said.
Kindle Wifi 2, Sony 5N camera with pancake lens, iPhone turned off with SIM card removed most of the time.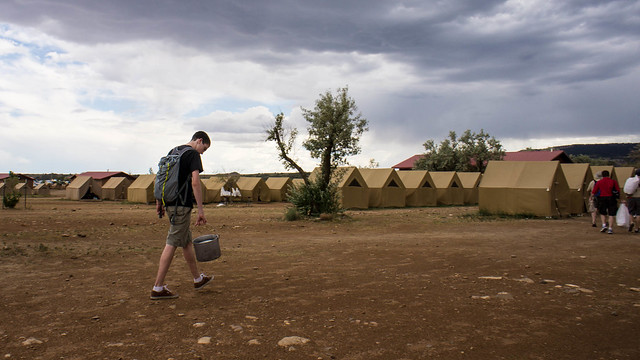 I talked before about our frustrations with the cooking philosophy changes at Philmont this year. As a result I had to carry a pot at the bottom of my pack that I didn't plan on. Fortunately I was able to squeeze other items inside it so it didn't impact my volume significantly. Our awesome Big Agnes Copper Spur UL 2p tent and Tyvek fly more than made up for this unwelcome addition to my load.
In the end my base weight (without food or water) when we struck out on the trail was right around 20 lbs, fully loaded around 28 lbs. A far cry from my 45+ lb days in the early 90s!
Summary with Total Weights
| | | | | | |
| --- | --- | --- | --- | --- | --- |
| | | | | | |
| . | | | | SUM of Qty | SUM of Total Wt Lbs |
| . | Carried | Base | Asolo Pack Liner | 1 | 0.22 |
| . | | | Big Agnes Copper Spur UL 2p tent | 1 | 3.71 |
| . | | | Big Agnes Footprint | 1 | 0.31 |
| . | | | Exped Pump Pillow | 1 | 0.33 |
| . | | | Exped SynMat UL7M pad | 1 | 1.01 |
| . | | | Foam Pad | 1 | 0.07 |
| . | | | Granite Gear Crown VC 60 b/p | 1 | 2.13 |
| . | | | Granite Gear Lineloc Lid | 1 | 0.56 |
| . | | | Sea to Summit Electronics bag | 1 | 0.04 |
| . | | | Sierra Sniveller Quilt | 1 | 1.50 |
| . | | | Tarp, cord, stakes, extra cord | 1 | 1.86 |
| . | | Base Total | | 11 | 11.74 |
| . | | Clothing | 2 pr monkey socks | 2 | 0.26 |
| . | | | Acrylic Maroon beanie | 1 | 0.15 |
| . | | | Brown monkey gloves | 1 | 0.09 |
| . | | | Button down blue Columbia shirt | 1 | 0.61 |
| . | | | Crew t-shirt | 1 | 0.33 |
| . | | | Ex-Officio Give-N-Go Briefs | 1 | 0.13 |
| . | | | Five fingers shoes | 1 | 0.75 |
| . | | | GoLite Trail Shorts | 1 | 0.33 |
| . | | | GoLite Tumalo Trinity 2.5 pants | 1 | 0.44 |
| . | | | Heattech long underwear top | 1 | 0.38 |
| . | | | Heattech T-shirt | 1 | 0.21 |
| . | | | OR Helium II jacket | 1 | 0.41 |
| . | | Clothing Total | | 13 | 4.08 |
| . | | Cooking | Brunton clip light | 1 | 0.04 |
| . | | | Gerber Mini Paragrame knife | 1 | 0.09 |
| . | | | Snow peak blue spoon | 1 | 0.03 |
| . | | | Snow peak titanium 450 mug | 1 | 0.13 |
| . | | Cooking Total | | 4 | 0.28 |
| . | | Extras | Field Notes | 1 | 0.07 |
| . | | | Kindle Wifi 2 in foam | 1 | 0.64 |
| . | | | Mophie Juice Pack | 1 | 0.16 |
| . | | | Pilot G-2 Mini | 1 | 0.01 |
| . | | | Solio Mono-a Solar Charger | 1 | 0.23 |
| . | | | Sony NEX-5N with extra battery | 1 | 0.63 |
| . | | Extras Total | | 6 | 1.74 |
| . | | Survival | | 2 | 0.00 |
| . | | | Camp Photon Wire carabiner | 1 | 0.06 |
| . | | | Crew first aid kit | 1 | 0.94 |
| . | | | Mini Bic | 1 | 0.03 |
| . | | | Orange plastic trowel | 1 | 0.12 |
| . | | | Quake Care | 1 | 0.11 |
| . | | | Silva with mirror | 1 | 0.09 |
| . | | | Small whistle | 1 | 0.01 |
| . | | | Stormproof | 1 | 0.01 |
| . | | Survival Total | | 10 | 1.37 |
| . | | Toiletries | | 6 | 0.00 |
| . | | | Bug repellent | 1 | 0.11 |
| . | | | Sham wow | 1 | 0.04 |
| . | | Toiletries Total | | 8 | 0.15 |
| . | | Water | 20 oz Gatorade bottle | 2 | 0.15 |
| . | | | 2L Platypus Hoser | 1 | 0.22 |
| . | | | 4L Platypus | 1 | 0.23 |
| . | | | Aquamira liquid purification | 1 | 0.19 |
| . | | Water Total | | 5 | 0.79 |
| . | Carried Total | | | 57 | 20.14 |
| . | Worn | Clothing | Cotton Bandana | 1 | 0.04 |
| . | | | Ex-Officio Give-N-Go Briefs | 1 | 0.14 |
| . | | | GoLite Race Hat | 1 | 0.12 |
| . | | | Kuhl convertible pants | 1 | 0.92 |
| . | | | Montrail hikers | 1 | 1.60 |
| . | | | Philmont T-shirt | 1 | 0.34 |
| . | | | Wigwam Cool-Lite Hiker Pro socks | 1 | 0.16 |
| . | | Clothing Total | | 7 | 3.32 |
| . | | Extras | iPhone with case | 1 | 0.36 |
| . | | Extras Total | | 1 | 0.36 |
| . | Worn Total | | | 8 | 3.68 |
| . | Grand Total | | | 65 | 23.83 |