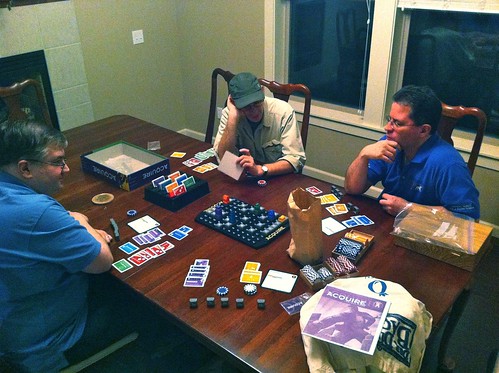 We hosted noteworthy gamer Joe Huber at Eric's home this week for a special Thursday night gaming session. Joe was in town on business and I responded to his plea for Portland gaming. See, Joe is on a quest to get in 50 plays of Acquire to celebrate the game's 50th anniversary so I brought my copy over to play. I hadn't played in years, and Joe informed me that he had probably played more times by the time he was 18 than I've played in my lifetime.
Joe's experience clearly presented itself as he dominated the game, though Eric admirably stayed close. Dave and I knew early on that we would be competing for third place as we became cash starved and missed out on one acquisition payout after another. Still a great game that deserved to be played more often.
Next up was a favorite of mine, Atlantic Star (aka Show Manager). This is such a well crafted game in terms of mechanisms -- perfect tension as you see the routes unfold. I agree with Joe however that casting a show is a much better theme than determine cruise routes.
Finally we played the outstanding card game Saint Petersburg. This is a game I played often when it first came out, including solo plays with the PC game back in 2004. I hadn't played since 2009 and I can't say why - this is a great 2 or 3 player card game. A major rookie blunder by me in the final round took me from a solid 2nd place finish to last place, but Joe came out on top again for a game night hat trick.
Joe - thanks for joining us and we look forward to gaming again on your next visit to PDX.