Exploring Portland on the 4T Trail
Julie and I spent a fabulous afternoon yesterday traveling the 4T Trail here in Portland. 4T stands for Trail, Tram, Trolley, and Train and having never ridden the OHSU tram this sounded like a perfect way to give it a first try. We followed this blog entry from Noticing Southwest Portland as a narrative to help us along.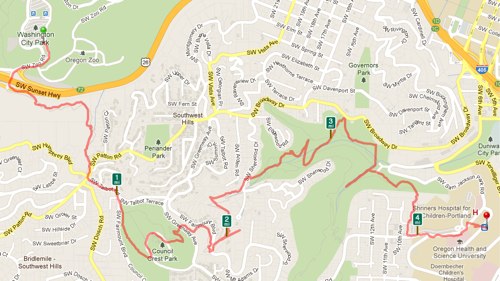 You can start anywhere on the loop, but parking at the zoo seems like a good idea if you want to take the cheaper counter-clockwise direction for the loop. We started hiking at about 2:40pm and started out ascent to Council Crest Park, the highest point Portland. We tracked the hike using RunKeeper and the hiking portion turned out to be about 4.3 miles and we completed in just over 90 minutes. We hiked at a very brisk pace so your timing might be slower if you stop to check out the views or climb at a more leisurely pace.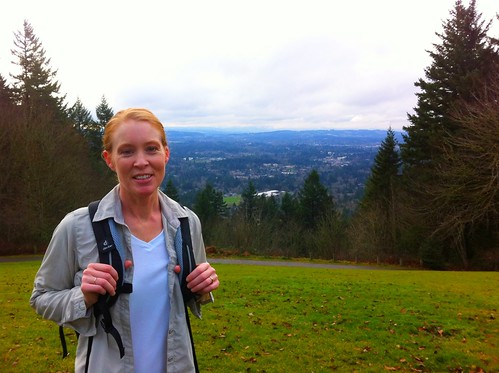 We had never visited Council Crest in during our 13 years in Portland. The skies started to clear up and turn blue and we were rewarded with spectacular views of the west side / Beaverton part of town as well as east towards Portland. You can easily see the airport runways and across the Columbia river.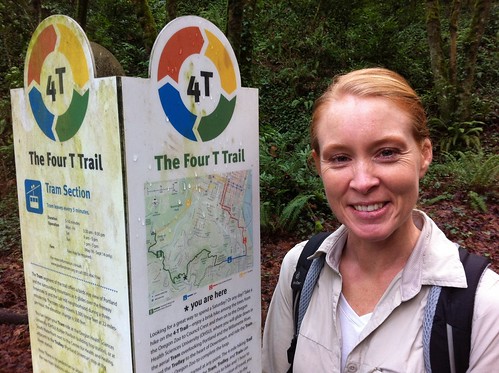 The trail is well marked and we had very few issues staying on it. This is a mixed forest trail with some street walking so you do need to keep your eyes open and and use common sense from time to time to make sure you stay on the right path. Many other Portland trails intersect the 4T trail but fortunately there are dedicated signs to help keep you on track.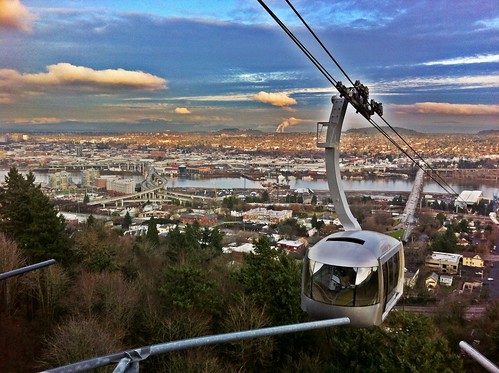 After a steep ascent into the OHSU campus we made our way to the tram stop. This was Julie's first time there and our first time riding the tram. The ride is free going downhill and there's no rush - if you miss one the other will show up within 2 or 3 minutes. We took some time to enjoy the view and snap a few photos.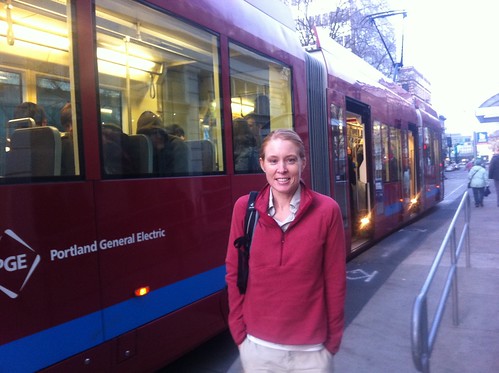 A streetcar was waiting for us when we landed at the lower tram station so we hurried over, boarded and paid our $2 each and enjoyed the ride into downtown. When I worked on the trolley line and was teaching at PSU I rode it several times a week. This was Julie's first ride.
We got off at 10th and Alder and decided to search for a bar to warm up and have a drink. We settled on Jake's and I had my first taste of Pendleton Whisky out of Hood River, OR. Good stuff if you like Canadian blends; I generally do not.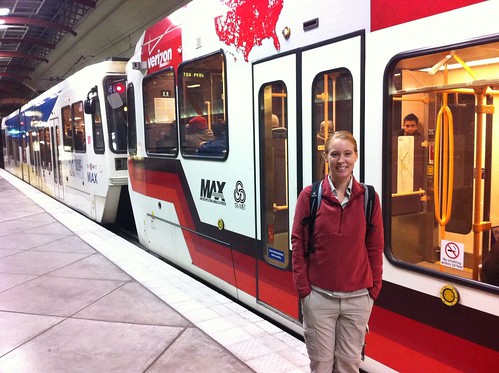 Next we boarded the MAX and returned up hill to the Oregon Zoo / Washington Park. We finished the evening with a nice dinner at the Grain & Gristle. Outstanding burger and salad there and had my first taste of Upright Seven, a locally produced strong Belgian.