Soon we depart for our first big family trip since our Europe trip almost exactly three years ago. A year ago we were set on heading to Greece for spring break 2011 but Julie and I decided we'd rather hit the islands there when the weather was warmer. Julie did some exploring and offered up Galapagos as an option – how could I say no?
This trip Julie did all the legwork, choosing Columbus Travel after researching a number of options. Travel to the islands is very constrained - while you can get to the island on your own, moving around the islands is best done on a full-featured cruise. After much discussion amongst ourselves and travel companions Dave and Lisa we settled on the Athala. The catamaran style should keep it more stable (and sea-sickness free, mostly) in the open water, and the itinerary hits the key spots we want to see.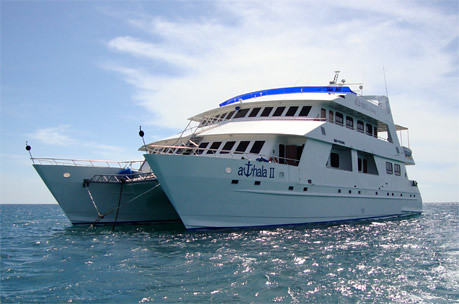 I'm certainly not ready to give an endorsement to Columbus Travel or the Athala yet - that can wait until after the trip.
Here is our schedule:
Day 1 - fly to Quito, Ecuador via Houston. Not a significant time zone change but the trip will take most of the day. We will stay at the Swissotel for both stops in Quito.
Day 2 - explore Quito, primarily via some excellent self-guided tours we found at the tourism office.
Day 3 - fly to Baltra, Galapagos via Guyaquil. Board the Athala for an eight day cruise around the islands.
Day 9 - fly back to Quito with just a half day to finish some local touring.
Day 10 - return to Portland via Houston
I've got the photog gear packed, movies loaded on iPad, books on the Kindle. See you on the other side.