Sherwood Bowmen Football Camp
A week ago my 7th grade son Matthew participated in the annual Sherwood Bowmen football camp, organized by the high school coaches and largely led by team members. This is a non-contact camp for most of the players, but for the past two years it has been full contact for the 7th and 8th graders. This is a selling point for the older kids as the camp can seem routine if they've been going since the 3rd grade and full contact gives them something to look forward to.
The HS freshman players are assigned to work with our 3rd/4th graders, the JV players with the 5th/6th graders, and the varsity players with the 7th/8th graders. The younger kids are working primarily on fundamental drills and football skills, while the older players are able to move more quickly into play execution with our Wing-T offense. By mid week they were able to run light-contact scrimmage with the 7th and 8th graders and do some very specific position coaching on both sides of the line.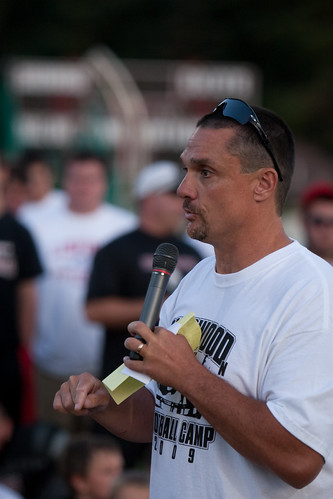 We are very fortunate in Sherwood to have such a tight linkage with between the youth and high school programs, and that is largely due to the leadership of Greg Lawrence (pictured here) and Wes Montgomery. While many HS coaches will talk about their support of their local youth program, these guys show it every year with the amount of time they put into training the coaches and players.