Disney World and Kennedy Space Center
Here's a quick wrap-up on our trip to Florida last week. After our visit to Homasassa Springs, we drove down near Disney World to stay in a timeshare for two nights to make the travel back and forth to the Kingdom a bit easier. Tuesday night we stopped in at Downtown Disney and had some great (if a bit overpriced) Irish food at the pub there.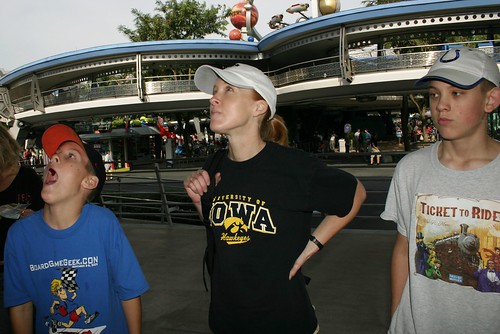 Wednesday was Magic Kingdom day for just the four of us. My parents rested and did some shopping. It was as crowded as I've seen it and by the mid afternoon congestion was getting to be quite annoying. We took advantage of the fast-pass system throughout the day and never waited in line for more than about 45 minutes. Lowlight: waiting in line for Pirates of the Caribbean for 25 minutes only to have it shut down when we were less than 5 minutes from boarding. Highlights: Space Mountain, Splash Mountain, Carousel of Progress (aka the Carousel of Missed Opportunities).
On Thursday we drove to Melbourne to check in with my Old Uncle Larry then shot up the Atlantic coast to visit the Kennedy Space Center.
The line to get on the bus at the space center was longer than any we waited in at Disney - how annoying! The trip was very enjoyable if a bit rushed - we didn't arrive at the center until well after noon. Unfortunately we ran out of time on the bus tour and never got to stop at the International Space Station exhibit. We also allowed way too little time to visit the Astronaut Hall of Fame at the end of the day.
On Friday Larry and I played golf, we spent some time at the beach, then celebrated Christmas with a small gift exchange and a delicious meal. Saturday found us flying back to Portland via Denver (post blizzard) with about a 3 hour delay in Denver.