We managed to spend Fri-Sun this weekend at Salishan. We mixed in a bit of housework with some fun - best of all, Jan and David (Julie's mom and step-dad) were there to share some quality time with us.
I did some running and swimming Saturday morning, then took care of the boys while Jan, David, and Julie attended the annual Salishan leaseholder meeting. The boys and I played a quick game of St. Petersburg, with Jacob giving a much better show this time around. He's starting to get the sense of transition from cash flow to VP generation. I think this is a great game to teach kids about cashflow (probably much better than Cashflow for Kids) and the time value of money. I won the game easily, but I've also played quite a few training games on my PC. After the game, we spent about 90 minutes practicing golf over at the Salishan course. Golf isn't cheap there, so we reserve that as a luxury but they have a decent practice facility. We spent about 30 minutes hitting balls and about an hour working on chipping by playing some games. If you are spending time with a child teaching golf, I have a recommendation: focus on the short game! I guess the same applies for the adults as well...
I wanted to check out the outlet stores in Lincoln City for some clothes for the boys and, of course, see what's on hand at the KB Toy Outlet game section. We scored a number of copies of the Mission Command series, which were buy 1 / second half price. This worked out to about $11 for the entire series of three games. Not bad, so I picked up 14 individual games for friends and family.
I'll talk about the rest of the weekend with photos below.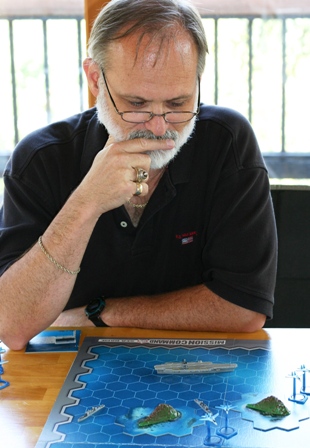 While Jacob, Matthew, and Jan explored the beach, David and I cracked open Mission Command Sea. David grew up on some of the Avalon Hill classics, so was comfortable with the basic elements of a light wargame like this. This was a close battle and ultimately came down to some unlikely dice rolls on his part; I think he played the better game.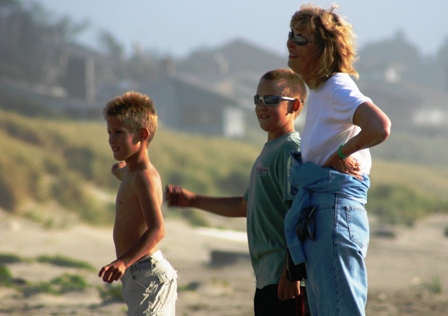 Jan, Jacob, and Matthew took a nice hike south our access point, and managed to drag a good sized log back to our campfire spot.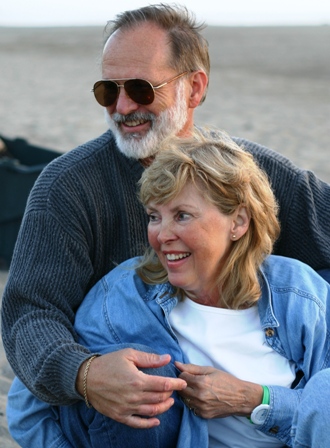 Jan and David enjoying our campfire and a great meal on the beach.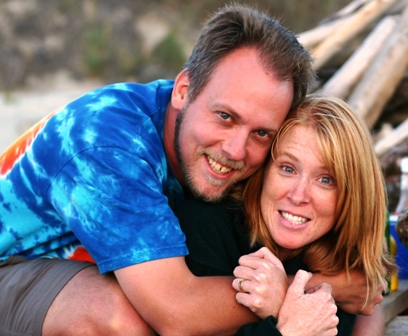 I rarely get a chance to post photos of Julie and me, so here we are!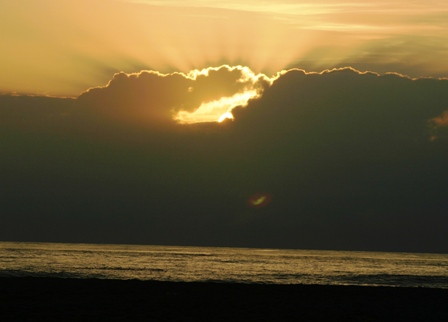 The sunset was dramatic Saturday evening. At one point, the sun was shining through an eye-shaped slit in the clouds, which looked frighteningly like the Eye of Sauron.
On Sunday morning, we did some cleanup and housework and discussed plans for the next 2 months (flooring, furniture, etc.). Jan and David left around noon, and Julie wanted to do some cleanup and prep work for next weekend's floor work, so I took the boys again.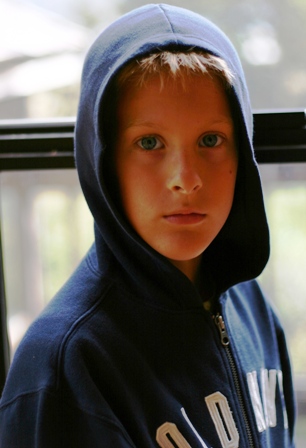 Matthew sporting his new sweatshirt from, you guessed it, the Old Navy outlet store.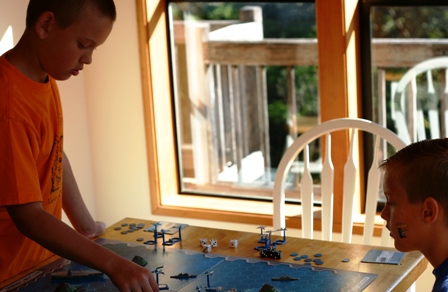 The boys tried out the Mission Command Sea game in the morning and were quite impressed - this game is right up their alley.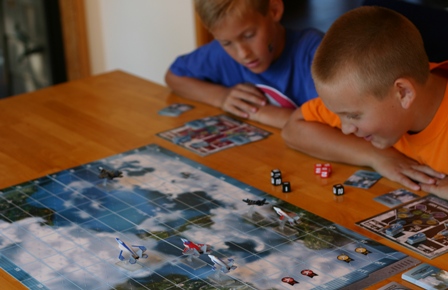 In the afternoon, we gave the Mission Command Air game a try. I thought this would be a rehash of the sea game, but the two are quite different. This is a card driven game where you try to maneuver your airplane behind and in firing position to eliminate your enemies. The planes wrap around the board, turning this into an somewhat abstract positional game. There's a strong element of hand management as well. The game is good, but not great - the endgame was a bit tedious, as it can be very difficult to get a firing solution and if both players are out of missiles it can drag on.