Julie and I spent three nights in Verona as an interim stop between Florence and Venice. So glad we did - romantic in ways that might surprise you.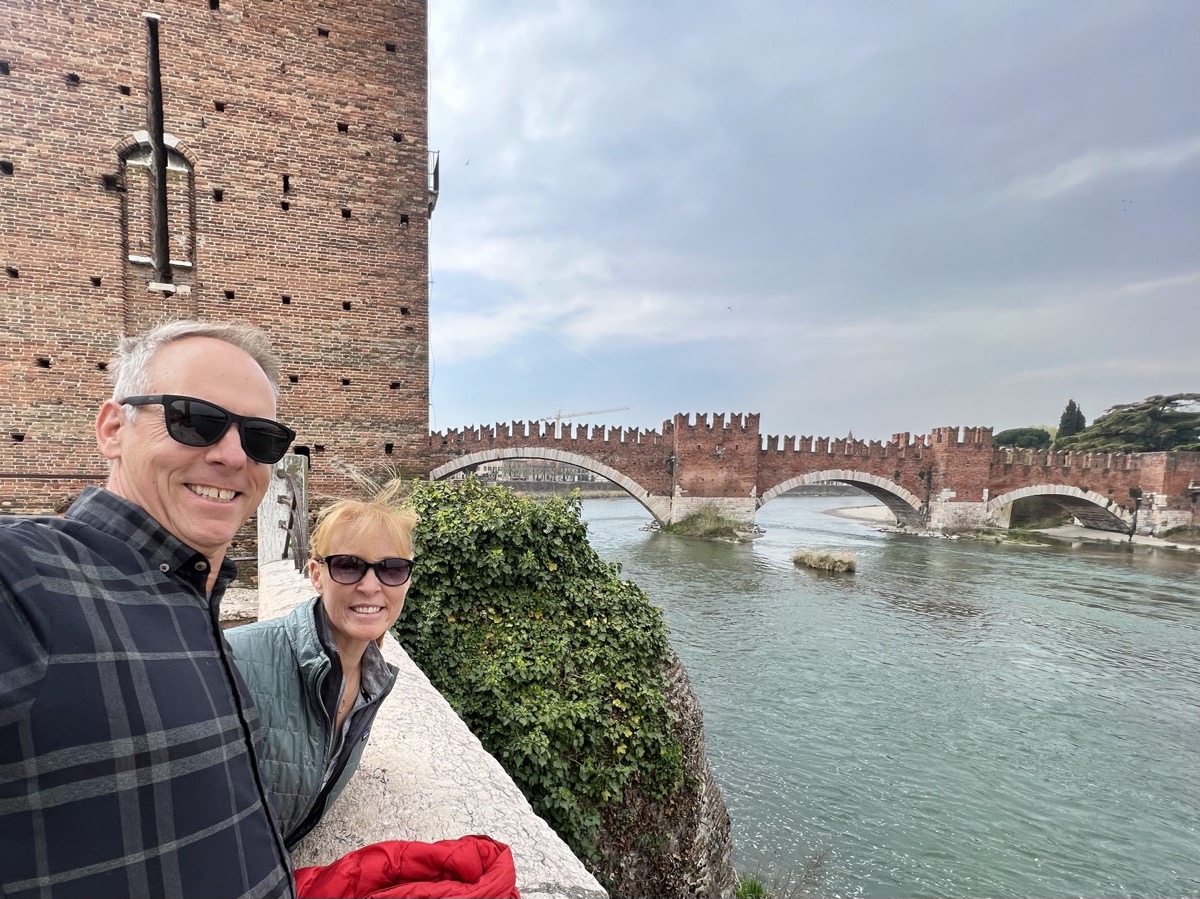 Enjoying the castle and bridge
Verona is perhaps best known as the setting of Romeo and Juliet, something the local tourism board is eager to remind you of. We did a walk-by to see the Juliet's "balcony" (ahem) but focused our time on other sites. By purchasing a 48 hour Verona Card, we had mostly paid for admission to all the sites we wanted to see.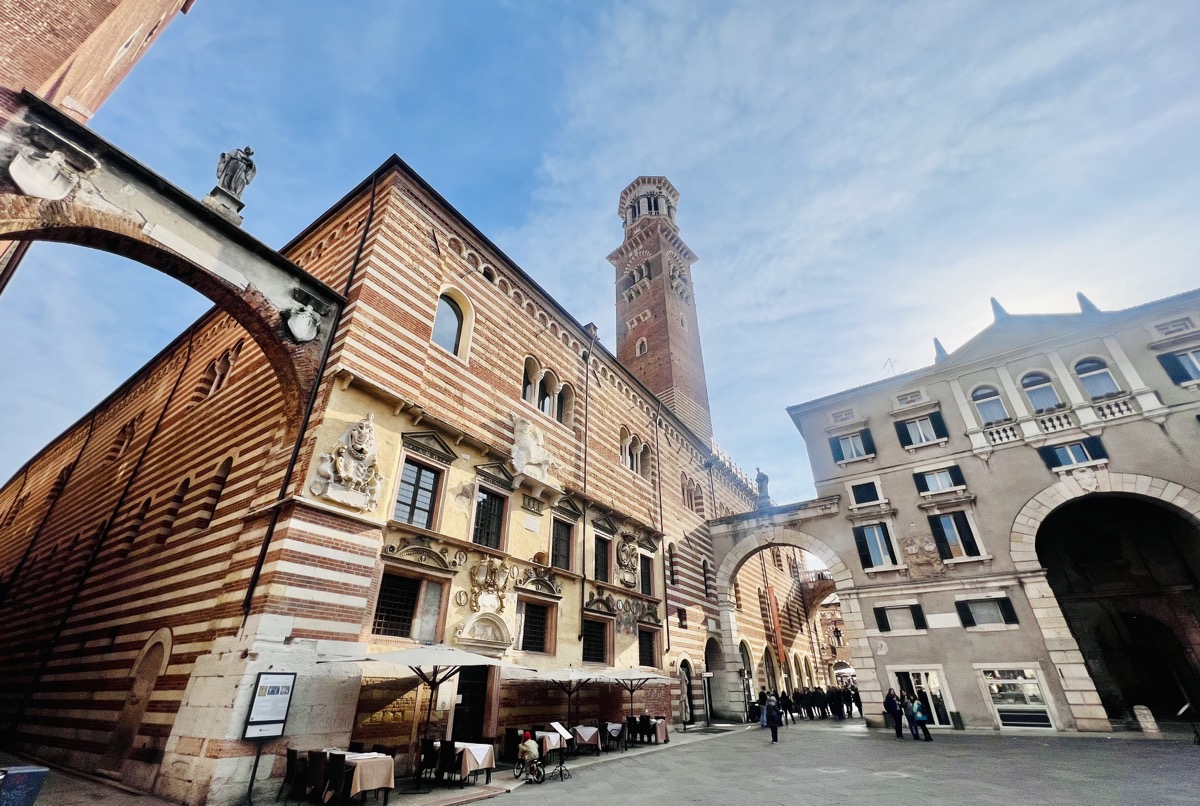 The tower we climbed
An early highlight was climbing the Lamberti Tower – of course we opted out of the 1 euro option for an elevator. We love getting high early in a city visit to take in the geography. All in we visited many of the sites offered on the card:
Roman arena amphitheater
Basilica of Santa Anastasia
Cathedral Complex - Duomo
GAM – Achille Forti Gallery of Modern Art
Archaeological Museum at the Roman theatre
Maffeian Lapidary Museum
Museum of Castelvecchio
Tower of the Lamberti
Giusti Garden and '900 Apartment
We also had access to the bus system during this 48 hour period but we never used it. The town is just so walkable.
And boy do these folks love to stroll! We were there on Easter weekend and while there were certainly non-Italian tourists around, most were Italians. There's a serious dog culture too in Italy, and we loved seeing the families and couples walking with their dogs and taking them into restaurants (even fine dining).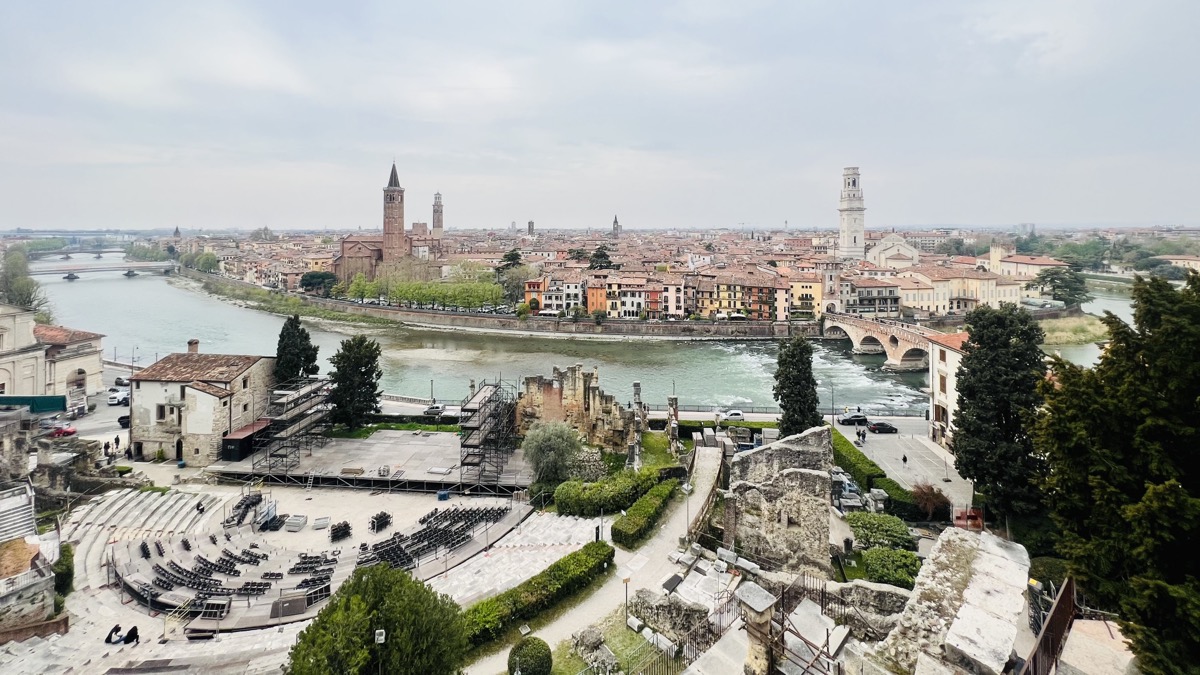 View of Verona from the theatre
The heart of the city is surrounded on three sides by the Adige River, flowing strongly through town after descending from the nearby Alps. We crossed at least four of the bridges, and by going out to the Roman theatre we were able to get magnificent views of the city.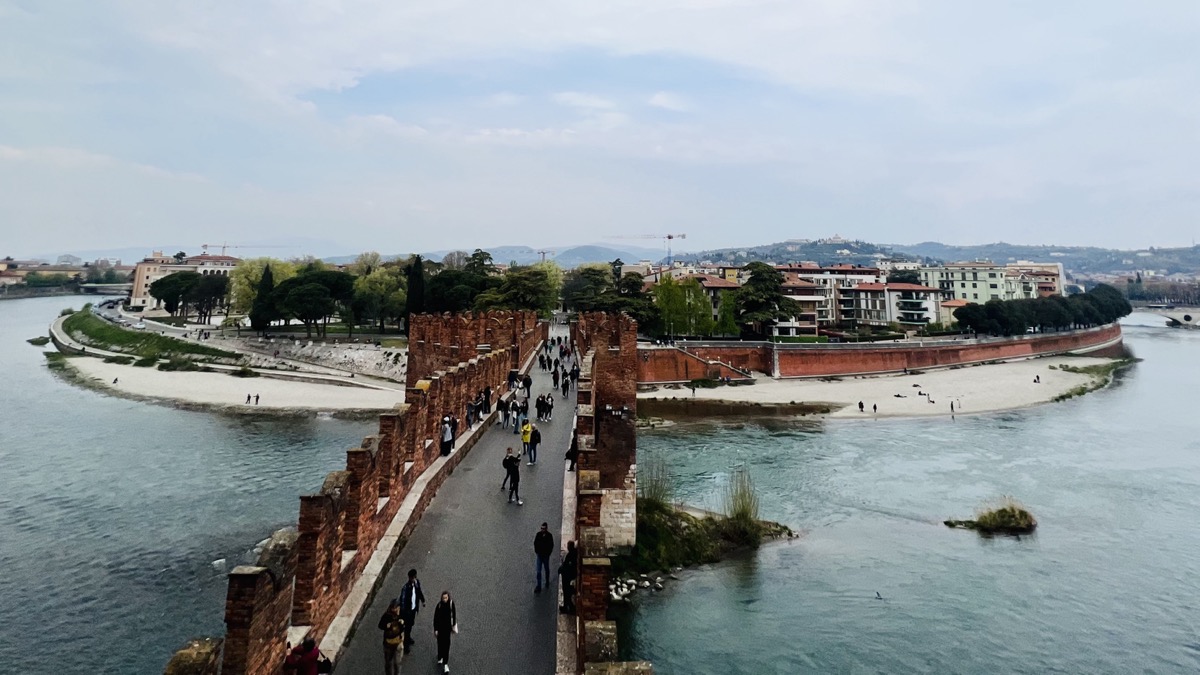 The bridge attached to Castelvecchio
Two big highlights for us were the Castelvecchio (shown in the first photo, and the view above is from the castle looking out over the adjoining bridge) and Giusti Gardens. The gardens were like a miniature version of the Boboli gardens in Florence, with Mediterranean Cyprus (they are shaped like North American arborvitae), fountains with turtles and goldfish, and songbirds galore.
I'm becoming a big fan of bitter spritz (Aperol or Campari, Prosecco, soda) and very much enjoyed the local Amarone red wines. We had reservations at two different local restaurants, with our final fine dining experience at Locanda 4 Cuochi being the highlight.
Obviously, we are fans of Verona.