I was finally introduced to our new van when we arrived in Florida in early December.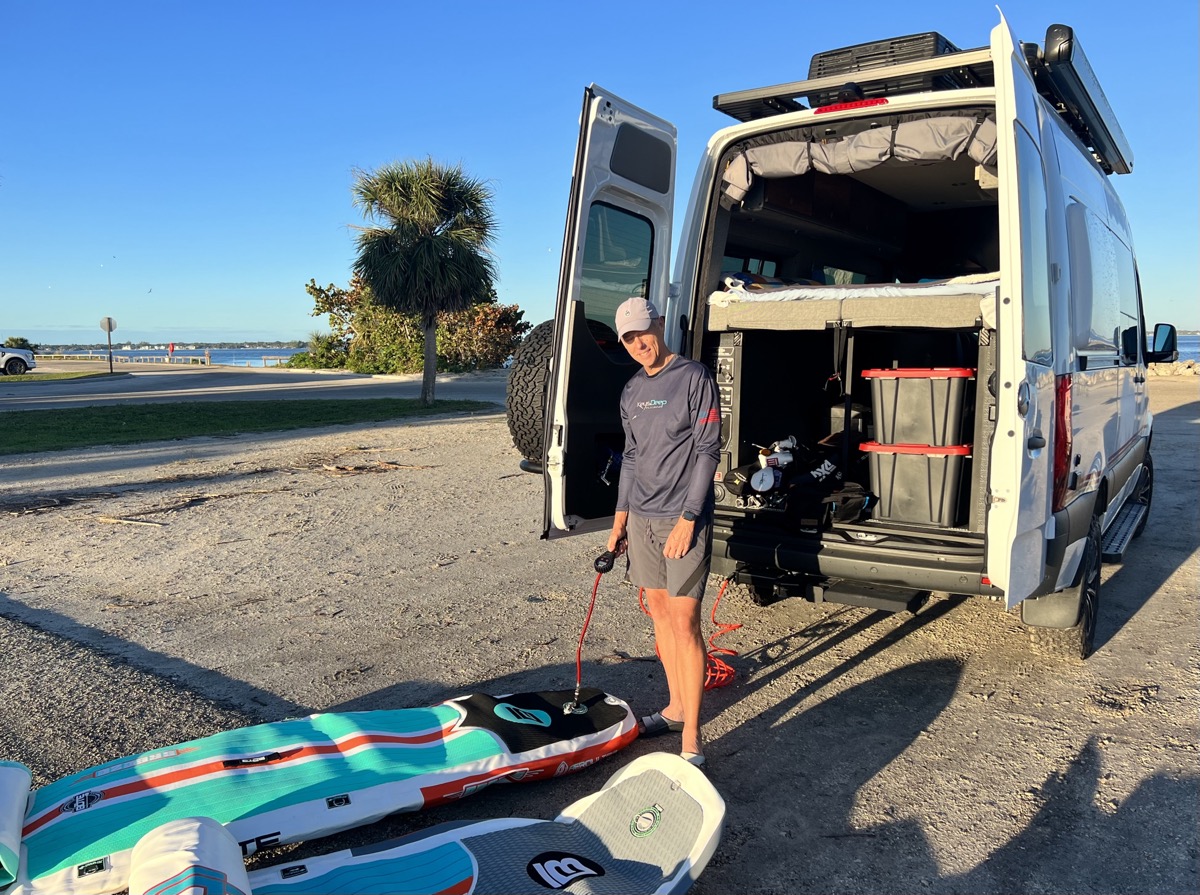 Chris inflating the SUPs
So far it is everything that we had hoped for, especially with the modifications we did at FreedomVanGo. We opted for the (still loaded and expensive) most basic Storyteller Classic MODE 4x4 because we felt we could pick and choose our modifications for overlanding and save some money. The mods we did included:
Skid plates
Rear door spare tire holder (moving it from under the van)
Swap in a 47 gallon diesel fuel tank
They did amazing work, including trimming the wheel well and relocating the mud flaps. We've done some test "off-roading" on a sandy washboard road near Melbourne, deflating the tires and using the soft suspension setting. The difference going 25-35 mph on a rutted, washboard road is striking. In February we will head up to NC for a private off-road driving course to prep us for grander adventures out west.
The ARB compressor serves double duty for us: inflating the tires after deflating for off-road, and inflating our paddle boards. Takes about 7-8 minutes for each board. This takes away so much of the resistance to going on the water. So far we've paddled Turkey Creek in Melbourne, Sebastian Inlet, and around Peanut Island near West Palm Beach. I'll write up more on that soon.
We had only one problem from the modifications done: the furnace and water heater stopped working. Through diagnostic help from the Storyteller Facebook group plus help from Rixen's we learned that the diesel fuel line into the furnace was slightly pinched. Probably an artifact of the fuel tank work. Easily fixed and everything is humming along nicely now.
The thing we love the most about the van so far: the power and battery system are amazing. Such a stark contrast with our old van, where we were constantly fighting battery drain, having to run the generator to use the microwave, and generally stressed much of the time while boondocking / dispersed camping.