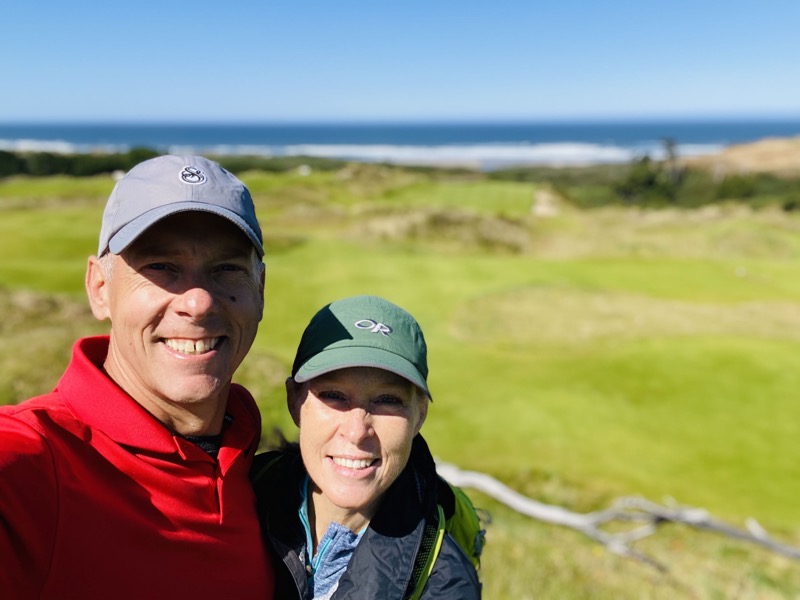 Our next stop at wedding festivities in Napa was Oregon to see friends and take care of some business in Portland. So why not make a stopover at the southern Oregon coast to play some golf at Bandon? Our last trip there was in 2007 when we spent spring break there with the boys and I played a very rainy and windy round on the original Bandon Dunes course. I was excited to make a return and play some new-to-me courses.
Scheduling rounds was a bit challenging as there was no lodging available which put some limits on how far in advance I could schedule my tee times. My goal was to play three full 18 courses, plus the 13 hole par 3 Bandon Preserve as a warm-up. Julie joined me for the Preserve round, and we had the course to ourselves. This course is an absolute blast with fairly short par 3s and fun undulating greens that were great practice for my subsequent rounds. Julie took a swing on hole 13, teeing off from the front tee with a putter (that's a thing you do there), and nearly made a hole-in-one and finishing with a tap-in birdie.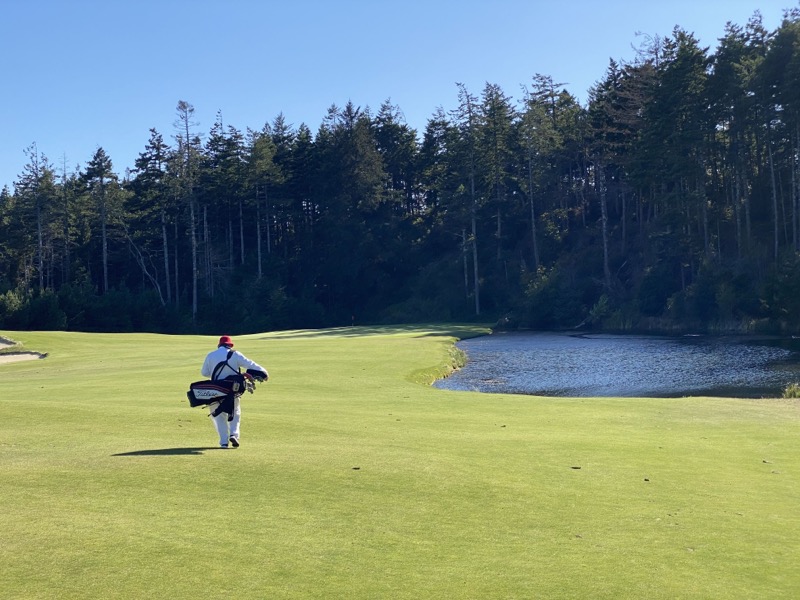 Afternoon on day 1 was Bandon Trails, the only course at Bandon not built on the ocean. I can see why this is the favorite of many visitors. It has a perfect mix of ocean views, secluded forest walks, and towering coastal dunes. Julie opted again to walk the entire 18 with me and my caddie and claimed it was one of the best Oregon coast hikes she's ever had.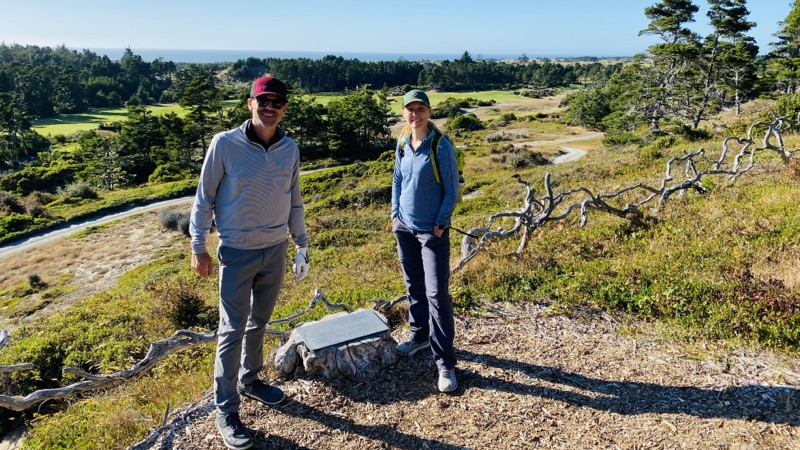 One of my joys playing as a single (as I most often do) is playing with interesting people, and this was a highlight for me. I played with actor Kyle Howard and Julie and I both had great conversation with him. All of us were concurrently touring the USA with Sprinter vans and mixing up national park visits with golf rounds. I think he needs to be my new best friend. Because I was with my caddie most of the time, Julie had the most 1x1 time with Kyle. After the round we hung out in the parking lot and compared vans. Kyle has a Winnebago Revel that he's done some mods to; was nice to see one "in the wild" as we evaluate our next van move.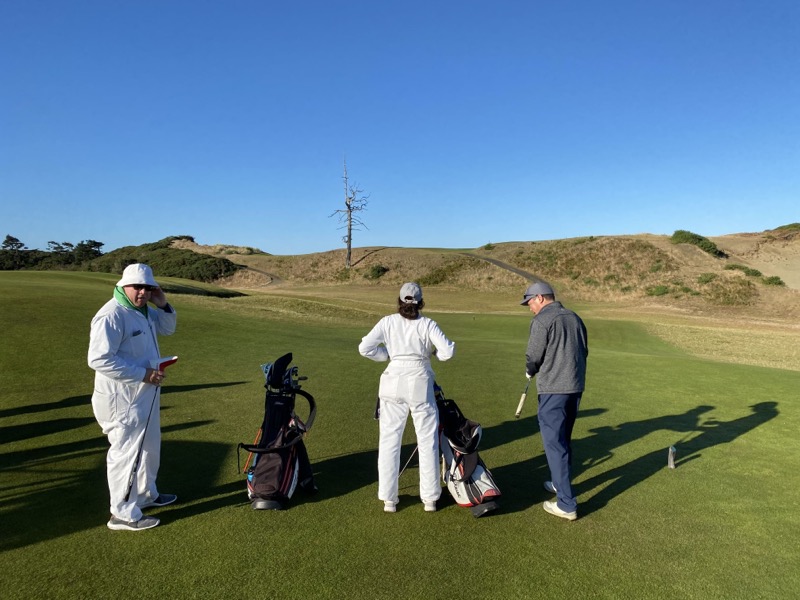 The next morning I had an early tee time on Old Macdonald (aka Old Mac, the tribute course to CB MacDonald), again joining another single. A brief side discussion about caddies. I had a caddie (same guy) for each of my three full rounds. It isn't cheap but I felt it would be worth the cost to have insider knowledge and advice, plus I like supporting the local economy in this way. My caddie was… average. His knowledge was very high but he drinks too much and had some "resort golf" behaviors that were frustrating. Example: he wanted to give too many putts, and at the start of the second round I had to make it very clear to him that I like to putt everything out. He would even try to stop an errant chip from time to time (from any player, not just me) by blocking it with his foot. I understand his role in trying to keep play moving, but I was never in a slow group and we were usually waiting for another group ahead of us anyway. Fortunately things improved on day 2; I considered calling the caddie office to switch to a new one but stuck with him. All that said, he gave me very good yardages and advice, especially as the winds picked up.
Old Mac was my favorite course at Bandon. I love the template hole ideas and variety. I also love big wide open fairways (haha); they suit my game well and put the spotlight on approach game play.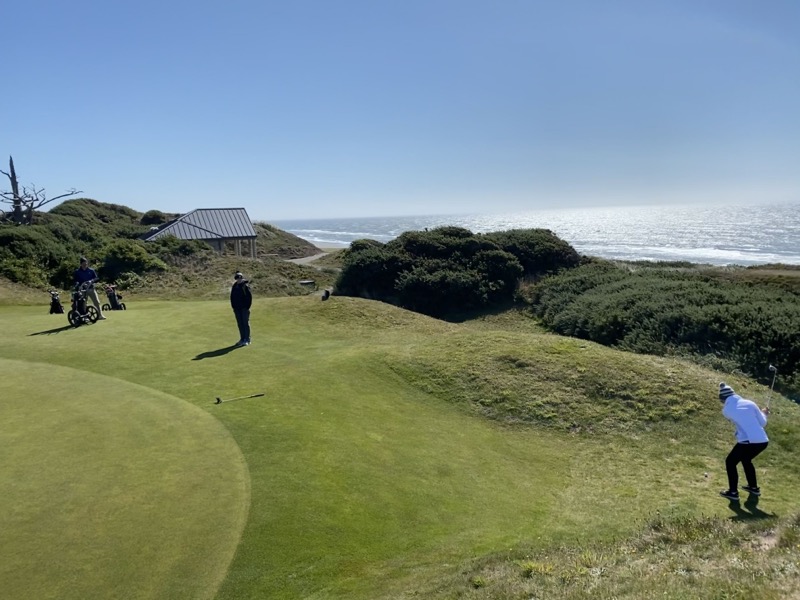 Last up was Pacific Dunes, the course many feel is the best at Bandon. An afternoon start meant high winds (steady in the 15-20 mph range, gusting to 30) and a true coastal links experience. Julie had walked about 5 or 6 holes with me on Old Mac, but joined for the full 18 at Pacific. You can see the winds made it quite chilly. I played with a couple from Wisconsin; he runs the non-profit Jefferson Golf Course in Jefferson, WI. I suspect he's a better player than I am, but given this was likely his first high wind links experience it was interesting to see how differently our rounds played. He didn't make a par until the back 9, hitting his stock shots high and far with the wind. Because he hits a cut (slice?) his balls would usually just trail off into never never land. This round started slow for me in terms of playing and enjoyment, but once we hit the turn and some of the unique par 3s, I started to fall in love with the course.
---
We stayed in our van at Bullards Beach, just a short 5 minute drive from the resort. While staying on resort would have been nice, we didn't feel like we had less of an experience. Oh, and I didn't mention how amazing the practice facilities are. I'm such a practice junkie and would love to live near a great facility like this.