It had been far too long since we had been family camping, so back in January Julie and I decided to book some time in a Yurt in one of the Oregon State Parks. Ever the crafty planner, I chose the Bandon area knowing that I could probably squeeze in 18 holes of golf at one of the world reknowned courses at Bandon Dunes. Bullards Beach is about as convenient to Bandon Dunes as you can get without staying at the resort, so we stayed there (great article on Bullards Beach here).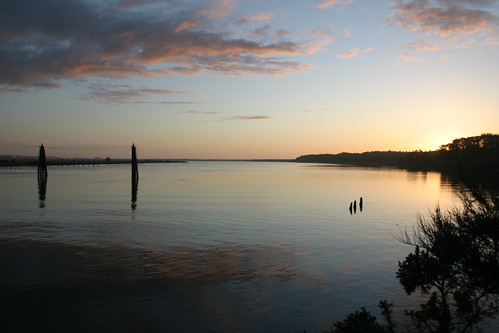 Yurts in Oregon are ideal for off-season camping. Weather on the Oregon coast is unpredictable at best, and for extended camping (we went for four nights) a tent can turn into a somewhat miserable experience when dealing with high winds, sleet, and hail. All of the cooking is still down outdoors and you can experience campfires, hiking, etc.
Bandon is a bit of a long drive from Portland - around 4 hours or so. We weren't in a hurry leaving Saturday and departed around 11am, stopping for lunch in Albany. This was my first experience locating a restaurant with my new Blackberry 8800 / GPS / TeleNav and it worked like a charm, finding us a cozy Mexican restaurant with outstanding service.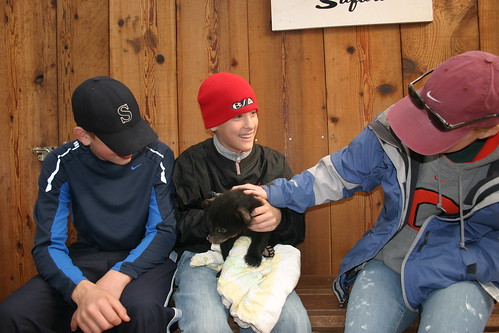 On Sunday we visited the West Coast Game Park, a smallish zoo with an expansive petting area that exceeded our expectations. I don't think I've ever seen a better big cat exhibit - they had three lions, 3-4 tigers, 5-6 black panthers, and other assorted smaller cats. Matthew is in heaven when he can get up close and pet the animals and had a blast directing the deer herd.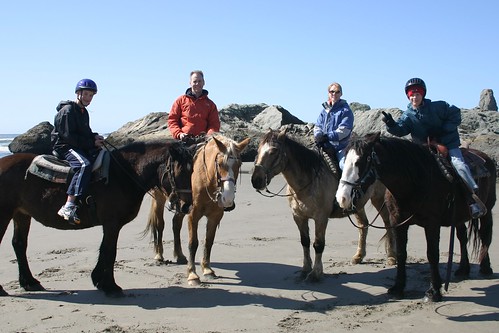 On Sunday afternoon we took a horseback ride on the beaches south of Bandon. This was probably the highlight of the entire trip for all of us - beautiful horses, beautiful scenery, and an excellent guide resulted in a ride to remember. My horse was the most eager of the bunch and was always quick to trot and race ahead, an event that Jacob and Matthew always anticipated as their horses would often accelerate to keep up with me.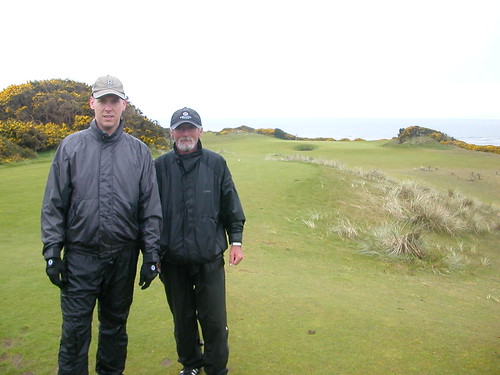 Monday morning brought my golfing adventure and an early 8:30am tee time at Bandon Dunes. The weather started off spectacularly clear but cool, but after four holes things went sideways quickly. Literally: the winds picked up to 25-30 mph and the hail and sleet came in. This lasted about 3 holes and I was very thankful to have good raingear handy (a must for Oregon golfing). My caddy was excellent, and I recommend getting one for your first visit to the course unless you are there with experienced Bandon golfers. He really helped me through a few of the holes and had me putting from off the green whenever I had a clear line to the whole and was within 15 yards of the fringe. I stayed within myself and shot an 89, not bad for my first time on the course with some bad weather.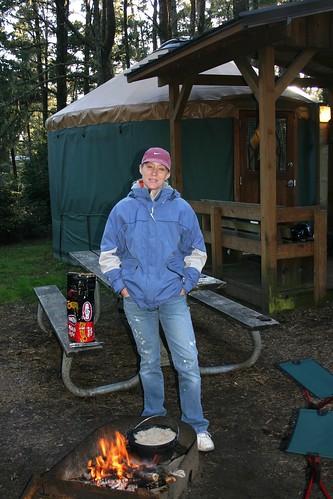 We ate entirely too well on the trip, trying out many new dutch oven recipes that I suspect will start turning up on Jacob's menus with his patrol in Boy Scouts. The menu included fresh baked biscuits and sausage gravy, Mexican casserole, homemade beef stew, and cherry dump cake.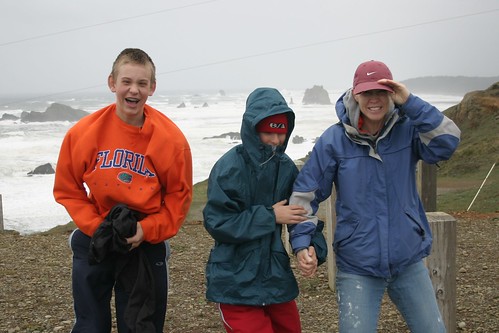 The trip closed out with a driving tour south of Bandon. I would have liked to have made it all the way to Gold Beach, but the rest of the family wasn't too keen to spend that much time in the car. We hit some fabulously intense weather along the way, getting gusts in the 50mph range when stopping to check out another lighthouse.