Josh Ritter at the Crystal Ballroom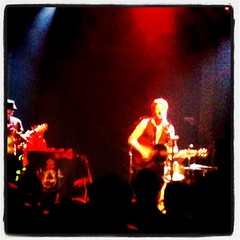 I'm not much for writing concern reviews but I was so moved by the Josh Ritter show last night at the Crystal Ballroom that I planned to write some words. But then I saw this review of a show earlier this week in Minneapolis and saw the words I'd like to write if I could be as expressive.
Jason nails it, especially his comments about the lights going down for Thin Blue Flame:
... when Ritter signaled for the light to be turned totally off -- not dimmed -- so he could perform a solo acoustic version of the longest song off The Animal Years, "Thin Blue Flame." How he remembered all the words, I'm still not sure, but he sang it in complete darkness and silence, and we listened to a tune that novelist Stephen King once called "the most exuberant outburst of imagery since Bob Dylan's 'A Hard Rain's Gonna Fall' in 1963." That's not hyperbole; that's completely true, and hearing it live in that type of setting had me amazed.