Last week before Christmas a group of us drove up 101 past Cascade Head (we hiked there earlier this year) to try out the Harts Cove Trail.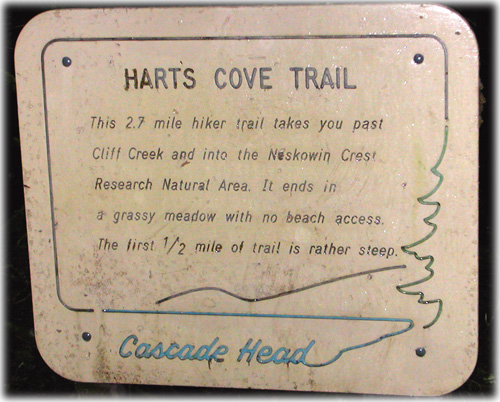 Karen woke up wanting to take a "mad hike", whatever that is. We came to learn this means running as much of the trail as possible. The entire crew included, left to right, Karen, Mike, Powell, Julie, Dave, Lisa, and me (taking the picture).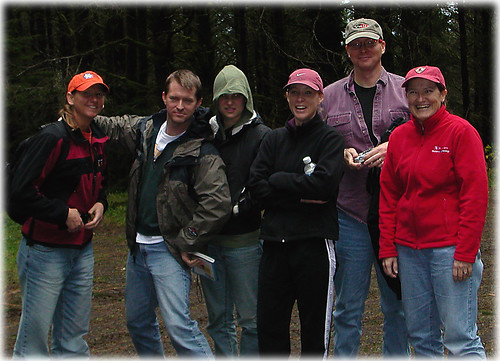 The first 3/4 of a mile or so is straight down via switchbacks, about a 900 foot drop in all. We started the trail with a brisk walk, but soon Karen turned it into a jog and Mike and I joined her. We ran for about the first 1.5 miles or so, slowing down as we started to encounter a lot of tree fall. The trail closes down on January 1, and I see why as the trail will soon be impassable. The trail passes through beautiful stands of giant sitka spruce and groves of the ferns all too common on the Oregon coast.
After about 2.5 miles, the trail opens into the final meadow revealing the coast and Harts Cove. Karen and I continued down to the volcanic rocks bordering the rough coastline.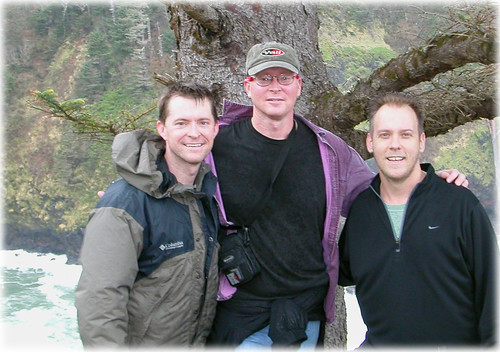 You can see the stream flowing into the cove in the background of the picture below - this cascading stream is how Cascade Head got its name (Harts Cove is on the northern side of Cascade Head).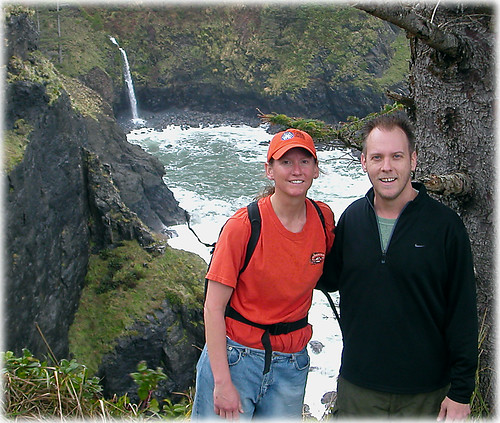 On the way back we walked for about a mile then Mike and I resumed our jogging. I fell twice, bruising my knees, and twisted my right ankle something fierce (it swelled up into a baseball sized lump later that night) but managed to run about a mile or so and walked the final death march back up the car. A fun but difficult hike and highly recommended.