Football Season, Episode III
This is our third year as football parents, and now we have the joy (and often inconvenience) of having both Jacob and Matthew playing. Of course they are on different teams, at different levels, which almost ensures that each week each of us gets to see only one of them play.
The Sherwood teams had a clean sweep this weekend, with the high school team winning 38-0 Friday night and all of the youth football teams from grades 3-9 winning their games as well (that's about 12 teams in all).
Jacob is again playing primarily center on offense, also getting some time at tackle as he covers for an injured player. On defense Jacob also plays defensive tackle. He's a solid lineman and the competition is getting fierce at this level - below you can see him squaring off against a nose tackle weighing in at over 200 lbs (Jacob is about 120 lbs in his gear).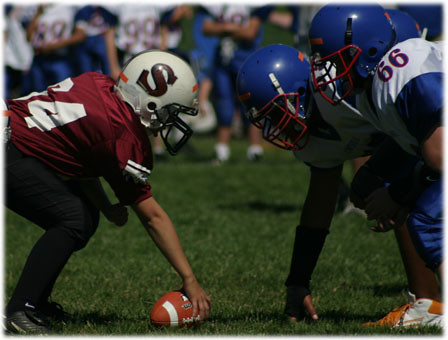 Matthew (number 28 below) in his first year is playing fullback on offense and cornerback on defense. As a third grader he's doing a great job surrounded by mostly fourth graders handling the ball.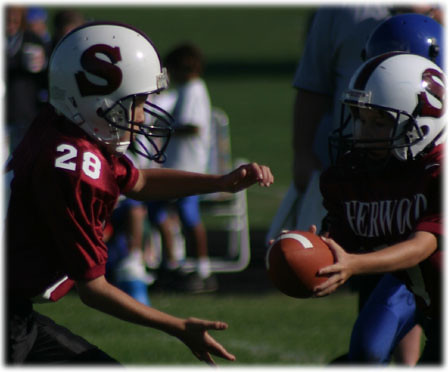 Matthew had three carries in his game on Friday, with one breakaway for 20 yards where he almost score a touchdown but was caught by a lone tackler at about the 20 yard line.