Jacob and I spent our first day at GenCon Indy today, lasting from 8am until about 5pm. Overall the experience was great; I would say better than last year. Organization appears to be better, shorter lines, and generally happy gamers.
I did hear that people waited in long lines Thursday morning for registration (convention and individual events). Most stories I heard involved waits of about 3 hours. In contrast, those arriving Friday morning waited only about 15 minutes. Now why these people don't just pre-register escapes me. We even had our badges and event tickets mailed out, so there was zero waiting time for us this morning.
My entries for GenCon this year will be mostly photo-album oriented, but I'll try to break things down into a few categories. If there's anything you'd like me to check out Saturday or Sunday, just leave a comment and I'll see what I can do.
Tomorrow Matthew will join us as well. We'll stay as late as we can stand. Our morning starts with some more Days of Wonder booth time, followed by an introductory session of Big Eyes, Small Mouth (Anime RPG).
Scheduled Gaming
Jacob and I started the morning with an 8am session of giant Seafarers of Catan. We've played Settlers of Catan quite a bit, but had never played a Seafarers scenario. This was a closely contested match, with the eventual winner and I neck and neck throughout the game. He had a city and a settlement on a gold-mine with a 12-spot that was rolled over 8 times in the game. Hard to beat that kind of resource production!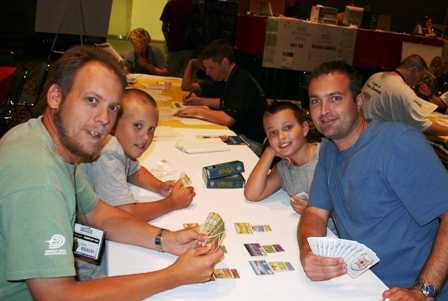 Later in the day we participated in Uberplay's small box games session. I had been wanting to play Saga, and we found another father/son pair to join us. Chris and Edison (who is also 9 only 7 days older than Jacob) joined us for a great game that Jacob managed to win. This is a pretty light card game but has some challenging strategy. Jacob beat us so soundly that I'm eager to play again to see what I was missing in my approach. Greg Schloesser seems to have a similar opinion on this game.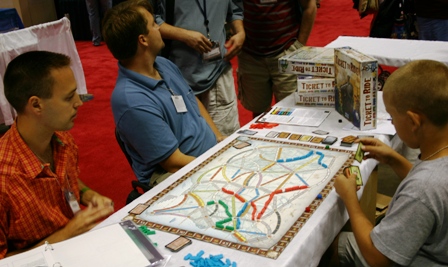 Jacob and I volunteered to run demos at the Days of Wonder booth. They produce such quality games that I couldn't resist a chance to represent them in some fashion. I taught Ticket to Ride and Memoir '44 to several groups. Ticket to Ride, which Jacob is shown playing here, recently won the Spiel de Jahres and apparently is selling extremely well in Germany right now.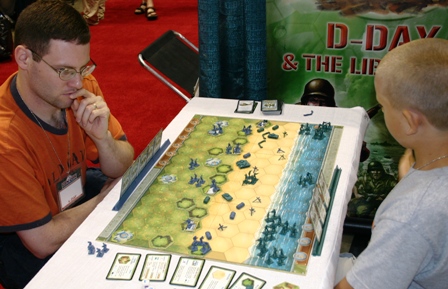 Our routine was for me to teach the game, then hand over to Jacob to play the game. Jacob won this match of Memoir '44 (Omaha Beach scenario).
Demos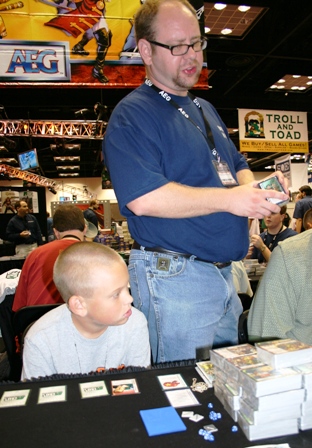 The exhibition floor opened at 10am, and Jacob and I came in with the first wave. We were immediately intrigued by the Spycraft demos being offered there. AEG did a great job encouraging folks to try the game, and also rewarded us with T-shirts and starter packs for two factions.
Jacob's favorite demo of the day was Pirates of the Spanish Main, the new constructible strategy game from WizKids. This game didn't appear very deep to me, but the theme and combat really entertained Jacob.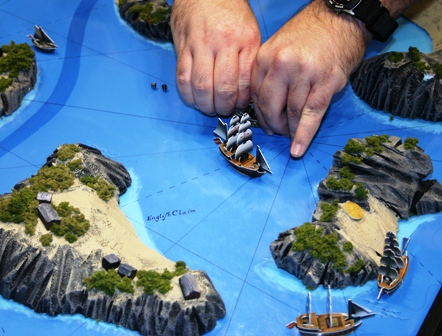 Now this was cool check out the custom map made for the game here. Might be worth waiting to play on this map tomorrow.
Interesting New Releases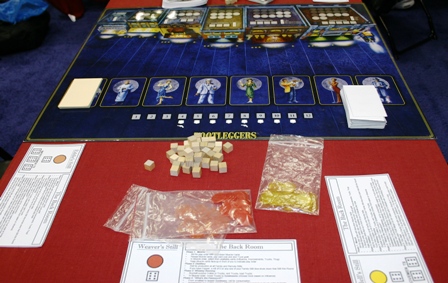 Bootleggers is the upcoming release about, well, bootlegging in the prohibition era. Did you know that there's a liquor store chain in Indianapolis called The 21st Amendment?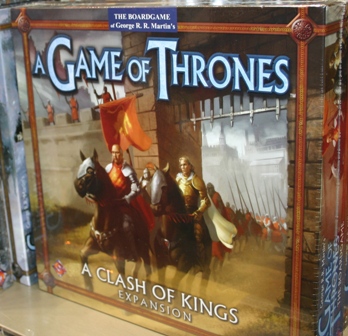 A Clash of Kings is the newly released expansion to the fantastic A Game of Thrones boardgame. Is this worth getting?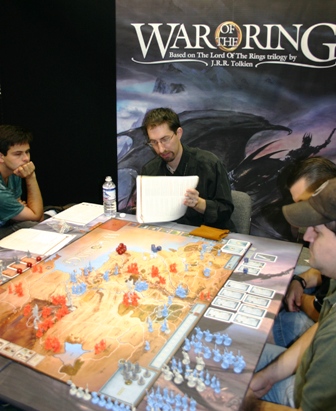 The new War of the Ring game set in Middle Earth is big in scale and price.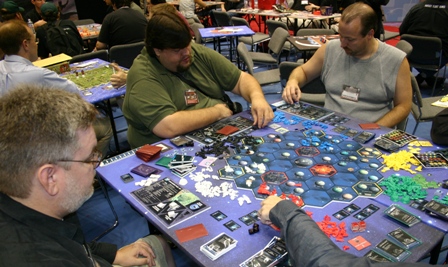 Here's a prototype for the upcoming release of Twilight Imperium, 3rd Edition.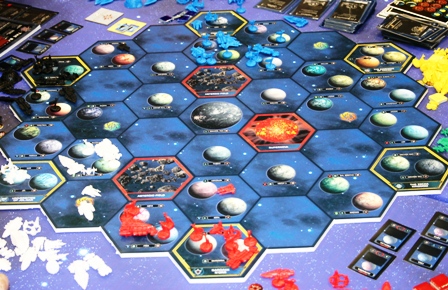 Another view of the prototype.
Computer Games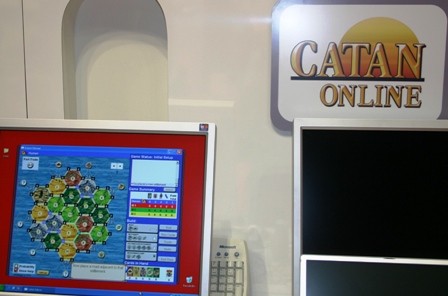 MSN Online will be shipping their online version of Settlers of Catan around the end of this year.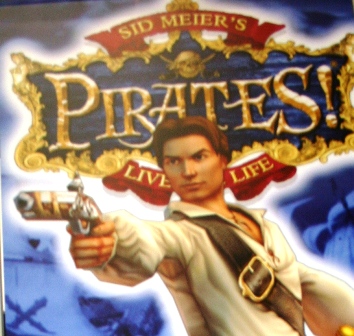 We saw a demo for the new Sid Meier's Pirates, and it looks fantastic.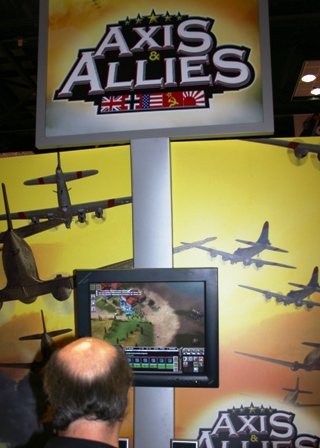 Here's the computer version of Axis & Allies, which appears to be a real-time strategy game set in WWII.
GenCon Sights and Sounds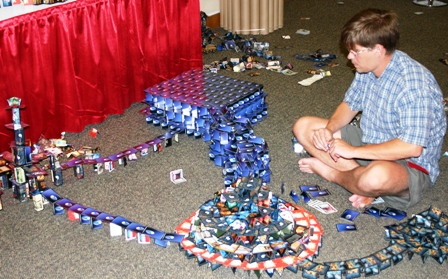 This was a cool area lots of old, unwanted CCG cards strewn about for folks to build nifty structures like you see here.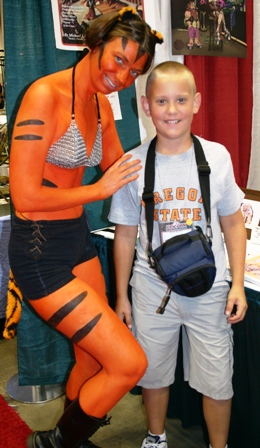 Here's Jacob with the orange lady.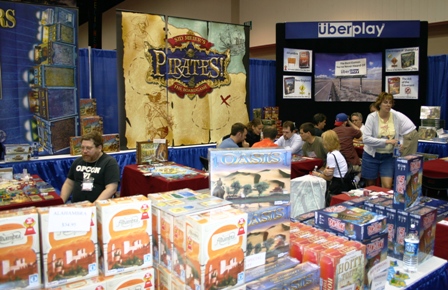 Visible evidence of the merger of Uberplay Games and Eagle Games.