Julie and I attended our first concert of the year at Point of the Bluff, a great venue about a three minute drive up the hill from us. On the stage were Todd Rundgren, Christopher Cross, and others playing tribute to Beatles classics Revolver and Rubber Soul.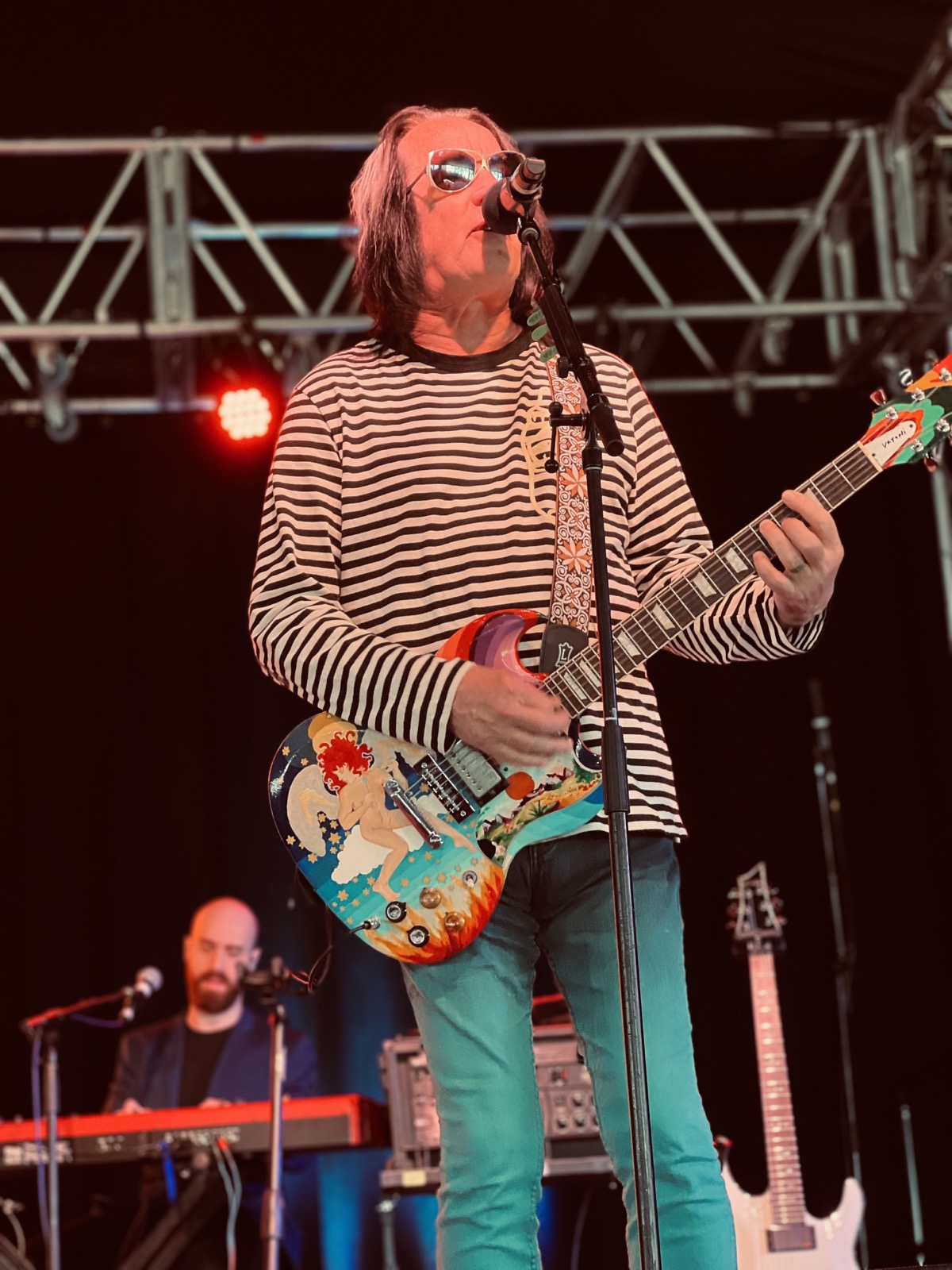 Todd Rundgren belting a Beatles tune
Through luck or extreme attention to my calendar, I managed front row seats for us. The music was loud but oh so good. I know the two albums by heart, and was eager to see the contributions from the "It Was 50 Years Ago" tribute band. While not a Todd Rundgren fanboy, I adore "Hello It's Me" (new listener reaction) and "I Saw the Light" and looked forward to seeing his live persona. He was the ruler of the stage, but not in a cocky or patronizing way. His love for the music was genuine, and I've heard he truly does love the Beatles and mimicked his early songwriting on their style. He absolutely owned "Tomorrow Never Knows," the final song before the encore. Of course Christopher Cross contributed his big hits "Sailing" and "Ride Like the Wind." So glad he recovered from his temporary paralysis from COVID.
Now I didn't mention two others that were part of the featured front of the band: Denny Laine and Joey Molland. Denny struggled with lyrics at times, but it was pure joy seeing him lead sing "Band on the Run." Joey Molland (Moody Blues, Badfinger) was delightful on his own stuff ("Baby Blue" in particular) but added so much to the Beatles songs he was featured on, most notably "Got to Get You Into My Life."
And no, Todd Rundgren wasn't in Skechers (link NSFW), he appeared to be in hand painted gold sneakers. But their amazing bass player was, and I'm OK with that. I don't know his name, but he could play and sing and apparently was the original musical director for the Beatles Rain tribute band. And he was smiling and grooving for the whole show.