Galapagos - what's in the photography bag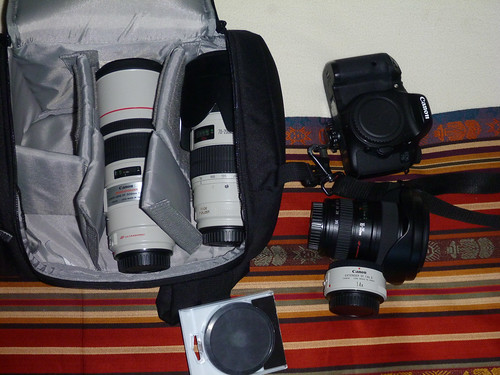 My preparation for photography in Galapagos began in earnest in about September 2010. My starting point for equipment (body, lenses, accessories) was as follows:
Canon 7D body
Canon EF 70-200mm f/2.8L II IS USM Telephoto Zoom
Sigma 30mm f/1.4 lens
Canon 50mm f/1.8 lenses
Kenko Teleplus 1.4x Teleconverter
Hoya 77mm Circular Polarizer
This is a great set of equipment for night-time sports photography and indoor candids, but not ideal for wildlife or landscapes. My Kenko teleconverter had languished mostly unused for the past 2 years because of poor sharpness and autofocus responsiveness. The 200mm focal length of my go-to 70-200mm lens also wouldn't cut it for bird shots unless I got within 10 feet. And none of these lenses would do justice for landscapes, especially given the 1.6x magnification from my crop sensor on the 7D.
My research was conducted both online and hands-on. I'm fortunate to have Portland Pro Photo Supply here in town which offers affordable rentals for just about every Canon lens currently in production. During football season I rented a few different wide angle lenses, trying both the 14mm f/2.8 and the 16-35mm f/2.8. While I adored the 14mm lens, a combination of cost and reduced flexibility steered me towards the wide angle zoom lens.
Choosing the right telephoto lens turned about to be a bigger challenge. I've rented both the 300mm f/2.8 and the 600mm f/2.8 lenses in the past, and while they are amazing lenses the sheer bulk and exorbitant cost quickly ruled them out. I spent time researching recommendations in various online forums discussing Galapagos photography and concluded that the 100mm-400mm f/4.5 telephoto zoom would be a good option. I rented the lens and used for some local bird photography and found the sharpness lacking. I also discovered that when shooting birds I was always hanging out at 400mm. Do I even need a zoom? Probably not.
My next attempt was the Canon 300mm f/4 prime lens - a relatively affordable option, and a lens with a built-in hood that is roughly the same size as my 70-200mm zoom. I rented the lens and loved it. Didn't miss the zoom, though I did miss having a 400mm focal length. Knowing that my current Kenko teleconverter wasn't cutting it, I decided that my best option would be a combination of the 300mm f/4 with the Canon brand 1.4x teleconverter. Note that this teleconverter reduces the maximum aperture to f/5.6, but given that I would be shooting birds in bright sunlight this didn't concern me. When you combine the crop factor lens magnification with the teleconverter, the 300mm lens becomes a 300mm x 1.6 x 1.4 = 672mm effective focal length.
Spending 10 days on a trip taking what would likely be at least 500 photos a day without a backup solution was scaring me. I did not plan on bringing a laptop so searched for other backup solutions. I settled on a decent choice that I viewed as somewhat risky given the reviews I read: the Photo Safe II portable hard drive with embedded LCD screen and CF and SD card slots. The device is amazingly easy to use: you turn it on, stick in card, then push a button to do a backup to the embedded hard drive (500GB). It worked flawlessly throughout the trip, though fortunately I never had to rely on it. I brought 4 32GB CF cards, 1 16GB CF card, 2 4GB CF cards, and 2 2GB CF cards.
The final piece of equipment turned out to be a surprise: Julie and the boys gave me an (unrequested) LowePro Slingshot bag for my birthday in December. This turned out to be the perfect size for the lenses I would take with me to Galapagos, and extremely useful in the field as I could change lens without removing the bag.
My final equipment list:
Canon 7D body
Canon EF 70-200mm f/2.8L II IS USM telephoto zoom
Canon EF 300mm f/4L IS USM telephoto
Canon EF 16-35mm f/2.8L II wide angle zoom
Canon EF 1.4X II Extender
Hoya 77mm Circular Polarizer
LowePro SlingShot
Photo Safe II 500GB storage
Various CF cards
Backup Canon 30D body