I'm a bit late in reporting this, but oh well. It was a cool hike with some cool photos so better late than never. We spent Labor Day weekend out at Salishan and Julie was anxious to get out and hike somewhere. I suggested Cascade Head, having heard some great things about the scenic views from there. The trailhead is just a few miles north of Lincoln City off of Hwy 101 (I'm listening to Highway 61 Revisited right now… maybe I should switch to Jackson Browne?) so after about a 20 minute drive we were off on our adventure.
Apparently the trailhead was moved a few years back to ease road congestion - park at Knight Park near the boat ramp and walk up the road from there. The low parts of the trail wind through public land including national forest, but as you get near the head the trail is contained within Nature Conservancy land. There are quite a few restrictions on land use in this area, so check ahead before attempting anything unusual (like backpacking / camping).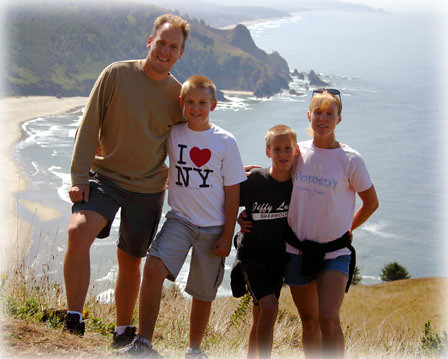 The early parts of the hike are within an old growth Sitka Spruce and Douglas Fir forest. The trail is very well maintained here, with plenty of foot bridges and planking to get through the squishy areas. Before long the trail opens to a meadow with the first glimpses of the coast stretching south from the head. While this isn't a terribly strenuous hike, pretty much the whole hike in is uphill and there are a few steep parts.
As we were hiking through the meadow, Jacob spotted a slithery critter that I was able to pick up and play with for a while. I love snakes.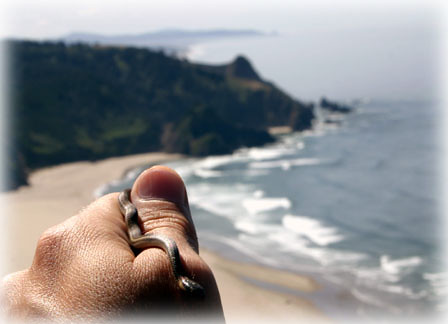 We continued to climb, but it became clear that the boys were not going to be interested in making the final climb to the peak of Cascade Head. Julie was kind enough to allow me the opportunity to finish the hike, so I high-tailed it up the top for some spectacular views of Lincoln City and beyond, including the Salishan spit.
All in all, a great way to spend an afternoon and I highly recommend this hike if you find yourself on the beautiful Oregon coast.