Greetings from Keuka Lake, NY! We took the red-eye from Portland last Thursday night, arriving at the lake cottage around 11am on Friday morning. The weather has been very decent so far, though as of now (Sunday evening July 4) we are in the midst of a thunderstorm watch. This could put a damper on our plans to take the boat up to Branchport to watch the annual fireworks show from the lake.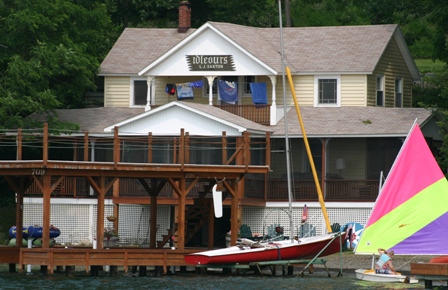 The older, or "yellow" cottage. We have two cottages adjacent to each other on the west side of Keuka Lake in western NY. Our cottage is just about adjacent to the bluff in where the "Y" portion of the lake begins.
Our time at the lake is usually divided by a set of activities that is frequently weather-condition determined. When the winds are blowing up, that means sailing and tubing (white caps mean lots of bouncing!). When it gets calm, particularly during mid-week when there's less traffic, that means water skiing. And when the rains come, we usually hang out inside the cottage and head up the road for a gully hike to enjoy the increased water flow.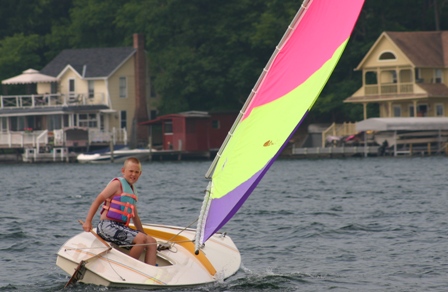 On a July 4 weekend, there's usually too much boat traffic to water-ski so we hoped for some winds today. The weather cooperated in fact, there's a major low-pressure front coming in that created some outstanding southeasterly winds this afternoon, allowing all of us to spend some quality time in the Sunfish. Things are blowing up a bit too much to do a checkout right in the Flying Dutchman, so we'll wait for a quieter day before venturing out in the larger, older boat.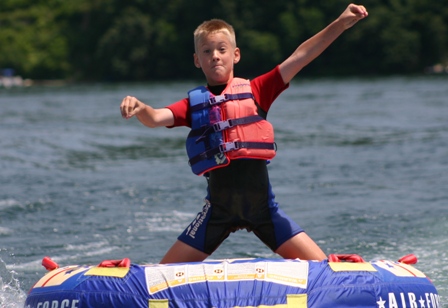 Tomorrow Jerry and I will head over to Seneca Lake for some golf at the course on the west side of the lake. This is an affordable quality public course that I've enjoyed playing for the past 10 years.
Jacob sailing with grandpa Jerry. The winds were fantastic!