We safely made it to Beijing today, arriving about 7am after a restless redeye from Singapore. Given the choice between catching up on some sleep and seeing a few sights before our 2pm meeting, we chose to head to Tiananmen Square and the Forbidden City. Our rooms weren't ready in any case, so this was an easy decision.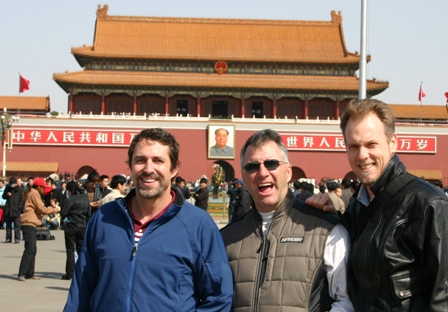 There's a lot to say about Beijing - more than I have time to write tonight. A few random thoughts are in order though:
The weather is brisk, sort of like a late winter / early spring day in the midwest plains (like Omaha). Today the skies were clear blue but it was very windy. In the summer, these winds often result in sandstorms from the Mongolian plains.
Compared to Singapore and KL, Beijing is very culturally homogenous. We stand out like sore thumbs here.
English is clearly not a priority here (nor should it be for most, of course) - taxi drivers in particular speak zero to little English. The kind hotel stuff were helpful here, writing down instructions in Chinese for us to hand to the tax drivers. That still didn't help in one case as we drove around for over an hour looking for our partner's office building. The driver had to ask for directions four times.
There are cranes everywhere - perhaps in preparation for the summer Olympics? Reminds of when I was in Barcelona in 1990.
There's lots of greenery in the city - for example, many of the major thoroughfares are lined with trees.
Bicycles are everywhere. I read that over half of the world's bicycles can be found in China.
These folks understand capitalism. I'll explain later how efficient they are at separating tourists from their RMBs.
Summary - this is a beautiful city, with beautiful people, and I'd love to have more time to explore it in depth.
Tomorrow is all-day business meetings, and I'm staying through Saturday to allow time to see the great wall.