Among all of my activities outside of work, Scouting is probably most dear to me. I'm the Cubmaster for Cub Scout Pack 710 in Sherwood, and both Jacob and Matthew are Cubs. Julie, as anyone who is involved with the Pack would agree, is the one who really runs things. I'm mostly a figurehead. Julie is a den leader, the secretary, and does 90% of the legwork behind my job. Mostly I get to run the Pack meetings and implement the activities she plans.
This week at our Pack meeting we decided to do some play-acting with a twist. We live in Sherwood, and Robin Hood is a common theme in our fair town. We decided to tell the story of the first meeting of Robin Hood and Little John. In the photo below, that's me on the left, our good friend Vince Meichtry playing Robin Hood, and Julie narrating.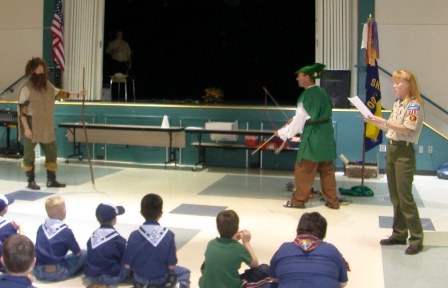 What made this skit particularly fun was the mad-lib element. Julie gathered a collection of nouns, verbs, etc. to fill into version 2 of the story, complete with props. The kids were rolling on the floor laughing.